Foton PH promo guarantees spare parts to be available in 3 days or less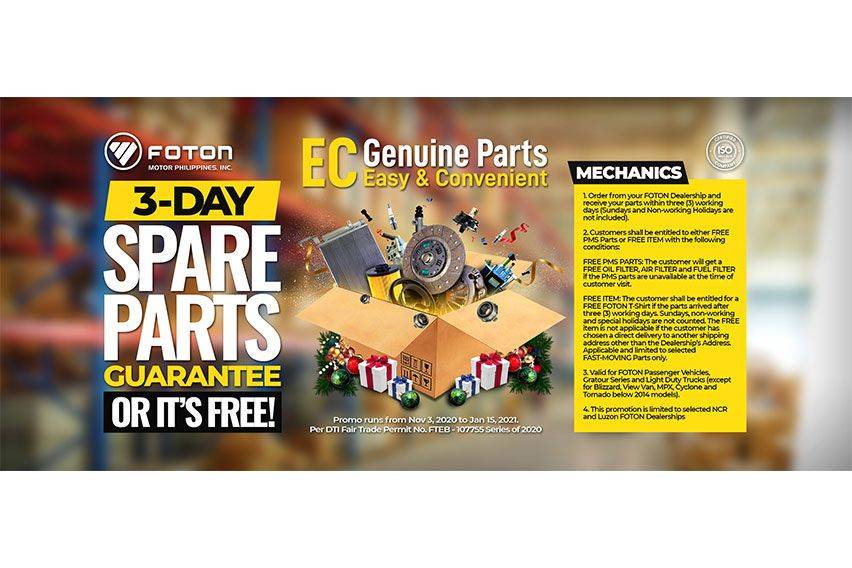 MANILA: Spare parts that can be easily accessed have an essential role in maintaining the movement of a customer's vehicle and ultimately impacts business.
Foton Motor Philippines Inc. (FMPI) rolls out a three-day spare parts guarantee promo, which targets the reduction of a vehicle's downtime through a prompt response to the spare parts requirements of customers.
FMPI President Rommel Sytin shared, "Eyeing to meet the growing demand of our customer's after-sales requirements, we have become more aggressive in developing new concepts and programs to serve our duty to provide compelling services, aligned with Foton's perpetual commitment to uplift mobility in the country."
Getting behind its promise, Foton will provide free items or free parts if the promo guarantee is not met.
Customers can order from their Foton dealership and acquire parts within three working days (Sundays and non-working holidays are not included).
Customers are also eligible for either a free item or free PMS parts given the following conditions:
For a free item, the customer is qualified for a free Foton t-shirt if the parts arrive after three working days. Sundays, as well as special and non-working holidays, are not included. The free item is only applicable given direct delivery to the address of the dealership.
For free PMS parts, the customer will obtain a free oil filter, fuel filter, and air filter if the PMS parts are not available at the time of the customer visit.
With enhanced efficiency on the delivery of spare parts, the promo can be availed at participating Luzon and NCR Foton dealerships for chosen fast-moving parts with direct delivery to the dealership location. This promo runs until December 31, 2020 and is valid for Foton light-duty trucks, the Gratour Series, and passenger vehicles.
Photos from Foton Philippines
Also read:  Foton PH expands reach with new Iloilo dealership
You might also be interested in
Latest Foton Cars Videos on Zigwheels