'Live Life on the Safe Side' with Toyota PH's Nov. deals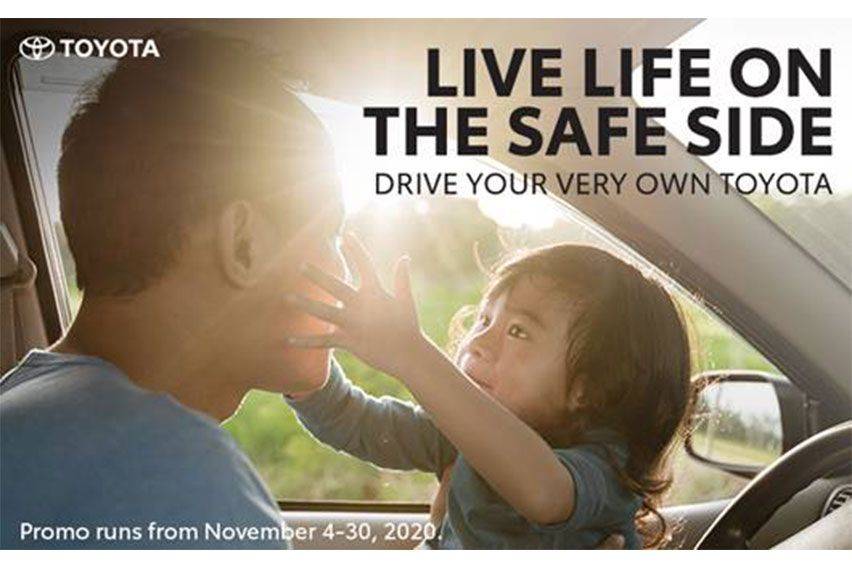 MANILA: Toyota has made it easier for customers to own their dream vehicle through the "Live Life on the Safe Side" deals. They can take advantage of a broad range of discounts and freebies as well as flexible financing plans from November 4 to 30, 2020 on their preferred Toyota vehicles.
Customers can get as much as P90,000 on a previous-generation Toyota Hiace Commuter or P65,000 savings on a Toyota Innova.
Savings on chosen variants can also be availed for the Toyota Hiace, Rush, Avanza, Corolla Altis, new Wigo, and new Vios. Buyers can also opt for Pay Light (low monthly plans) or Pay Low (all-in packages) financing plans on such models.
For the month of November, anyone can avail of the free periodic maintenance service (PMS) of up to 20,000 km when they purchase XLE, E, and G variants of the Vios. Customers can also obtain free one-year comprehensive insurance and five years extended warranty.
Customers of the Vios XE, or selected variants of the Hiace, Fortuner, Avanza, Innova, Corolla Altis, and Wigo are qualified for a free one-year comprehensive insurance promo.
As for the customers of the Toyota FMC Hiace, Hilux, Fortuner, Innova, Rush, and Corolla Altis, they can also acquire free PMS of up to 20,000 km for participating variants of their chosen Toyota model.
For customers who plan to trade-in their old vehicles for a new Toyota, up to P40,000 rebates aside from the existing promos for purchasing accessories can be availed on selected variants and models for the whole month of November.
The new financing product of Toyota Financial Services Philippines, the Balloon Payment Plus, which provides light monthly payments, guaranteed resale value, and periodic maintenance inclusion, is also available on selected variants of the new Hilux, new Fortuner, Corolla Cross, and Vios.
Since November 19, 2020, TMP has been offering exceptional support for customers whose vehicles have been affected due to the recent typhoons that devastated some areas in the country.
They can take advantage of 20% discount on labor, as well as 20-40% discount on parts when they bring their flood-damaged vehicles to their preferred Toyota dealerships for repair. This exclusive assistance is offered until January 31, 2021 and does not include parts that were bought over the counter.
For owners who have significantly impacted Toyota vehicles (registered under their name) and are planning to purchase new vehicles, they can check their eligibility for a P50,000 rebate aside from the regular offers of the auto brand.
To do this, they can show pictures of the exterior (with visible plate number) and interior of their affected vehicle to their selected dealer outlet. This exclusive assistance runs until December 30, 2020.
Customers can visit here or this link for more details on the "Live Life on the Safe Side" deals as well as TMP's support for typhoon-affected customers.
Photo from Toyota
Also read: Toyota makes U12 football video instruction available online for free
You might also be interested in
Latest Toyota Cars Videos on Zigwheels