NTF, DOTr give the green light for motorcycle taxis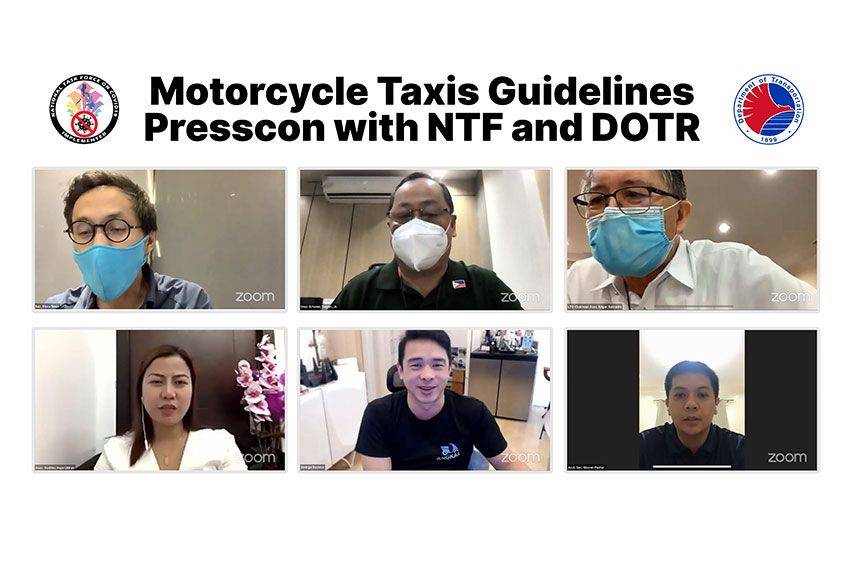 MANILA: The guidelines for the resumption of moto taxi operations have already been approved.
Once operators have demonstrated adherence to all the regulations, Angkas as well as other moto taxi groups that have been allowed to participate during the pilot run can soon be back on the road.
This follows last month's release of House Resolution No. 1286.
The resolution involves the continuation of the pilot run of motorcycle taxis to boost mobility, make public transport more convenient, and revitalize the economy, specifically in the National Capital Region, Cagayan de Oro, and Cebu.
The latest memorandum (Circular No. 3), which the National Task Force (NTF) against COVID-19 on November 4  specified the regulations that the passengers and drivers of moto taxi companies need to follow to be able to operate again on public highways, roads, and streets.
In a virtual presser held today, National Task Force against COVID-19 (NTF) Secretary Vince Dizon said, "Transport should be safe and not compromise the guidelines that prevent COVID-19 transmission. These motorcycle taxi guidelines—-with the Department of Transportation (DOTR), the Department of Health (DOH), the Land Transportation Franchising and Regulatory Board (LTFRB), and other partners even in the private sector—-can increase the safety of our public."
He added, "Thanks to the agencies and the private sector who have joined together to help the government come up with safe and secure guidelines to provide commuters with motorcycle taxi options ASAP."
The panelists during the virtual press conference were Angkas Chief Transport Advocate George Royeca, DOTr Asst. Sec. Goddess Hope Libiran, DOTr Asst. Sec. Edgar Galvante who spoke on behalf of the Land Transportation Office (LTO), DOTr Asst. Sec. Mark Steven Pastor, and DOTr Usec. Artemio Tuazon Jr.
In his acknowledgement of the dependence of the economy on mobility, DOTr Assistant Secretary Pastor shared, "This is a good step of our opening up the economy, kasi magkakaroon ng modality sa ating public transportation (This is a good step of our opening up the economy because the public transportation will gain modality). Isusulong po natin ang additional modes of mobility to also reduce travel time (We will promote additional modes of mobility to reduce travel time). Lalo na po't may extended pilot run, keeping in mind na may safe re-launching ng pilot implementation gamit ang mga safety guidelines (Especially that there is an extended pilot run, keeping in mind that there is safe re-launching of pilot implementation through the use of safety guidelines)."
Meanwhile, Angkas Chief Transport Advocate George Royeca said, "We thank and laud the government, the Department of Transportation (DOTr), the National Task Force Against COVID-19 (NTF), and the Inter-Agency Task Force for the Management of Emerging Infectious Diseases (IATF). With their support, we have been able to advocate for the many stakeholders who were heavily impacted by mobility restrictions. Talaga pong concerted effort ito para sa lahat ng modes of transportation para po sa paglilingkod natin sa taong bayan (This is really a concerted effort for all modes of transportation to provide service to the public)." 
According to Asec. Galvante, the three motorcycle taxi groups (Angkas, Joy Ride, and More It) will be requested to convene with the Technical Working Group (TWG) within the week to guarantee their observance with the aforementioned safety guidelines for two-wheeled vehicles.
Such guidelines include submission of regular health updates before work hours, professional licenses for all participating bikers, use of helmets with full face visor to serve as face shield, wearing of face masks, non-sharing of helmets, cashless transactions, and an NTF-approved barrier.
Asec. Galvante explained, "The sooner that the motorcycle taxi companies can comply with these requirements, then the sooner their bikers can operate on the streets."
Royeca added, "We are fully compliant and we are submitting all the compliance requirements to the DOTr and the Congress TWG today."  
Angkas has prepared 900 riders for CDO, 4,500 for Cebu, and 23,000 for the NCR.
To date, 3,000 of these bikers were able to undergo RTPCR (reverse transcription polymerase chain reaction) testing. All bikers tested negative for COVID-19, yet the main goal of Angkas is that all bikers will be 100% tested and cleared of the virus.
DOTr Asec. Libiran reiterated her support for Angkas. "We've always known that efficient mobility and a bustling economy go hand-in-hand. That's why with the IATF and NTF, we really worked closely with local government units (LGUs) and Angkas who were very passionate about providing a safe means of transportation for our essential workers."
During the pilot run, riders will be frequently monitored and trained and consumers will continuously be given updates via social media so they can navigate the new normal with hassle-free mobility.
The approval of the IATF on the shield specifications has also encouraged other on-delivery service providers such as Move it to coordinate with Angkas regarding their designs, which Royeca has given for free.
These initiatives are seen to be compliant with the NTF, which has the responsibility of releasing, enforcing, and keeping track of the required measures to reduce viral transmission.
Royeca concluded, "Mobility is really key for our economy. We are all helping to bring the economy back. This is just the beginning. We are ready to work hand-in-hand with the government to ensure that we are fully committed for the safety of the public."
Photo from Angkas
Also read: Angkas says UP study confirms moto taxis are safe even amid pandemic
You might also be interested in
Latest Cars Videos on Zigwheels