Toyota PH marks down prices of sanitation products and service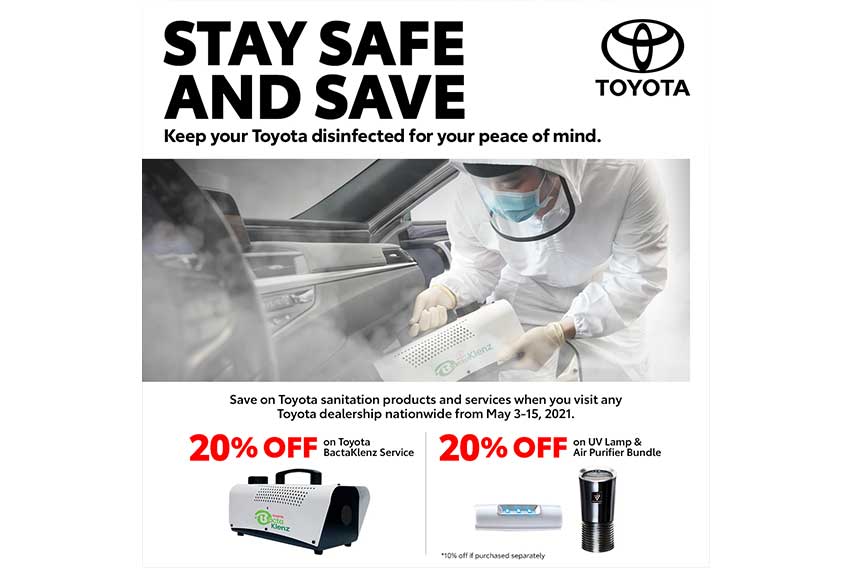 MANILA: Toyota Motor Philippines (TMP) promotes the importance of vehicle sanitation amid the COVID-19 pandemic by offering up to 20% discount on select sanitation products and services.
The special promo includes the Toyota BactaKlenz service, which is proven to eliminate 99.99% of bacteria, molds, and fungi inside the vehicle. The effectiveness of the anti-bacterial treatment can last up to three months. The Toyota BactaKlenz service is offered for 20% off within the promo period.
Toyota has also developed a UV lamp that can reguarly sanitize the vehicle interior — killing viruses and bacteria with the use of ultraviolet light. The lamp comes with a 60-second delay function that allows the occupants to safely leave the car before the light is activated.
Another Toyota genuine accessory is the air purifier that uses plasma cluster technology to eliminate airborne virus and bacteria by releasing positive and negative ions. It helps maintain the cabin air fresh and clean. The air purifier can be placed inside the cup holder and can be plugged in the USB port for power source. It comes with three operation modes: low, medium, and turbo.
TMP currently offers 20% discount on the UV Lamp and Air Purifier Bundle. If purchased separately, customers will get 10% discount on each sanitation accessory.
These special deals on sanitation products and services can be availed in all Toyota dealerships nationwide from May 3 to 15, 2021. To learn more about the promo, log on to toyota.com.ph/promos/vehicle-sanitation.
Photo from Toyota Motor Philippines
Also read: P1-M worth of prizes await Toyota GR GT Cup winners
You might also be interested in
Latest Toyota Cars Videos on Zigwheels