Foton sales surpass 10-M units worldwide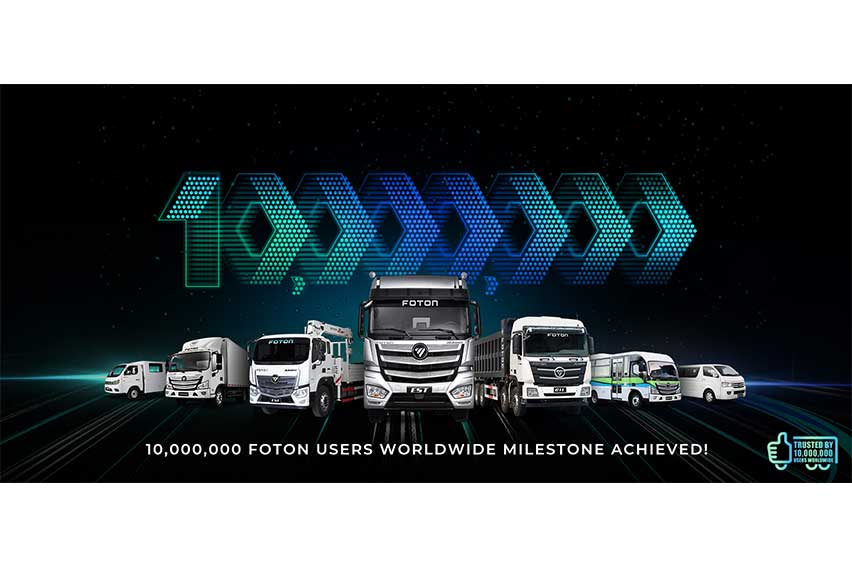 MANILA: Foton celebrates a new milestone as its global sales has reached over 10 million units.
In a statement, Foton Motor Philippines, Inc. (FMPI) President Rommel Sytin said, "Providing mobility solutions with our Foton units for more than a decade, we're confident in offering our vehicles' world-class technology and wide breadth of capabilities that suit an even broader range of transportation needs for companies, businesses, government units, or families. We are proud to have become one of the trusted commercial vehicle partners in the country."
Foton vehicles are known for their robust strength and the generous horsepower that they deliver. The units are mostly used for businesses — from full-sized corporations, local government units, down to small and medium-sized enterprises.
In the Philippines, Foton is best known for its highly reliable and value-packed products that are offered for a reasonable price. The brand reflects the Filipino qualities of hard work and dependability in achieving one's goals.
In support of the government's jeepney modernization program, Foton has released the F-Jeepney which is equipped with innovative comfort and safety features. The modernized jeepney variant is motivated by a vigorous 3.8-liter ISF Cummins engine that delivers a maximum power output of 154hp at 2,600rpm and a maximum torque of 500Nm at 1,200 to 1,900rpm.
The Foton Harabas TM 300 is developed to assist local enterprises in their daily mobility needs. Aside from its robust stance, the Harabas TM 300 is further made reliable by its 2.2-liter turbocharged four-cylinder diesel engine that generates a maximum power output of 87hp at 3,200 rpm and a maximum torque of 220Nm at 2,000 rpm. It can transport up to 1.1 tons of cargo.
Foton has also dominated the light-duty truck category in the country, proven by the Tornado Series that has been sitting on the third spot of the best-selling automotive brands in its segment for consecutive years.
With its 15 years of legacy in the Philippines automotive industry, Foton has consistently provided first-class services through its budget-friendly promos and offers, including free service vouchers and extended engine warranties for select vehicles.
To learn more about Foton vehicles and services, contact any Foton dealership nationwide or call the sales and service hotline at 0999-999-9998. Customers may also reach out to Foton Philippines through their digital platforms via linktr.ee/FOTONPhilippines.
Photos from Foton Motor Philippines, Inc.
Also read: Foton PH among top 10 best-selling brands in 2020
You might also be interested in