Date & Schedule
MIAS 2023
Public Hours

10:00 - 22:00

Public Hours

10:00 - 22:00

Public Hours

10:00 - 22:00

Public Hours

10:00 - 22:00
MIAS 2023
MIAS 2023 About
The Manila International Auto Show (MIAS) will be staged for a 18th time at its traditional venue, the World Trade Center Metro Manila.
The Manila International Auto Show (MIAS) 2023 will happen on April 13 to 16 at World Trade Center in Pasay City
MIAS has established itself as a premier event in the automotive world, drawing in visitors from all over the country and beyond. From car displays to launches and competitions, MIAS offers a thrilling experience for car lovers of all kinds. But it's not just about showcasing the latest models - MIAS also serves as a platform for industry players to connect, collaborate, and explore new business opportunities.
This year's theme, "Shaping Mobility," highlights the crucial role of the automotive industry in improving private transportation and increasing mobility, not just in Metro Manila, but throughout the entire country. As the Philippines undergoes rapid urbanization and a growing population, the automotive industry plays a pivotal part in driving efficiency and meeting the evolving needs of the market.
MIAS 2023 promises to be a star-studded affair, with 16 of the biggest automotive brands in the country set to showcase their latest offerings. From BYD to Nissan, Ford to Subaru, and many more, the event will be a showcase of cutting-edge technology, sleek designs, and unparalleled performance.
Below is the list of all major car brands on display at MIAS 2023:
Mitsubishi
Nissan
Ford
Geely
Hyundai
Chevrolet
MG
Subaru
Jeep
Chery
BYD
Chevrolet
GAC
Peugeot
Jetour
Great Wall
Foton
Changan
Mini
Volvo
Maserati
Mutt
Triumph
Vespa
Ducati
Dongfeng
FAW Trucks
Cnhtc Howo
JAC
JMC
Whether you're a car enthusiast looking to get up close and personal with your dream car or an industry player seeking to network and explore business opportunities, MIAS 2023 has something for everyone.
One of the most anticipated highlights of MIAS 2023 is the Mobility Marathon, a series of car launches that will take place on Day 1 of the event. Attendees can expect to witness the unveiling of the latest car models, complete with jaw-dropping features and innovations that will redefine the future of mobility. The excitement doesn't stop there - the Russ Swift Precision Driving Show is also making a comeback, promising heart-pounding stunts and adrenaline-pumping performances that will leave you on the edge of your seat.
The side hall floor plan will be as follows: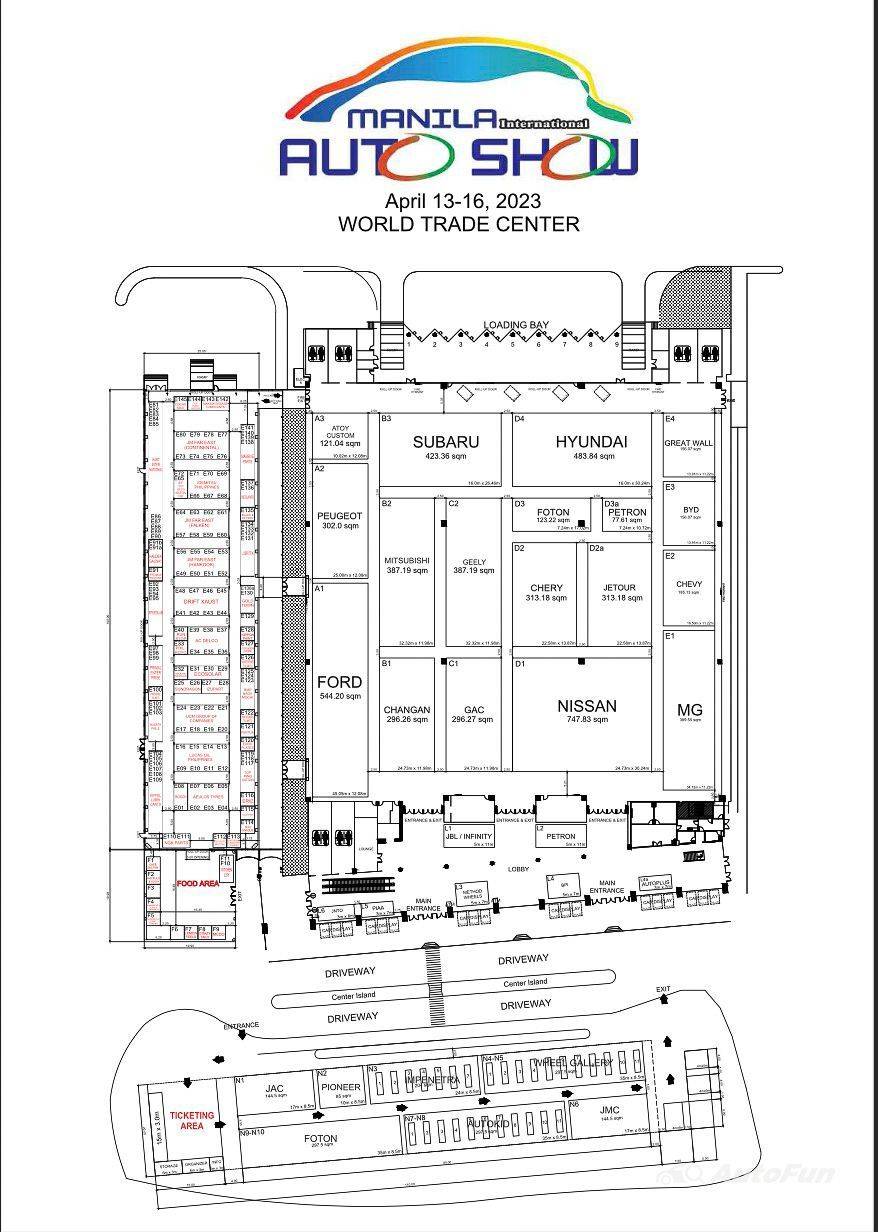 13 April Schedule of MIAS 2023 Event: 
09:00 AM - Opening ceremony
10:00 AM - Ford
10:30 AM - Subaru
11:00 AM - Peugeot
11:30 AM - GAC
11:55 AM - Changan
1:00 PM - Mitsubishi
1:30 PM - Chery
2:00 PM - Jetour
2:30 PM - Nissan
3:00 PM - MG
3:30 PM - Hyundai
For those who appreciate classic and custom cars, the Petron Custom and Classic Car Competition is a not-to-be-missed event. Showcasing meticulously restored vintage cars and creatively customized rides, this competition is a feast for the eyes and a celebration of automotive craftsmanship. And if you've ever wanted to experience the thrill of test driving different cars, the Test Drive Avenue at MIAS 2023 is the perfect opportunity to do so. With various models available for on-the-spot test drives, you can buckle up, hit the road, and experience the latest automotive technologies firsthand.
But it's not just about passenger cars at MIAS 2023. The event also caters to the needs of businesses and logistics with the Truck Zone, where models ideal for commercial use will be displayed. From heavy-duty trucks to efficient delivery vehicles, the Truck Zone is a one-stop-shop for businesses looking to upgrade their fleet or explore new transportation solutions.
As you make your way through the event, be sure to check out The Die-Cast Collection at the registration area, showcasing intricate and detailed miniature car models. And for those who appreciate the passion and camaraderie of car clubs, the Car Club Display at the foyer will surely whet your appetite. Admire the pristine cars on display, chat with fellow car enthusiasts, and immerse yourself in the vibrant car club culture.
MIAS 2023 promises to be an unforgettable experience for car lovers and industry players alike.
For more information about MIAS 2023, visit www.manilaautoshow.com. Contact inquire@worldbexevents.com or call 02-8656-92-39 for interested parties. Follow the Manila International Auto Show on FB & IG @ManilaInternationalAutoShow.
Find Popular Brands Price list in Philippines
Read More
Read Less
MIAS 2023 FAQs
What is the Manila International Auto Show (MIAS) 2023?
MIAS is an annual event in the Philippines that showcases the latest cars and automotive technology from various car manufacturers and industry players.
When and where will MIAS 2023 take place?
MIAS 2023 will take place from April 13th to April 16th, 2023, at the World Trade Center Metro Manila in Pasay City, Metro Manila.
What Time Do The MIAS 2023 Activities Start?
Activities start at 10 a.m. and end at 9 p.m.
How Much Do I Have To Pay?
MIAS 2023 tickets are available for P100 at the venue, and P120 when bought online.
How do I purchase tickets for MIAS 2023?
You can purchase tickets online through the official MIAS website or onsite at the World Trade Center Metro Manila on the day of the event.
How much are the tickets for MIAS 2023?
The ticket price usually ranges from PHP 150 to PHP 250.
Can children attend MIAS 2023?
Yes, children under 12 years old are free of charge.
Are there any activities at MIAS 2023?
Yes, there will be various activities throughout the event, such as public debut of latest cars, test drives, car club display, MIAS-Petron custom & classic car Competition, truck pavilion, die-cast car collection, Russ Swift stunt show and performances.
How do I get to the World Trade Center Metro Manila?
The venue is easily accessible by private and public transportation. You can take a taxi or ride-hailing service like Grab or Gojek, or you can take the LRT 1 train to the Gil Puyat Station and then take a short walk to the venue.
Are there any tips for attending MIAS 2023?
Yes, some tips include wearing comfortable shoes and clothes, bringing cash or a credit card for purchases and food, arriving early to avoid the crowds, downloading the MIAS app for updates and schedules, and bringing a camera or smartphone to take pictures of the cars and the event.
What If I Have More Questions About The Online Event/Organizers?
For more information, e-mail inquire@worldbexevents.com or call +632 8656 9239.