Toyota Wigo Modifications
The Toyota Wigo is currently the Japanese carmaker's smallest and most affordable car in the Philippines. It's a compact hatchback and can carry four passengers in reasonable comfort. Accommodating five people is a bit tough though. The Toyota Wigo is known for its superb mileage and ease of handling. The Wigo can be frequently seen on Philippines roads. It's a car loved by those who want a frugal, daily commuting vehicle. Like most cars, the Toyota Wigo can be modified on its exterior and interior by adding accessories or upgrading the existing equipment. But modifications shouldn't be out of proportion to the car's chassis.
Read More
Read Less
Popular Toyota Wigo Modification
There are many ways to upgrade the Toyota Wigo to make it stand out on the road. Some popular ones include modifying the exterior by upgrading the headlights to LED for better visibility and lowering the car's height for better handling and a more aggressive stance. Customising the bumper and paint scheme is another way to add a personal touch to the car and make it unique. The wheels of the hatchback can also be modified by adding a wheel cover or entirely replacing the wheels with a bigger radius unit. Inside the cabin, the owners can change the upholstery with high-quality materials that enhance the aesthetic appeal and offer better comfort and durability. An aftermarket touchscreen unit that integrates various multimedia functions can also be opted for. Such modifications can significantly enhance the style as well as the driving experience, making the Toyota Wigo a more enjoyable car to own.
Read More
Read Less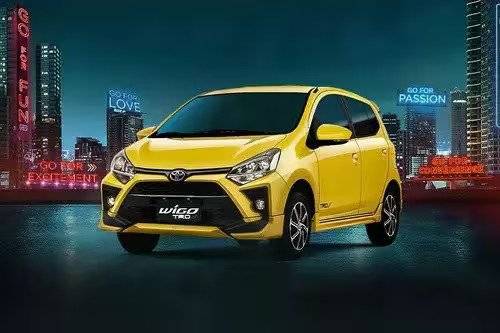 Exterior
Upgrading headlights to LED The exterior modifications to any car are mostly cosmetic. They enhance the vehicle's visual appeal. Older versions of the Wigo have halogen headlights. These can be changed with all-round LED lights. Lowering the car's height The car's height can be lowered for better handling and to make it look sporty. Springs and coilovers can be used in this regard. While springs are less expensive, they are non-adjustable. But springs are easier to install. Lowering the height means you have to be more cautious about bumps and thuds. Customizing the bumper and paint scheme The Wigo comes with body-colored bumpers. You can change the color as per your choice but that may not retain the car's original look. In fact the entire paints scheme can be changed. Changing the factory-paint is expensive. Your neighborhood garage can do it at a much lesser price than the authorized service provider. Optional accessories Toyota supplies the Wigo TRD model with a set of optional accessories. These include a front and roof spoiler, side skirts, and a roof-mounted spoiler. All these can enhance the look of your car, though performance-wise these won't make any difference. Adding side skirting lights Side skirting lights can also be added to all Toyota Wigo models. Adding parking sensors Parking sensors can be added to the base model. Check the warranty clauses before carrying out any modification.
Read More
Read Less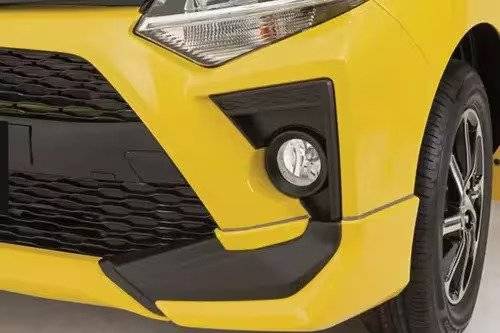 Wheel
The Toyota Wigo is available in four trims. The standard version comes with 14-inch alloy wheels. Adding a wheel cover, the color of which complement that of the car, will enhance the overall look. The top-level TRD trim comes with machine-cut alloy wheels. You can entirely replace the wheels with a bigger radius unit. There's the Rota with Circuit series. There's also the Grid 3 series. The Contour series from RTX is another good option. Other popular 15-inch wheel choices include Konig and American Racing. Changing the wheel is an easy car modification. But a 16-inch or 17-inch wheel set on the Toyota Wigo may be too big for the car. There's a chance of the tire rubbing against the underside of the wheel arch on the car's body. Oversized wheels rarely add to a car's performance. Adding bigger wheels often upsets a car's balance and handling. There are a number of wheel fitments that have become popular these days. There's the 'poke' where the wheel slightly juts out of the car. There's the 'flush' where the wheel perfectly aligns with the fender. Also, avoid fake wheels as that could have a recycled tread leading to safety issues. Make sure the new wheels are covered under warranty.
Read More
Read Less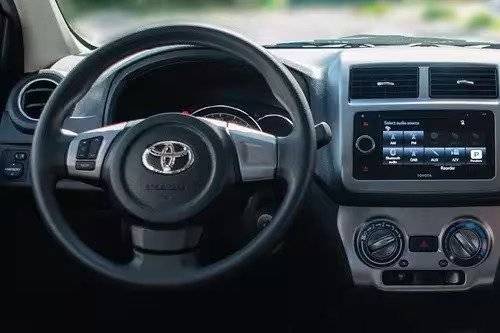 Interior
The interior modifications to a Toyota Wigo can be endless. The 1.0-liter Toyota Wigo base variant comes with fabric upholstery. You can change it with faux-leather or genuine leather. This will truly enhance the riding pleasure. Aftermarket child-seat anchors are also available. Audio system The 2-Din audio system can be replaced with an aftermarket touchscreen unit with proper casing. A rearview camera can also be added for easy parking. Ambient lighting and others High-end cars come with ambient lighting. You can add a multicolor ambient lighting system to the Wigo base model. For better riding comfort, you can add an armrest with a small storage box, between the front seats.
Read More
Read Less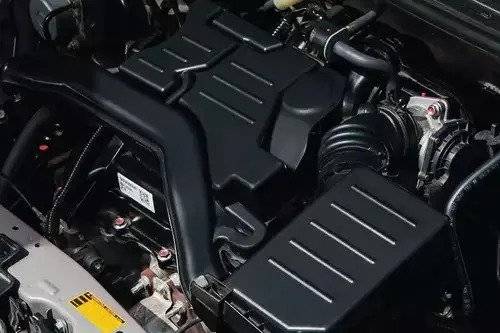 Performance
Whatever you do, never tinker with the engine. The engine is the car's heart and any modifications will void the warranty. Worse, engine modifications can damage it beyond repair. All Wigo models come with a 1.0-liter, 3-cylinder, petrol engine which produces 65PS maximum power and 90 Nm peak torque. You may use high-grade petrol to boost your car's performance and have less corrosion in the engine valves. But high-grade petrol is more expensive than regular petrol. Tuning the ECU also improves a car's performance. But it's only to be done at the authorized service and under an expert technician. However, ECU tuning is more like overclocking a computer's hardware and should be ideally avoided.
Read More
Read Less
Popular Toyota Wigo Accessories
Toyota Wigo is a budget-friendly car that offers great value for money, making it a popular choice for young professionals and families alike. A wide range of accessories are offered to enhance its functionality and aesthetic appeal. These accessories are designed to meet its customers' specific needs and preferences.
Read More
Read Less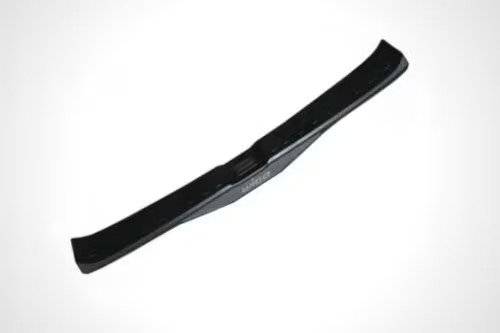 Rear Bumper Guard Step Sill
The Rear Bumper Guard Step Sill provides additional protection to the rear bumper and the area around it. This accessory is made of durable materials that can withstand minor impacts and scratches, which can occur during parking or loading and unloading of cargo.
Read More
Read Less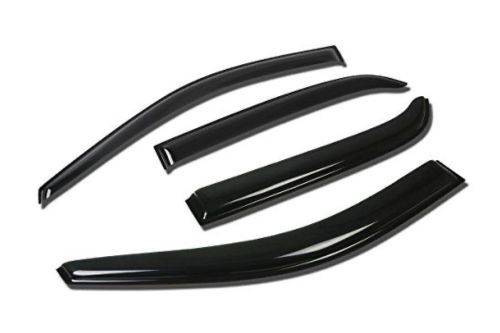 Rain Guard Window Visor
The Rain Guard Window Visor provides protection from rain and other weather elements while driving with the windows slightly open. It also helps to reduce wind noise and drag when the windows are open, providing a more comfortable and enjoyable driving experience.
Read More
Read Less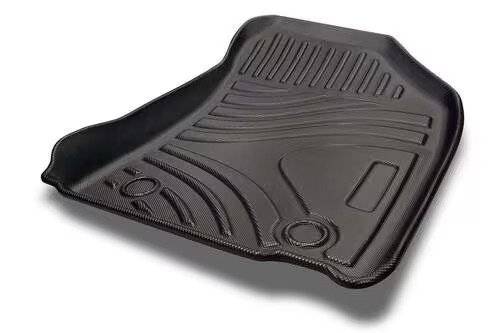 Rubber Matting
The rubber matting protects the interior from dirt, dust, and other debris that can accumulate on the floor. It is made of high-quality rubber that is durable and easy to clean, making it an ideal choice for car owners who want to keep the interior in pristine condition.
Read More
Read Less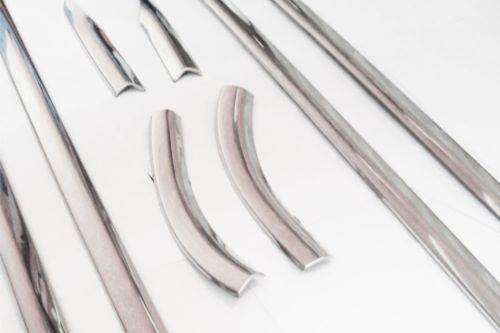 Garnish Cover Set Chrome
The Garnish Cover Set Chrome adds a stylish and luxurious touch to the car's exterior key elements, including headlights, tail lights, door handles, and gas tank These not only enhance the car's appearance but also offer protection from minor scratches and damages that can occur during everyday use.
Read More
Read Less
Compare Variants of Toyota Wigo
Gasoline
Manual
Air Conditioner
Power Steering
CD Player
FM/AM/Radio
Speakers Front
Power Windows Front
Low Fuel Warning Light
Foldable Rear Seat
Rear Seat Headrest
Cup Holders-Front
Anti-Lock Braking System
Child Safety Locks
Driver Airbag
Passenger Airbag
Rear Seat Belts
Seat Belt Warning
Crash Sensor
Door Ajar Warning
Side Impact Beams
Front Impact Beams
Engine Immobilizer
Centrally Mounted Fuel Tank
Adjustable Headlights
Alloy Wheels
Digital Odometer
Heater
Tacho Meter
Height Adjustable Driver Seat
Vehicle Stability Control System
Engine Check Warning
Adjustable Steering Column
Day & Night Rear View Mirror
Electronic Multi Tripmeter
Digital Clock
USB & Auxiliary Input
Anti Theft Device
Bluetooth Connectivity
Manually Adjustable Exterior Rear View Mirror
Power Antenna
Power Door Locks
Central Locking
Hill-Start Assist Control
Adjustable Headrest
Sun Visors
ISOFIX Child Seat Mounts

View More

Get Exclusive Promos

Gasoline
CVT
Rear Window Wiper
Voice Control
Multi-function Steering Wheel
Touch Screen
Keyless Entry
Apple Carplay/Android Auto
Rear Parking Sensors

View More

Get Exclusive Promos

Gasoline
CVT
Power Adjustable Exterior Rear View Mirror
Electric Folding Rear View Mirror
Outside Rear View Mirror Turn Indicator
Fog Lights Front
Rear Spoiler
Engine Start/Stop Button
Speakers Rear
Rear Camera
Anti-Theft Alarm

View More

Get Exclusive Promos
Toyota Wigo Videos
Watch latest video reviews of Toyota Wigo to know about its interiors, exteriors, performance, mileage and more.
Wigo Videos
Compare Toyota Wigo with Alternatives
Toyota Wigo Questions & Answers (FAQs)
What kind of modifications can improve the Toyota Wigo aesthetics?
Exterior modifications such as upgrading the headlights to LED, customising the bumper and paint scheme, adding optional accessories, and side skirting lights can improve the aesthetics of the Toyota Wigo.
Can the interior of the Toyota Wigo be modified?
Yes, the interior of the Toyota Wigo can be modified by changing the upholstery, adding an aftermarket touchscreen unit, or installing an armrest or ambient lighting.
Get easy loan for your Cars
EMI starting from

₱10,447 /month
Get Loan