8 bike safety tips for newbies taking to the road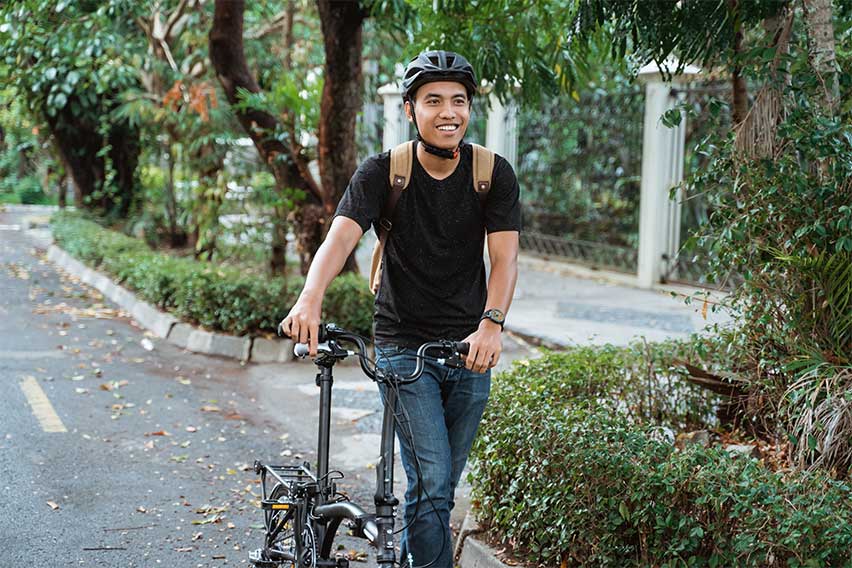 You might be one of the many Filipino commuters who have experienced difficulties when it comes to transport options during the pandemic.
Because of reduced transport alternatives along with stringent health guidelines that make public transportation more challenging, many people in cities have resorted to biking as an alternative mode of transportation.
In relation to this, Allianz PNB Life, an insurance firm that introduced the "Ride Safe" campaign in 2020, has been continuously promoting green mobility and bike safety across urban areas. It has also collaborated with the San Juan City government to make it one of the most bike-friendly cities in the metro through the establishment of bike lanes and the installation of the first solar-powered pit stop for cyclists in the Philippines.
With this, Allianz PNB life presents some tips to aid new bikers in safely navigating the busy streets of Metro Manila:
Look for an appropriate bike
The appropriate bike guarantees safety and comfort while cycling. Road bikes or hybrid bikes are typically the best option for amateurs when riding on a combination of paved and bumpy roads as well as through heavy traffic. Moreover, a bike's size should coincide with the rider's height.
Prepare
The first and most essential cycling gear to have is a proper-fitting safety helmet, which should cover the forehead around one inch above the eyebrows and should not tip backward or forward.
Another must-have is bright, reflective clothing or fluorescent or neon-colored wear like stick-on reflectors or hi-vis (high visibility) jackets, especially when biking during the evening or early morning or during cloudy days.
Employ biking strategies
Practicing is one of the ways to establish road confidence. Looking over your shoulder without swerving, maintaining balance when turning around a corner, descending, and ascending are fundamental skills that you need to master. You should also familiarize yourself in terms of the proper way of changing flat tires with the use of a patch kit.
In San Juan, for instance, riders have the chance to take a rest and repair their bikes because of the existence of pit stops shown here.
Check your biking equipment
Before going on a ride, it is essential to make sure that all bicycle parts are in good condition and are safe. Your bicycle seat should be properly adjusted and locked at the right height, which is technically at the same level or a bit lower than the handlebars. The tires should be inflated effectively as well.
Obey traffic rules
Bicycles are regarded as vehicles and thus, it is important that you follow traffic rules, not only as a form of respect to pedestrians and drivers but also to avoid any form of road accident.
Cyclists are perceived as more vulnerable compared to their driver counterparts, and this is the reason why you should practice caution while cycling. Riding a bike will not exempt you from following traffic lights and road signs.
Be familiar with hand signals
Basic hand signals are another major factor to consider when obeying traffic rules. When turning, cyclists are encouraged to signal right or left. The same goes for stopping or slowing down. Some fundamental hand signals can be learned here.
Be part of a cycling group
A lot of cycling groups exist in the country and they serve as avenues for new riders to acquire essential knowledge from more experienced individuals. Riding with a group is considered safer and more enjoyable compared to riding alone.
Enjoy your ride
It is essential to make the most out of your ride. Biking is regarded as an effective form of exercise, a good way of spending time with friends and family, and a better approach towards decreasing carbon emissions. Similar to motorcycle insurance, biking is deemed as a long-term investment for the environment, your loved ones, and your health.
Photo from Allianz PNB Life

You might also be interested in

Motorcycle Articles From Carmudi
Yamaha Nmax to be given away in PUBG Mobile's newest campaign

Ruben Manahan IV,

Dec 06, 2023

Yamaha PH launches new campaign for Mio Gravis

Ruben Manahan IV,

Dec 03, 2023

Yamaha partners with Spartan PH to push Mio Gear, 'Play Your Tough' campaign

Check out these motorcycle safety riding tips from MDPPA

Suzuki PH eyes to sell up to 70K Smash115 units for 2024
Key Things to Consider Before Buying a Used Motorcycle

Cherryl Anne Cruz,

Jul 21, 2017
Insurance for Motorcycles

Cherryl Anne Cruz,

Jul 21, 2017
8 bike safety tips for newbies taking to the road
Choose a city to get promos and prices in your area