Hyundai Philippines Scorecard for Q1 of 2016 - Not Bad We Must Say!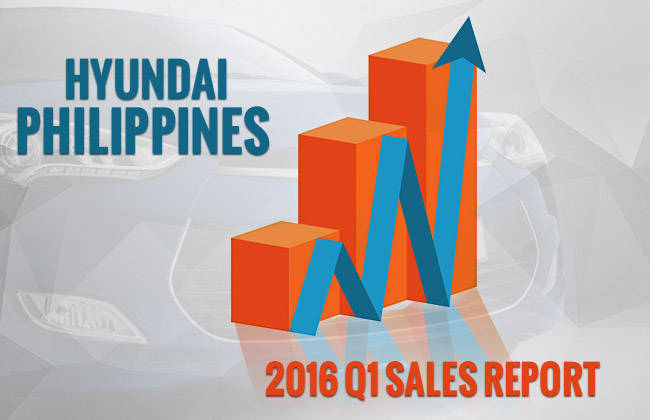 MANILA: Only a few days back Chamber of Automotive Manufacturer of the Philippines announced its sales analysis for the first three months of 2016. Wherein it mentioned the overall auto sales growth of the country and declared the names of top five performers in the said field. What didn't came as much of a surprise was the missing of the name 'Hyundai' from the list of top automakers in the sales front. It is been a while since Hyundai has featured in the said list, which was dominated by players like Toyota, Mitsubishi, Ford, Isuzu, and Honda (in descending order, of course).
But earlier this day what we got was the sales analysis report of Hyundai Philippines that looked surprisingly well. Looks like Hyundai is gearing up for the year and aims to attain what it has long strived for, to feature in the top 5 automakers list. This South Korean automaker has shown improvement on both units sold and quarter-on-quarter front. Its achievements are not just restricted to Passenger cars but is equally contributed by its Light Commercial Vehicle segment.
Now, we know that it's the quantity, the figures that are valued the most when we talk sales, in particular. So below you will see how Hyundai Philippines is claiming a 39% growth rate.
1. Total = Passenger Cars + Light Commercial Vehicle
Hyundai Philippines sold a total of 7,469 units.
During the same time frame, in 2015, this figure was restricted to 5,364 units.
A growth of 39% is thus achieved by the brand.
Looking at its quarter-on-quarter sales it shows an identical growth percentage of 39%.
2. Passenger Car Segment Performance
In the initial three months of 2016, Hyundai Philippines sold a total of 5,186 passenger cars.
The same figure in 2015 was limited to 3,653 units.
Hinting towards a growth percentage of 42%.
The quarter-on-quarter result in the said segment showed 23% inclination.
3. Light Commercial Vehicle Segment Report
Overall 3,653 units of LCV were sold by the company in Q1.
If compared to last year sales figure, LVC segment has shown a growth rate of 33%.
The quarter-on-quarter growth is excellent in this front and reads up to 99%.
That's all on the figurative front, now let's talk about the efforts put up by the brand to achieve such amazing sales report. What all according to us have helped Hyundai accomplish this benchmark is listed below -
1. Irresistible promos, like the one it announced in the very beginning of 2016. It went by the name PRICELESS and offered many of its cars at discounted rates.
2. Line-up up gradation, this is one of the most important factors leading to the brand's growth. Hyundai seems to know it very well, as it recently launched a new Eon GLX variant.
3. Great show at 2016 MIAS, Hyundai was among the few automakers to have put up a great show for the audience at MIAS. The brand showcased as many as four cars at the auto show including 2016 Elantra, all-new Santa Fe, Veloster Turbo, and Tucson 2016.
4. Economic Growth, last one to contribute to its raised sales figure is the Philippines growing economy. The local automotive industry gains a lot under such a scenario by the way of increased purchasing power of the people. Factors contributing to the growth are - raised employment growth, low inflation rate, and a higher level of disposable income.
That's all for now, let's wait and see how long Hyundai Philippines takes before it make up to the top 5 list.
Also Read: Hyundai Dazzled With its Fleet of Cars At MIAS 2016
Hyundai Elantra Promos, DP & Monthly Installment
You might also be interested in
Latest Hyundai Eon (2012-2016) Cars Videos on Zigwheels