Manila Int'l Auto Show 2020 goes virtual this Dec.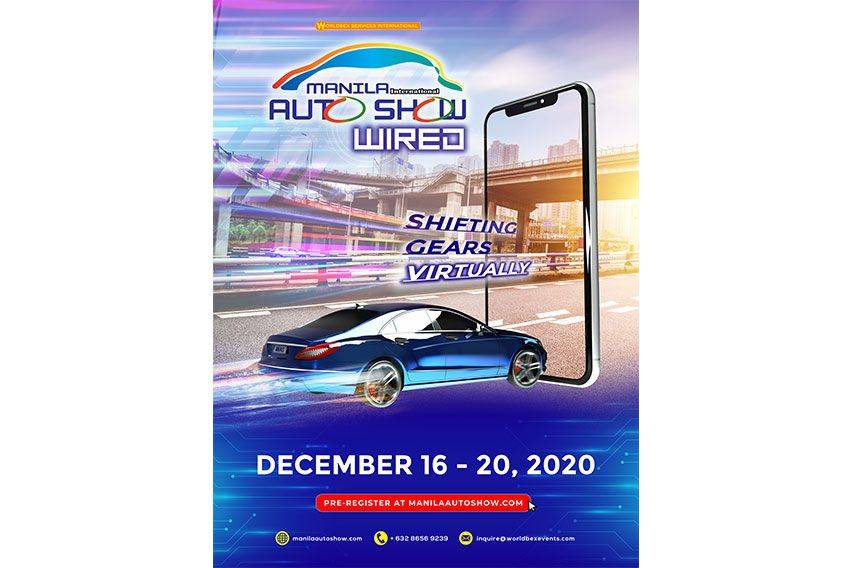 MANILA: Originally slated to ensue last April 2 to 5, this year's Manila International Auto Show (MIAS) was cancelled due to the onslaught of the COVID-19 pandemic. This was a painful but necessary move to assure the safety of participants and attendees. "In light of the recent turn of events concerning COVID-19, which has led the Philippine government to declare a state of public health emergency, the management of Worldbex Services International has come to the decision to temporarily postpone MIAS (Manila International Auto Show) 2020," the show organizers had said in a statement.
Now, the country's longest-running and largest car show is back on track — digitally, for the first time — as it sets to serve up its expected smorgasbord of everything automotive this coming December 16 to 20. 
Rechristened "MIAS Wired," this now takes the place of what should have been the 15th staging last summer. MIAS Wired will feature an interactive platform where brands and enthusiasts "can experience the same excitement MIAS delivers."
Attendees can check out the latest car models, get insider access to virtual showrooms, learn about the latest innovations and trends in all things automotive, and even "meet possible partners and network in the automotive industry."
MIAS Wired also lines up activities for car enthusiasts. 
"As we gear towards the next normal in staging events, the support of the biggest brands in the local and international automotive arena is present even with the recent pandemic crisis," said MIAS organizers in a release. "Taking the next step further through the first virtual automotive show with the most exciting features and activities while keeping our fans at the edge of their seats.  The country's top car brands, car accessories, automotive technology, and car enthusiasts alike will be the first to witness this kind of collaboration under one virtual event."
MIAS was first held in 2005, boasting a footprint of 6,000 square meters of indoor space and an additional outdoor area of 3,000 square meters. According to Uy and co-organizer Jason Ang, the yearly event is "envisioned to be a world-class spectacle competitive with the region's best." Last year, the exhibition drew a record 142,000-plus attendees.
For more information, visit www.manilaautoshow.com to register for free. Contact inquire@worldbexevents.com or call 02-8656-92-39 for interested parties. Follow the Manila International Auto Show on FB & IG @ManilaInternationalAutoShow.
Image from the Manila International Auto Show
Also read: Manila International Auto Show 2020 is 'temporarily postponed'
You might also be interested in
Latest Cars Videos on Zigwheels