Foton Gratour 2022
Foton Gratour 2022 is a 8, 2 and 14 Seater Minivans available between a price range of ₱535,000 - 645,000 in the Philippines. It is available in 3 colors, 5 variants, 1 engine, and 1 transmissions option: Manual in the Philippines. The Gratour dimensions is 4386 mm L x 1650 mm W x 1975 mm H. Over 7 users have reviewed Gratour on basis of Features, Mileage, seating comfort, and engine performance. Gratour top competitors Honor S.
Read More
Read Less
Gratour Pros & Cons
Get the better insight and helps to buy or not
Things we like in Gratour
Enormous seating capacity
Comfortable ride experience
Exceptional fuel economy
Affordable
Things we don't like in Gratour
Dated design
Average acceleration
Recent Updates of Gratour
This small minivan from Foton features a boxy design and long wheelbase that ensures enough space on the inside to accommodate eight passengers. Powering the Foton Gratour is a 1.5-litre 4-cylinder gasoline engine that makes 114 hp of power and 150 Nm of torque. The engine is paired to a five-speed manual gearbox. Comfort inside the cabin is ensured by separate air conditioning for the front and rear. The Foton Gratour is available in five variants in the Philippines market – Minivan, Wing Van, MPV 14-seater, Dropside, and F-Van. In terms of pricing, the Gratour starts at Php 520,000 and goes up to Php 708,000.
Foton Gratour Price
The Gratour is priced between ₱535,000 and ₱645,000 .
Foton Gratour Variants
There are 5 variants available of Gratour: Minivan, Dropside, F-Van, Wing Van and MPV 14 Seater.
Foton Gratour Power-trains
The Gratour is powered by a 1500cc 4-cylinder Gasoline engine produces 114 hp of power and 150 Nm of torque.

It comes with the option of a 5-Speed Manual transmission gearbox.
Foton Gratour Features
The feature list of Gratour includes Anti Theft Device and Engine Immobilizer in terms of security.

Features for Comfort & Convenience include Air Conditioner, Heater, Adjustable Seats, Height Adjustable Driver Seat, Accessory Power Outlet, Power Steering, Foldable Rear Seat, Low Fuel Warning Light, Rear Seat Headrest and Bottle Holder.

Features for Entertainment & communication include FM/AM/Radio, USB & Auxiliary Input, Speakers Front and Speakers Rear.
Foton Gratour Interior
The interior features include Tacho Meter, Electronic Multi Tripmeter, Fabric Upholstery and Digital Odometer.
Foton Gratour Exterior
If we talk about the exterior features then it include Manually Adjustable Exterior Rear View Mirror, Wheel Covers, Power Antenna, Centrally Mounted Fuel Tank and Adjustable Headlights.
Foton Gratour Safety
The safety features of the Model includes the Anti-Lock Braking System, Ebd, Seat Belt Warning, Day & Night Rear View Mirror, Front Impact Beams, Side Impact Beams, Door Ajar Warning and Engine Check Warning.
Foton Gratour Competitors
The Gratour Competitors are: Kaicene Honor S.
Read More
Read Less
Foton Gratour 2022 Price Philippines
Foton Gratour December 2022 prices start from ₱535,000 for base variant Dropside and goes upto ₱645,000 for top-spec variant .
Compare Foton Gratour with Alternatives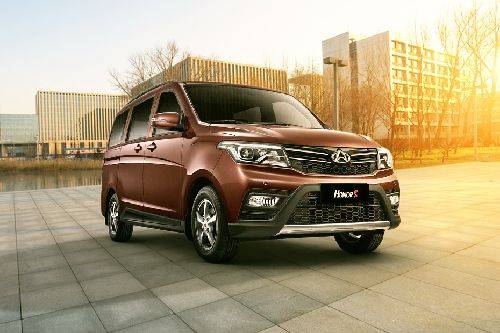 Centrally Mounted Fuel Tank
Yes
Adjustable Headlights
Yes
Front Brake Type
Ventilated Discs
Compare Similar Cars
Foton Gratour Price In Popular Cities
Please start typing to search your city here
Gallery of Gratour
Foton Gratour 2022 Interior Images
Gratour Interior Images
Foton Gratour has 5 images of its interior, top Foton Gratour 2022 interior images include Dashboard View, Stereo View, Glove Box, Gear Shifter, Front Side Ac Vents.
Foton Gratour 2022 Exterior Images
Gratour Exterior Images
Foton Gratour has 5 images of its exterior, top Foton Gratour 2022 exterior images include Front Angle Low View, Side View, Headlight, Tail Light, Branding.
Foton Gratour Colors
Foton Gratour Colors
Foton Gratour is available in 3 different colors - Brown, White, Brown Metallic.
Brown

White

Brown Metallic
Foton Gratour Videos
Watch latest video reviews of Foton Gratour to know about its interiors, exteriors, performance, mileage and more.

Gratour Videos
Compare Variants Of Foton Gratour
Foton Gratour Review
Abhishek Katariya says
The Foton Gratour is a minivan that flaunts a tall boxy profile along with a long wheelbase that gives it a roomy interior. It can comfortably accommodate up to seven to eight people. The exteriors are quite appealing and the interiors have been crafted to perfection. Power is transmitted to the rear wheels with the help of a five-speed manual transmission. The steering gear type used is the rack and pinion type and is electrically powered. It ensures a hassle-free ride experience. One can use this car for driving on the roughest roads. The suspension in the car supports it throughout the journey. It employs alloy wheels which produce a pretty impressive result.
This beautiful minivan does not compromise its comfortability index. The quality of the interiors is amazing. The entire interior section is full of leather material. Even the steering wheel is leather-wrapped. The dashboard is also pretty impressive. There are many other features of this ride that make it a very interesting deal for all the passionate car lovers of the Philippines. It is one of the most desirable minivans in only the Philippines but all of Europe.
Read More
Read Less
Foton Gratour Interior & Features
The interiors of the Foton Gratour are made up of premium leather quality. The steering wheel is leather-wrapped and the seats are also pretty comfortable. The dashboard is also pretty impressive and is made up of premium plastic quality. The door handles are made up of soft-touch surfaces with leather and rubberized plastic on the door handles. The dashboard also comprises faux stitching and layered panels. The infotainment system present acts as another key factor in enhancing the overall ride quality.
Gratour Exterior
The outside of the 2020 Foton Gratour is typical of an MPV, with sufficient height to enable appropriate headroom for people inside.  The Gratour's height is then compensated by its aggressive and broad stance, with the wheels extending as far as they can towards the corners, it is a minivan but doesn't look like one. The towering chrome grille, flanked by sloped and sweeping headlights, and a large Foton emblem in the centre, frame the front look.
The extended foglamps sunken into the front bumper are also unique in design, contributing to the charm of the 2020 Foton Gratour. The side profile is free of any cladding or harsh edges, but a delicate, sweeping character line that begins at the bottom of the rear door breaks up the monotony. The doors are also pretty easy to get in and out owing to their height and wide openings. This car also includes the horizontal tail lamps below the line of the window and a chrome bar.
Foton Gratour Ride & Handling
The Foton Gratour is known for its exemplary ride quality and supreme handling. Even after being laden with up to seven people this car can be handled with ease because of the marvellous suspension system. The car's MacPherson struts in the front and a five-link non-independent rear suspension absorb road irregularities and potholes while keeping the passengers comfortable. This powerful car can be used for off-roading conveniently.
Gratour Engine & Fuel Consumption
The Foton Gratour is powered by a massive 1.5-litre dual VVT 1500 cc engine that clocks in around 114 hp power. It's a capable car owing to its 150 Nm of torque, which is comparable to a bigger displacement engine's pulling power. It doesn't like to rev much, and it starts to whine at 4,000 RPM, but you'd rarely need to because 75 percent of the engine's output is accessible low in the powerband anyhow.
The Foton Gratour is only available with a 5-speed manual transmission. Given the negative connotation attached to such automobiles, going for a manual gearbox is the best choice, since it is more robust and less expensive to replace if it breaks down after a few years of ownership. The fuel economy is quite impressive as compared to the carrying capacity of this automobile.
Foton Gratour Braking & Safety
The Foton Gratour features a four-wheel antilock disc braking system assisted by electronic force distribution. This makes sure that enough stopping power has been provided to the brakes. This ride also adorns a variety of safety features like dual front airbags, ISOFIX sensors, backup sensors. It also features a reverse camera.
Gratour Verdict
I firmly believe the fact that the Foton Grantour offers a wide variety of features at its price. The powerful and efficient engine coupled with the beautiful interiors and the electronic force distribution braking system makes this deal irresistible. It is recommended for the ones who seek basic people moving capability in a vehicle with ease.
Sell your car at the best price
Verified and genuine buyers
Free listing
List your car
Latest Question
has asked on May 26, 2018
Q. What is the price of Foton Gratour?
has asked on May 26, 2018
Q. What is the Minimum DP I Need to pay to take home Foton Gratour?
has asked on May 26, 2018
Q. What else I Can buy in Foton Gratour price range?
has asked on May 26, 2018
Q. What are the Dimensions of Foton Gratour?
has asked on May 26, 2018
Q. What are the top variants of Foton Gratour?
Gratour Questions
Automotive News and Reviews
Get easy loan for your Cars
EMI starting from

₱9,178 /month
Get Loan