Suzuki Swift Dzire GL+ gearbox offers the best of both worlds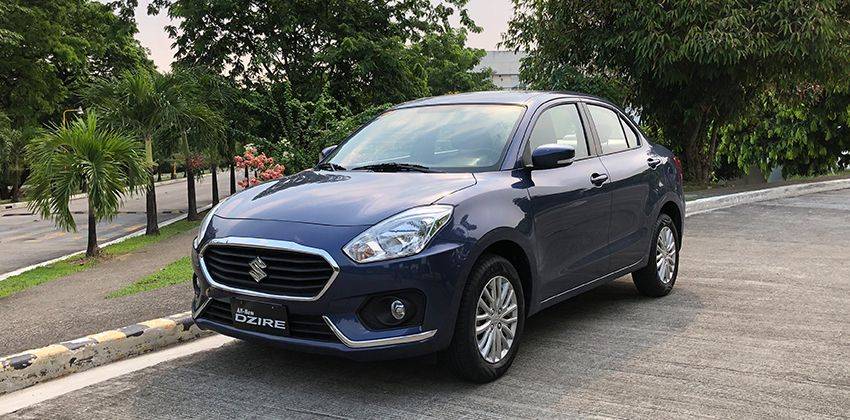 The Suzuki Swift Dzire GL+ made headlines a couple of years ago when its Japanese carmaker introduced a new twist to the manual transmission: the Auto Gear Shift or AGS for short.
It's technically a manual transmission with a clutch that's electronically controlled by motors and solenoids — not to be confused with an automatic transmission or a dual clutch.
Before I tell you what this innovative gearbox is all about, let's take a closer look at this trim.
Exterior
A former sub-model of the Swift, this third-gen Dzire (the first one was introduced some 11 years ago but only for the Indian and African markets) shares the same façade and the Heartect platform with its sibling.
Heartect is fairly new, is lighter and more rigid, which improves the vehicle's running, turning, and stopping motion.
Similar to the Swift, it has upswept multi-reflector headlamps that are emphasized by curvy front fenders, and then there's the similar logo-bearing wide hexagonal grille.
The sides are plain, but come around back and you'll get combo taillights with LED and a trunk lid stylized to show a mini spoiler lip.
It looks extremely compact by itself but parked beside a C-segment car, the difference in length could have been no more than maybe three inches.
Interior
Suzuki utilizes all of its 2,450mm wheelbase to lay as much space inside as the vehicle can. It doesn't feel cramped, which is good, and there's ample amount of headroom as well.
The layout is noticeably neat and made even more appealing by the black theme with the gray panel and trims.
All controls and switches are clearly marked and easy to understand and operate — from the infotainment system all the way to the climate control system.
For connectivity options, there are two ports below, just on top of the cupholders, one is the 12V socket and the other is USB/Aux-in.
Seats are covered in plain fabric. It would probably feel better with lumbar support in the next update or just get one yourself from your friendly neighborhood autoshop.
The steering wheel comes with audio controls on the left stalk.
Engine
This unit draws power from the same engine, a 1.2-liter gasoline engine with 82hp and 113Nm of torque, as its predecessor. As mentioned previously, this unit uses Suzuki's AGS.
Power is just perfect for its size and weight — 895 kilograms unladen.
Now, onto its innovative transmission.
In the first 30 minutes or so, until I got used to the idea that this is not an AT; it felt like the system managed shift shock terribly.
As it shifts up, if you keep your foot pressed even slightly on the accelerator, for a split second, it will feel like the vehicle just died.
The unit feels like it lost power, and will slow down for a moment. In reality, everything is ok and the AGS is just shifting. After entering the new gear, it promptly picks up where it left off.
This happens because the appropriate revs have been reached as predetermined by its microprocessor-based system that controls the electronically-operated clutch.
I realized that I had to ease off the throttle to avoid that "losing power" sensation because the AGS will literally take accelerator input out of the equation to facilitate the upshift.
During normal throttle operation, it will shift at 2,000rpm, but really step on it, rev the engine up, and watch the upshift happen at past 3,000.
You can also opt to use its "manumatic" mode and shift through the gears manually using the +/- system on the gear shifter.
Ride and handling
For a P698,000 vehicle, comfort is very good. It dismisses potholes and poorly asphalted road sections just as well as million-peso cars. Rollover resistance not very good though mainly because of the unit's high ceiling relative to the short wheelbase.
It's very light on its feet and feels very easy to maneuver with its power-assisted steering. As is common with vehicles in this category, it is very easy on the arms and moves around cramped spaces on and in tight parking garages smoothly.
One of the great benefits of the AGS is minimum transmission losses (versus AT) and perfectly timed shifts (versus MT). The result, I got some 12 kilometers per liter even in city driving.
Verdict
The AGS is relatively new tech and will raise some questions from consumers, but Suzuki believes in it enough to put their money where their mouth is.
For people who hate MTs on weekdays but love the control of stick shifters on weekends, this may just be the answer to the dilemma because if there's one car out there that can give you the best of both worlds, that could be the Suzuki Dzire GL+.
Photos by Eric Tipan
Sell your car at the best price
Verified and genuine buyers
Free listing
List your car
Suzuki Car Models
Suzuki Dzire

Suzuki APV

Suzuki XL7

Suzuki Carry

Suzuki Celerio

Suzuki Ertiga Hybrid

Suzuki Jimny

Suzuki Swift

Suzuki S-Presso
Suzuki Cars Price

Suzuki Dzire Car Articles From Carmudi
Suzuki Dzire: Flop or fire?

Suzuki serves up hot promos in April

Ruben Manahan IV,

Apr 15, 2021

2021 Suzuki Dzire: The 3 variants in detail

Wilbert Tan,

Mar 05, 2021

2021 Suzuki Dzire vs. the competition: Your other subcompact sedan options

Wilbert Tan,

Feb 04, 2021

Old against new: 2016 vs. 2019 Suzuki Swift Dzire

Wilbert Tan,

Jan 07, 2021
Choose a city to get promos and prices in your area