Low down payment offerings still available via Mitsubishi's 'Hot Summer Deals'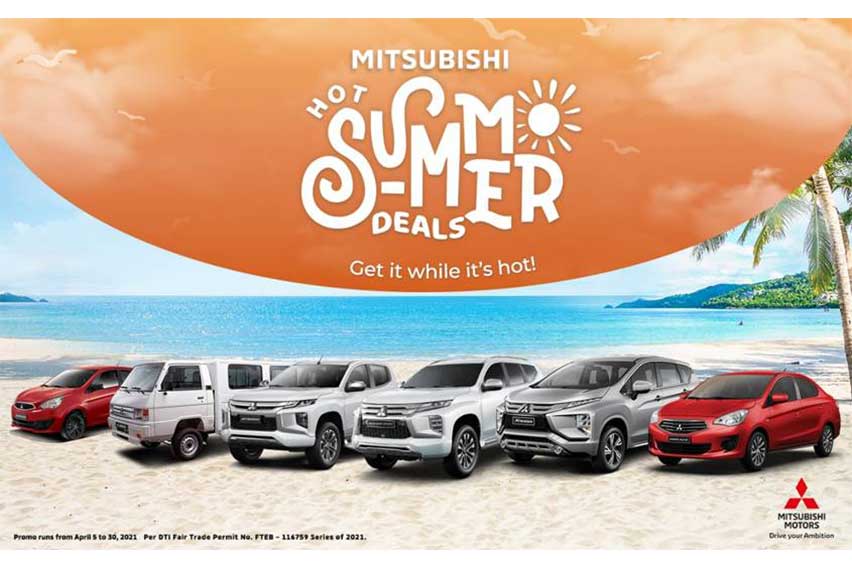 MANILA: Mitsubishi Motors Philippines Corporation (MMPC) continues to offer great deals and low down payment plans on select models through its extended "Hot Summer Deals" promo.
Customers can still take advantage of the low down payment offer for the Mirage and Mirage G4, which are now available for as low as P28,000 all-in down payment. These two passenger car models are ideal for first-time car buyers who are eyeing an affordable yet efficient ride. The five-seater models are powered by a fuel-efficient 1.2-liter 12-valve MIVEC engine that can go up to 23.1 kilometers per liter of fuel. The Mirage G4 is recommended for car buyers who want additional cargo space as it comes with a more spacious trunk for large items.
Also included in the promo is the seven-seater Mitsubishi Xpander, which is positioned as a perfect family vehicle as it offers more space with a flexible seating configuration. It is best known for its sporty design and various safety and convenience features. In 2020, the Xpander was recognized as the best seven-seater multi-purpose vehicle (MPV) by C! Magazine and Auto Focus. The award-winning Mitsubishi Xpander is now offered for as low as P58,000 all-in down payment.
The Hot Summer Deals promo also offers easy Strada ownership as it can now be driven home for as low as P128,000 all-in down payment. This versatile truck is motivated by a 2.4-liter in-line DOHC with VGT and MIVEC engine that generates 181hp and 430Nm of torque. Its high-powered engine makes it dependable for heavy hauling, pulling, or responsive acceleration.
For customers who are looking for a luxurious and reliable sports utility vehicle (SUV), the Mitsubishi Montero Sport would be a great choice. The seven-seater SUV is best known for its exceptional driving performance and intelligent safety and convenience features. It is designed with an elegant and striking exterior that creates a commanding presence on the road.
MMPC also announced its new promo for the L300, which is now available for as low as P88,000 all-in down payment. The reliable workhorse has been trusted by many Filipino entrepreneurs for its high-powered yet fuel-efficient engine and durability. The Mitsubishi L300 is ideal for hauling and delivery services.
To learn more about the Hot Summer Deals promo, log on to www.mitsubishi-motors.com.ph or contact any Mitsubishi dealership nationwide.
Photos from Mitsubishi Motors Philippines Corporation
Also read: Mitsubishi PH achieves 1,000 consecutive 'safe days'
You might also be interested in
Latest Mitsubishi Cars Videos on Zigwheels