DEVELOPING STORY: MMDA to implement modified coding scheme in GCQ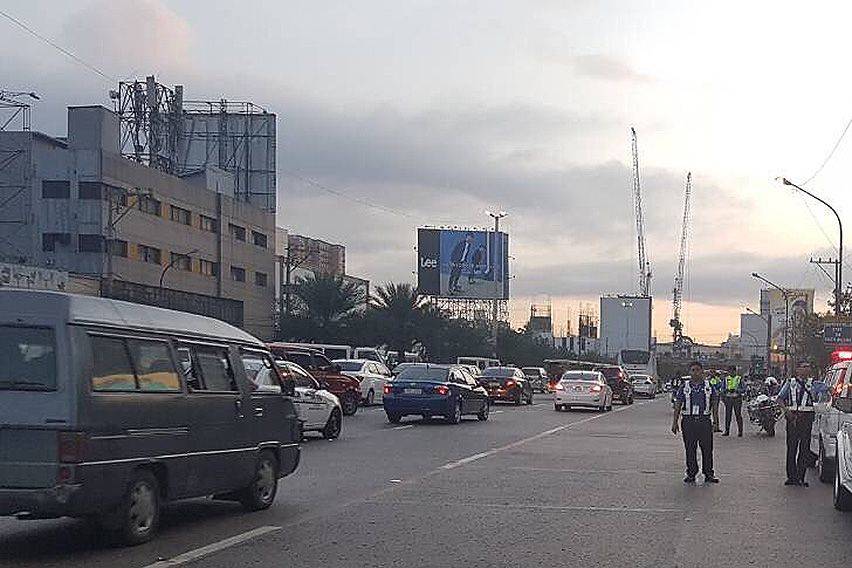 MANILA: (Last updated 28 May 2020, 7:40 p.m.) With the anticipation of the loosening of "lockdown" measures in the National Capital Region (NCR) next month after all 17 mayors in Metro Manila yesterday unanimously agreed to recommend general community quarantine (GCQ) to the Inter-Agency Task Force for the Management of Emerging Infectious Diseases (IATF-MEID), the Metropolitan Manila Development Authority (MMDA) has now begun crafting guidelines for a modified Unified Vehicular Volume Reduction Program (UVVRP) or the number-coding scheme.
To allow enhanced mobility under GCQ while still keeping the volume of private vehicles down to ease traffic, one stipulation of the modified UVVRP is that vehicle that are banned based on the last digit of their plate numbers can still go out provided there are two or more occupants in the vehicle.
"We have modified coding and we should have two passengers onboard a vehicle. Of course, if there is an emergency, our enforcers are not 'literal,' but let us not abuse them," said MMDA General Manager Jojo Garcia.
Frontline workers will be exempted from the modified number-coding scheme to make their commute easier.
"The MMDA understands the plight of the medical front-liners so we want to assist them during this challenging time," Garcia said.
It still stands that vehicles carrying more than one passenger will be exempt from the modified number-coding scheme.
We want the motorists to maximize the use of private vehicles on the road," Garcia said
Regarding public transportation, rail (PNR, LRT, MRT), taxis, TNVS, tricycle, and public shuttles will be permitted to operate as per the "National Action Plan COVID-19" released by the Office of the Press Secretary on 14 May 2020.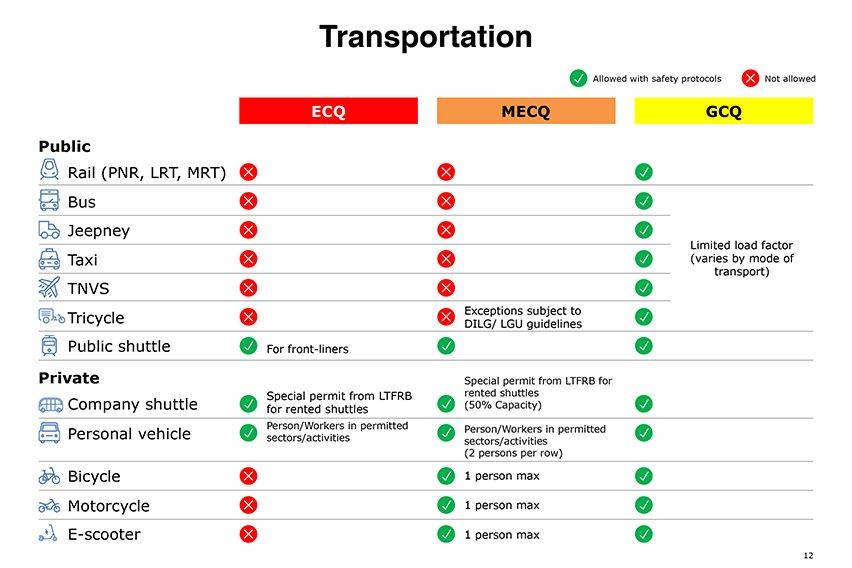 Public utility buses (PUBs), according to DILG (Department of Interior and Local Government) Secretary Eduardio Año, will be allowed to operated, but at 50% capacity.
"Under GCQ, ang buses papayagan na rin 'yan pero 50-percent capacity at mayroon dapat provisions diyan ng minimum health standards. Yung mga upuan niyan ay hindi talaga dapat uupuan lahat, may alternately... nasa kanan 'yung una, 'yung susunod nasa kaliwa [Under GCQ, buses will be allowed to operate at 50-percent capacity and there should be provisions on minimum health standards. Not all seats will be utilized, there will be alternate seating - the first passenger is on the right, the next is on the left] and so on and so forth," said Año.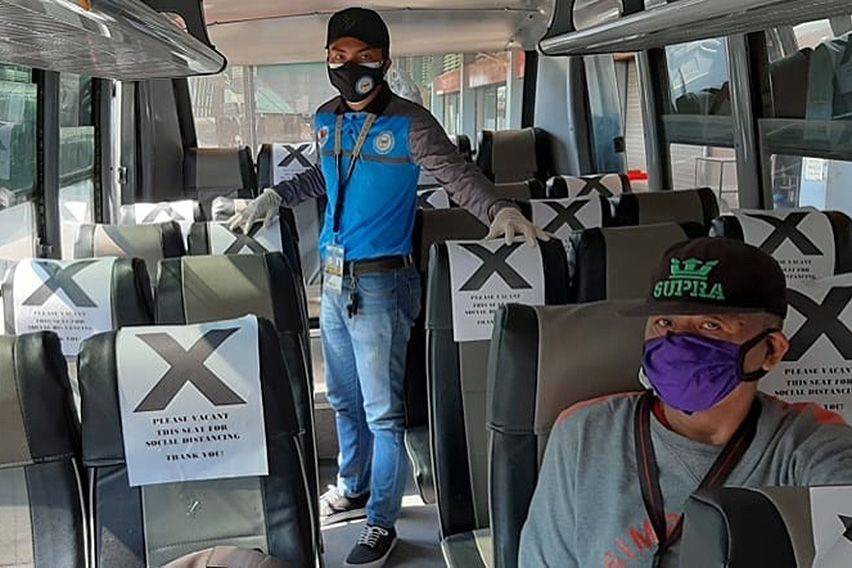 Commuters and motorists alike will have to adjust to the position of PUBs in Metro Manila as the MMDA plans to put the bus lanes of opposite side of EDSA, the two left-most lanes. Loading and unloading stations will be the stations of the MRT-3.
"Yung mga bus po natin, ilalagay sa left side at dalawang lanes sila. Lalagyan natin ng barrier 'yan para at least mawala na sa bangketa ang tao at yung ating loading and unloading lanes ay dedicated na talaga para hindi na sa kalsada nagsasakay at nagbababa (For our buses, we will put them on the left side, both lanes. We will put a barrier there so that at least, the commuters will not be on the sidewalk and our loading and unloading lanes are dedicated so that they won't get on and get off on the street)," said Garcia in a radio interview.
According to the MMDA, buses will be positioned in the median lane because their doors are on the right. Loading and unloading will happen in the middle of EDSA where footbridges will be constructed so that commuters may then cross from the center of EDSA to the MRT-3 station or to the side of the road (if there is no MRT-3 station nearby.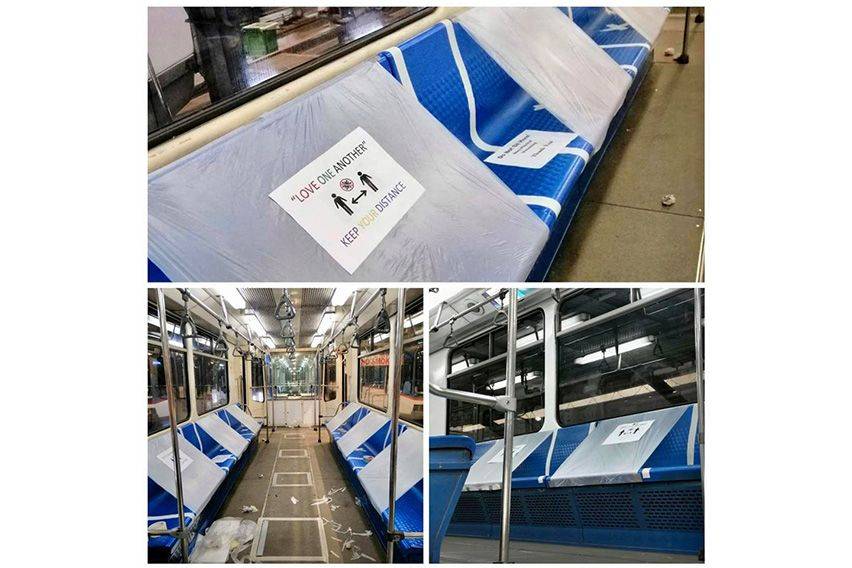 Metro Manila mayors and Secretary Año continue to have major concerns regarding the operation of  public utility jeepneys (PUJs). 
"Ang problema kasi sa traditional jeepney magkakalapit at magkakaharap, kapag dumaan 'yung pasahero diyan ay talagang almost face to face na rin 'yung kanilang distansya [The problem with the traditional jeepney is that passengers are near and fronting each other so if a passenger passes by they'll face-to-face distance-wise] So one way is to reconfigure the seats and have it approved by DOTr and probably it's time for us to modernize our jeepneys," added Año.
They are eyeing its continued suspension as its service may cause a rise in the number of COVID-19 cases.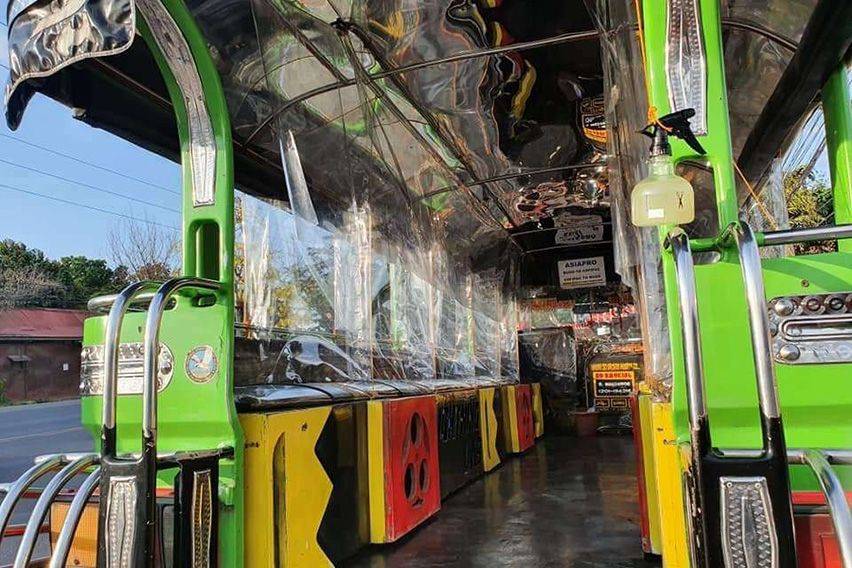 Other rules and regulations of this modified coding scheme is expected to be released once GCQ has been implemented in Metro Manila.
Photo courtesy of the Department of Transportation Facebook page
Also read: MMDA says number coding still suspended as fake infographic spreads
You might also be interested in
Latest Cars Videos on Zigwheels