Results Out- Toyota Philippines makes it Big again in Sales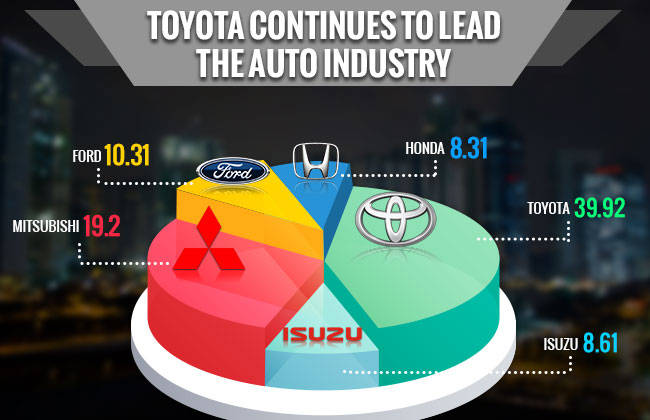 MANILA: Seems like it's a good commercial year for Philippines automotive market. Chamber of Automotive Manufacturers of the Philippines, Inc. (CAMPI) has recently announced the sales figures for the first quarter of this year and it's overwhelming. The agency declared that the Filipino automotive industry is just growing bigger and this is the fourth consecutive year where a decent hike in sales figures are recorded in the first quarter. The agency announced that there has been a jump of 22 percent in the sales of commercial and passenger vehicles between 1st January to 31st March 2016 in comparison to the same time period of the year 2015.
In its descriptive report, CAMPI declared that all the 3 months have seen an elevation in the sales than the past year which cumulatively made it this big. In January this year, a total of 23808 vehicles were sold from which 8632 were passenger drives while the year 2015 recorded 18662 vehicles in total with 7200 passenger cars making it a total of 27.6 percent of overall growth and 19.9 percent elevation in passenger cars sales. February saw the same encouraging numbers where 25150 vehicles were sold in the year 2016 including 9819 passenger drives in comparison to 20663 of total vehicles sales in 2015 inclusive of 8149 passenger cars. The percentage observed in this month was an increment of 21.7 in overall vehicle sales while passenger cars saw 20.49 percent of jump. Coming to the stats of March 2016, a total of 27441 vehicles were traded within the country which also included 11270 passenger cars whereas in March 2015, 23557 vehicles with 9702 passenger cars were sold which makes to 16.5 percent more sales overall and 16.6 percent better sales in passenger cars. Indeed, the numbers are encouraging!
CAMPI has also revealed the names of the top performers where the world leader Toyota has again excelled in the Philippines with 39.92 percent of market share followed by Mitsubishi with 19.2 percent. The third place has been secured by Ford Philippines with 10.31 percent while Isuzu managed to grab the fourth step on the ladder with 8.61 percent having a neck-to-neck competition with Honda which was very close attaining 8.31 percent of market share but had to satisfy with fifth in-line. The critics have been analyzing this continuous growth and assume that the new technology, cars and offers introduced during the new year encouraged the customers to make their long due purchases. In April, Philippines observed MIAS 2016 and got really appreciative booking numbers. With such a great beginning and motivating figures, Philippines automotive market has a long way to go. Congratulations Toyota for making it big again!
Also Read: Ford Philippines observes a Growth Rate of 52% this February
You might also be interested in
Latest Toyota Cars Videos on Zigwheels