Yamaha Mio Soul i vs 125 Honda Click 125 - Which one you should buy?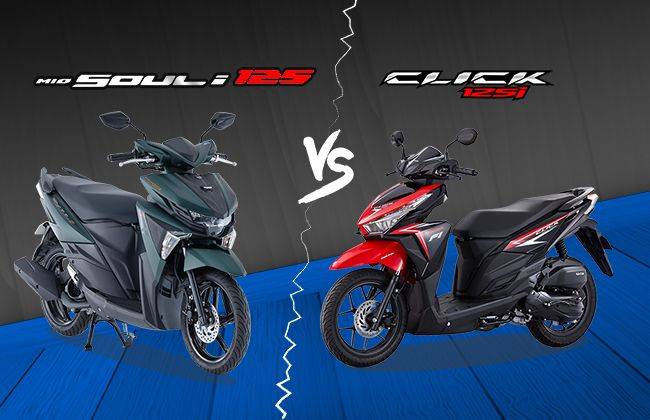 In the world of two-wheelers, few rivalries are as tense as the one between Honda and Yamaha. While it is more apparent in the realm of superbikes and Moto GP racing, not even scooters are spared from it.
The Honda Click 125i and the Yamaha Mio Soul i 125 are two of the best 125 scooters that you can buy in the country today. The rivalry and the competition between them have produced two exceptional scoters. These two can go toe to toe against each other in every way. They are so closely matched that picking out the winner between them is surprisingly difficult.
For starters, they are very similar in many ways. The engines for example. The Honda is powered by a 124.8 cc fuel injected 2-valve SOHC engine. It is good for 11.13 hp at 8500 rpm and 10.8 Nm of torque at 5500 rpm. The Yamaha Mio Soul i 125 is powered by a 125 cc SOHC 2 valve unit producing 9.38 hp at 8000 rpm and 9.6 Nm of torque at 5500 rpm. The small difference in power is nearly inconsequential for most purposes. The Honda, at 106-109 kg is heavier than the Yamaha by almost 10 kg, negating the power advantage. Yet both these scooters will get off the mark with enthusiasm. Twist the throttle and instant power delivery is guaranteed.
Both the companies have also given their engines advanced features for better performance in today's crowded cities. The Click 125i comes with Enhanced Smart Power and PGM Fi to give it optimized power and fuel economy. The Mio Soul's Blu Core engine has a lightweight aluminium cylinder and a forged piston for better heat dissipation. But the Honda's engine - unlike the Yamaha's - is liquid cooled. While this may not seem necessary with an engine of this size, it sure helps. And as we will see later, this is just the beginning of the many crucial differences between the two scooters.
Fuel economy is high on the priority list for both the scooters. The Yamaha comes equipped with a switchable Idle stop-start system that shuts down the engine after a few seconds of idling. But again, it is the Honda Click 125i that manages the better fuel economy. While the Yamaha can only reach 45-50 kmpl on average, the Honda easily manages 55-65 kmpl on average. This means that the Honda's 5.5-litre fuel tank lasts much longer than the Yamaha's 4.8 L fuel tank.
Practicality is not far behind the list of priorities for these scooters. Both of them come with a host of features that you would expect from modern scooters. The Yamaha Mio Soul i 125 has 14-litre of underseat storage capacity that is enough to store a jet type helmet. It also comes with a side stand switch that shuts off the engine when the side stand is engaged. A magnetic keyhole shutter keeps the keyhole secure when the scooter is locked. The shutter opens from a button provided on the key itself. The key is also equipped with an answer back system to locate your scooter in crowded car parks. It has an analog instrument panel. But it comes with an eco-indicator for optimum driving. This may sound promising on its own. But when compared to the Honda, things don't look so good.
The Honda Click 125i's underseat storage area can store 18-litre. It is also wide enough to store a full face helmet. Its instrument panel is a combination of an analog speedometer with an LCD multi-functional digital display. Like the Yamaha, the Honda has a magnetic security ignition key shutter. Here though, it shares space with a seat release button right at your thumb. Honda has also given it a park brake lock and an ACG starter for silent engine startups.
Both the Yamaha and the Honda have aggressive styling festooned with slashes and cuts. The Honda's color options, dual keen headlights and graphics give it more youthful and sporty appeal. The Yamaha takes a more sophisticated approach with muted colors, subtle graphics, and a split grab rail. Both the scooters are equipped with LED lighting and swanky 14" cast alloy wheels. The Yamaha does bring some muscle to the table with its fat 100/70 rear tire. But while the Yamaha uses tube type tires, the Honda uses tubeless tires.
Doing stopping duties on both the scooters is a disc brake on the front and a drum brake in the rear. The Honda has the additional advantage of being equipped with the Combi braking system. This deploys both the brakes when the right lever is pulled.
With these advantages, you would expect the Honda to be more expensive of the two. However, it is the Yamaha Mio Soul i 125 that will make a bigger dent in your budget. The fully loaded S variant of the Mio Soul 125 is priced at Php 83,900. The standard variant is available for Php 79,900 but lacks the Idle Stop-Start system. The Honda Click 125i with all its features is priced at just Php 80900. This price difference is very significant when you consider that the Honda has better power, better fuel economy, more space and is better equipped than the Yamaha. There are no two ways about this. The Honda Click 125 wins this hands down.
Yamaha Mio Soul i 125 vs Honda Click 125i Comparison
Yamaha Motorcycle Models
Yamaha Nmax

Yamaha Sniper 155

Yamaha Aerox 155

Yamaha Mio Gear

Yamaha Mio i 125

Yamaha Xmax

Yamaha YZF R15M

Yamaha XSR155

Yamaha Mio Sporty

Yamaha MT-15

Yamaha Mio Fazzio

Yamaha YZF-R3

Yamaha Mio Gravis

Yamaha Mio Soul i 125

Yamaha YTX 125

Yamaha Super Tenere ES

Yamaha MT-03

Yamaha XTZ 125

Yamaha XSR900

Yamaha YZF R1M

Yamaha XSR700

Yamaha SR400

Yamaha Tracer 9 GT

Yamaha MT-07

Yamaha MT-10 SP

Yamaha TMAX Techmax

Yamaha Tenere 700

Yamaha WR155R

Yamaha Serow 250

Yamaha MT-09

Yamaha YZF R7

Yamaha BOLT R-SPEC

Yamaha TMAX
Yamaha Motorcycles

You might also be interested in
Compare & Recommended
Engine Type

Single Cylinder, 4-Stroke, 2-Valve, Air-Cooled, SOHC Engine

Single Cylinder, 4-Stroke, 2-Valve, Air-Cooled, SOHC Engine

Single Cylinder, 2 Valves, 4-Stroke, Air Cooled, SOHC Engine

Single Cylinder, 4-Stroke, Air Cooled, SOHC Engine
Yamaha Mio Soul i 125 Motorcycle Articles From Carmudi
Yamaha Mio Soul i vs 125 Honda Click 125 - Which one you should buy?
Select your city to start search
Or select from popular cities