Honda CB1000R - Is it a good purchase?
In the world of litre-class motorcycles, Honda wanted to do something different, something that isn't in the market, something 'Neo'. It was this curiosity that led to the development of not just a single 1000 cc bike but an entirely new motorcycle range. Honda likes to call it the NSC (Neo Sports Cafe) and the CB1000R is the senior-most member of this family. It was first showcased to the world in November last year and quickly gained a lot of attention thanks to its retro-modern styling. So, is the Honda CB1000R a good purchase? Let's find out.
Looks and design
The foundation of the NSC concept was to have an extraordinary design that has a mix of retro and modern style. Clearly, Honda has done a fantastic job in achieving that, right? The CB1000R is indeed a retro-modern machine. Features like the round headlamp fitted with LEDs and LED DRLs are a perfect example of how classical and modern elements can be integrated with harmony. And it isn't just the front of the bike that has this mixed yet beautiful appearance, even the rear end gets a minimal and simple LED tail lamp. Another modern element to pay heed to is the four shiny exhaust headers which play a huge role in getting your adrenaline high. But the catch here is that don't let these good looks fool you. Underneath, the CB1000R is a beast, which brings us to the next point of interest, the engine.
Engine and performance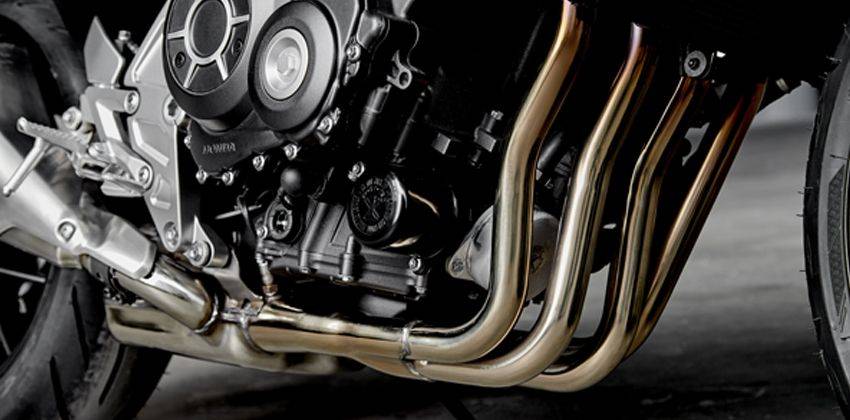 Listed in the Honda CB1000R specs sheet is a 998 cc, inline 4-cylinder engine which produces a max power of 147 bhp at 10,5000 rpm and 104 Nm of peak torque that kicks in at 8250 rpm. The transmission in duty here is a 6-speed unit. The engine is a DOHC setup and is super smooth and refined, as is expected from Honda. It has enough power to take you to lethal speeds very quickly which you might not even notice unless you glance at the instrument cluster, which is the next thing that we're going to talk about.
Digital instrument cluster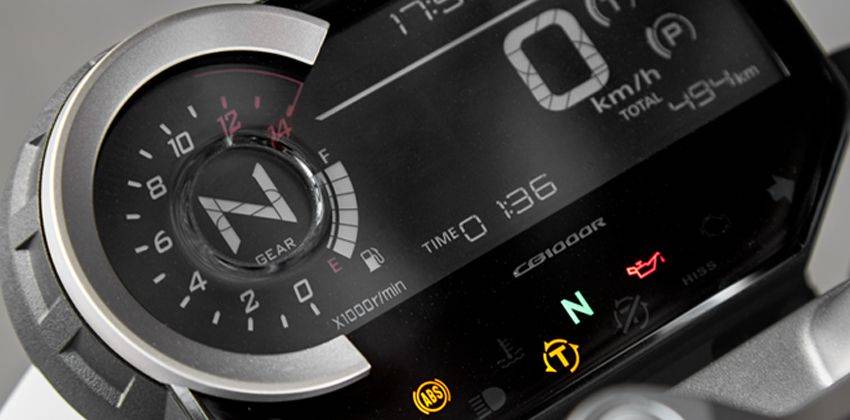 This is a feature worth mentioning because Honda has carefully designed it to match the overall retro-modern theme. It isn't like a flat rectangular screen that we usually have in modern sportbikes. It enhances the overall feel and riding experience of the bike. Plus, it is loaded with information like time, speed, gear position indicator, symbols or signs related to the bike's electronics package, and much more. We like how Honda has cleverly integrated a digital tachometer on the left. It is comparable to a conventional analogue tacho and would give you a similar feeling.
Ride and handling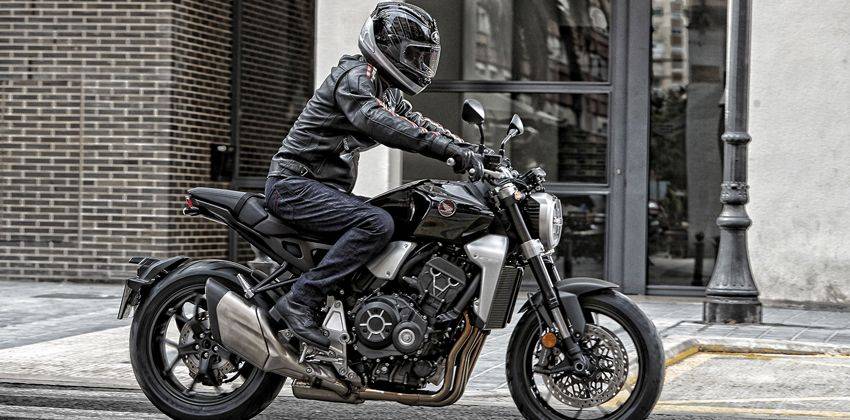 For a litre-class bike, the Honda CB1000R is quite compact in dimensions which makes it easier to handle. Plus, the riding position isn't too aggressive. It's demanding enough to give you a more engaging feel and boost your confidence. There's a lot of mass at the front of the bike, thus, handling corners and changing directions is also easy. There are a handful of features which continuously help you to get the most out of the bike. For example, the single-sided swingarm enhances handling and performance. The Showa SFF - BP (Separate Function Fork - Big Piston) USD forks at the front and Showa BFRC (Balance Free Rear Cushion) at the rear act as a perfect setup for both enthusiastic and city riding. We also have wider and stickier tyres that provide all the grip you need while in the twisties or under extreme braking. Talking about the brakes, there are two 310 mm rotors at the front and a single 256 mm rotor at the back to drop anchors and are aided by ABS.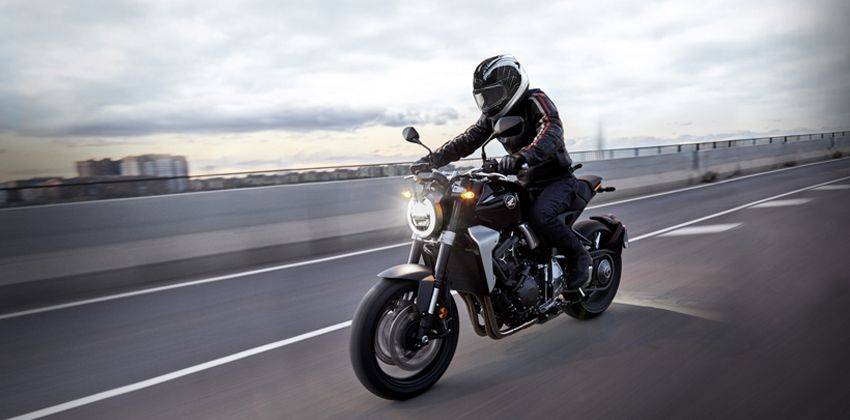 The Honda CB1000R price for the Philippines market has been set at Php 865,000, which is indeed a lot of money that can buy you a car. But if you are already looking at litre-class bikes, you don't want to buy a car, you need a fast bike. And the CB1000R is a great option. It will differentiate you from the crowd with its retro-modern looks, is easier to ride, has a world-class, reputed brand name attached, and can go as fast as the other competition. In short, it is indeed a good purchase.
Honda Motorcycle Models
Honda Click 125i

Honda Click 160

Honda PCX160

Honda ADV160

Honda TMX125 Alpha

Honda X-ADV

Honda BeAT

Honda CB150X

Honda TMX Supremo

Honda Gold Wing

Honda Rebel

Honda DIO

Honda XRM125 Motard

Honda CBR150R

Honda CRF150L

Honda XRM125 DSX

Honda CRF150R

Honda CRF300 Rally

Honda CB650R

Honda CB500F

Honda Airblade160

Honda CB500X

Honda XL750 Transalp

Honda CRF125F

Honda CRF300L

Honda CB1000R

Honda CRF250RX

Honda RS125 Fi

Honda Rebel 1100

Honda CRF1100L Africa Twin Adventure Sports

Honda CBR1000RR

Honda Wave RSX

Honda Supra GTR 150

Honda CBR500R

Honda CRF1100L Africa Twin

Honda CRF250R

Honda XRM125 DS

Honda XR150L

Honda CBR650R

Honda Genio

Honda CL500
Honda Motorcycles Price
You might also be interested in

Honda CB1000R Motorcycle Articles From Carmudi
The Honda CB1000R 5Four is a UK-exclusive, racing-inspired bike

Dylan Afuang,

Aug 06, 2021
Honda CB1000R - Is it a good purchase?
Choose a city to get promos and prices in your area