2021 Toyota Corolla Altis Hybrid: The car that ruined me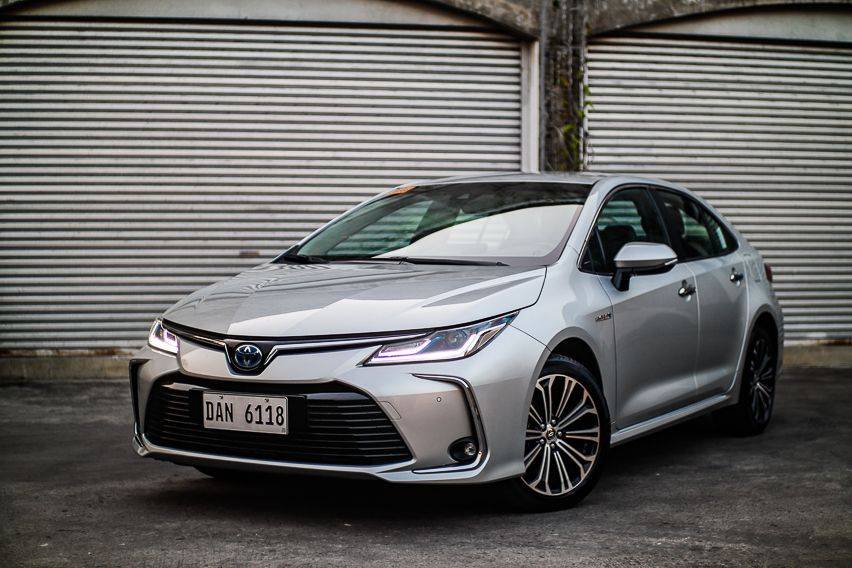 Let's play a mental game. What are the words that come to mind when you hear the word "Corolla"? I'm sure "reliable," "dependable," and "bulletproof" will be in the top 10.
Since its inception, the Toyota Corolla has been a constant best-seller. Unlike its contemporaries, it does the job done sans sporty pretense or technological advancement. Any dad and his horde of tito friends would give you a nice pat on the back upon knowing that you've bought a Corolla, with kudos flying your way for finally getting a grown-up car that gets you from Point A to Point B in style.
Apparently, Toyota has been made aware of this perception, and the company has decided to tackle this. Acceptance, after all is the first step towards change. "No more boring cars," as proclaimed by Toyota President Akio Toyoda, after years of reliable and successful, albeit drab, model releases from the world's top automaker.
With Toyota's TNGA or Toyota New Global Architecture, the company is now ready to more adeptly and deeply tap into the hearts and minds of car buyers. The 2021 Toyota Corolla Altis 1.8 Hybrid is the best way to get started and, spoiler alert, this car ruins me for every other car in the market today.
Exterior
Walking towards the 2021 Toyota Corolla Altis 1.8 Hybrid, you can't help but notice the lower and more athletic stance compared to previous generations. It's longer (4,630mm), wider (1,780mm), yet smaller (1,455mm)  than the previous Corolla Altis, while keeping the same wheelbase.
Seventeen-inch alloys with wide 225/45/R17s subtly add more bulk to its visually squat stance. While other reviewers' hearts barely skipped a beat looking at the new model, knowing how unadventurous Toyota can get, this is a step in the right direction. It's a design that would definitely stand the test of time better than sedans built to look like a prop from Battlestar Galactica. The blue Toyota badge offers us a glimpse of what is to come. 
Interior
The interior of the 2021 Toyota Corolla Altis 1.8 Hybrid offers absolutely no surprises, which is the theme Toyota was going for. You see, while most electric and hybrid cars go all out with the high-tech look and feel of their design, Toyota understands that not everyone wants to pilot a Cylon Raider Battleship. They've also done away with the beige interior trims of the Corollas of yore and opted for a sleek, all-black affair. Nothing is out of place — from the automatic climate control switches, steering wheel switches for the wipers and illumination, to the seven-inch touchscreen infotainment system with T-Link Smartphone Mirroring in lieu of Android Auto and Apple CarPlay. As soon as you settle into the driver's seat and find your perfect driving position using the power-adjustable seats and tilt/reach steering wheel, you'll be as comfortable in this car as any other non-hybrid. This car is proof that you can be green without forcing it down other people's throats. 
Behind the mundane lies Toyota's ace in the compact sedan segment. It certainly feels like a normal car, but like a duck in a pond, while the surface seems calm and normal, underneath you will find all the systems in place working to make the 2021 Toyota Corolla Altis 1.8 Hybrid special. Toyota's TNGA platform ensures that your driving position is lower than any previous Corolla, giving you the feeling of control and inspiring you to drive the car in a spirited manner. 
Safety
This platform also bequeathed the car with advanced and state-of-the-art safety features this side of its price range. Apart from the standard across-the-range seven airbags, ABS or anti-lock brakes, stability control, and hill-start assist, this top of the line model also has a rear backup camera with backup sensors and alarm with immobilizer. The special sauce lies in Toyota Safety Sense which is a concert of multiple, automated safety systems that provide unparalleled safety.
You have pre-collision warning — a laser-based system that detects obstacles in front of the car — that not just alerts you to a potential collision but assists the braking system by applying added pressure to the brake pedal. Lane tracing assist and lane departure alert keep you on the straight and narrow when you veer away from your lane by giving you active alerts and steering assistance during those long and dicey trips. If you think all these are next-level stuff, dynamic radar cruise control actually uses powerful sensors around the 2021 Toyota Altis 1.8 Hybrid to detect the proximity and speed of surrounding vehicles to adjust speed and cruise control. I never dared to test these features and nothing can beat plain old human attention, but it is nice to know that they're there.
Performance
Prior to driving the 2021 Toyota Corolla Altis 1.8 Hybrid, I was more of a pure internal combustion purist. I was all for technological advancements, but believed that the technology hasn't really caught up with our driving habits and isn't ready for the mainstream. How naive was I? Pushing the start button sprang the digital gauge cluster to life, but the car is devoid of any sound from the gas engine. I found this pretty disconcerting but as soon as I zipped away, my mind was instantly whisked into the future. The only difference was, we live in the present and this tech exists today.
Under the hood, you will find an innocuous 1.8-liter gasoline engine. By itself it makes a rather underwhelming 97hp@5,200rpm and 142Nm of torque @3,600rpm however, need I remind you that this is a hybrid? Augmenting that Atkinson cycle engine is a 100kW electric motor, which pushes those power figures to a combined equivalent of 121hp@ 6,000rpm and a suddenly respectable 207Nm@5,200rpm of torque. This creates a sort of Jekyll-and-Hyde character to this car. 
It has three drive modes and, unlike lesser cars, it actually means something to the 2021 Toyota Corolla Altis Hybrid. Normal mode is the default setting and the ECU automatically selects the best power for any given situation. Eco Mode totally nerfs any aspiration for speed and instructs the engine to work in the most efficient way possible.
The Mr. Hyde of the trio is Sport Mode. It pushes the engine to use every ounce of available power to thrust the car forward, and if the EV motor is fully charged, you can definitely feel your back digging into your seat. The E-CVT system delivers a seamless drive and does well to simulate a natural driving experience. It won't set your loins on fire, but casual driver's pants could probably generate a small spark of excitement.
Everyone wants to know what the fuel consumption is on this car. I've never given that much though, because like diet cola, this car has all the same taste without the added calories. This is as close to guilt-free motoring you can get at this price. If you have to know driving this purely around the city netted me around 17kpl.
Final thoughts
I've tested and driven quite a number of vehicles before but none can quite compare to the 2021 Toyota Corolla Altis 1.8 Hybrid. Without looking like a car out of time, it was able to show me what the future just was like. It is still as reliable as any other Corolla that came before it. Thanks to a little car called the Prius, Toyota has more or less a quarter of a century perfecting the driving dynamics and durability of their hybrid vehicles. This is to a point that any possible worry you may have about this technology would have been addressed at this point.
Priced at P1,595,000 it goes against the likes of the more expensive Honda Civic RS, sporty Mazda 3 2.0 Speed Sportback, the newcomer but feisty MG 6 Trophy AT, and the simplicity of the Volkswagen Lavida.  the Nissan Sylphy is hanging in there with its bargain-basement prices and would also like to remind you that it too, is a compact car.  If you're looking for a Hybrid option in this price range, the Hyundai Ioniq Hybrid is its closest competitor, though at a much smaller form factor.
I maintain that this car has ruined me for any other family car out there. If you've never tried out the 2021 Toyota Corolla Altis Hybrid before, you're certainly missing out.
Photos by Roy Robles 
Explore Toyota Corolla Altis
Toyota Corolla Altis Promos, DP & Monthly Installment