WATCH: 2021 Chery Tiggo 2 AT vs. 2021 Chery Tiggo 5X Luxury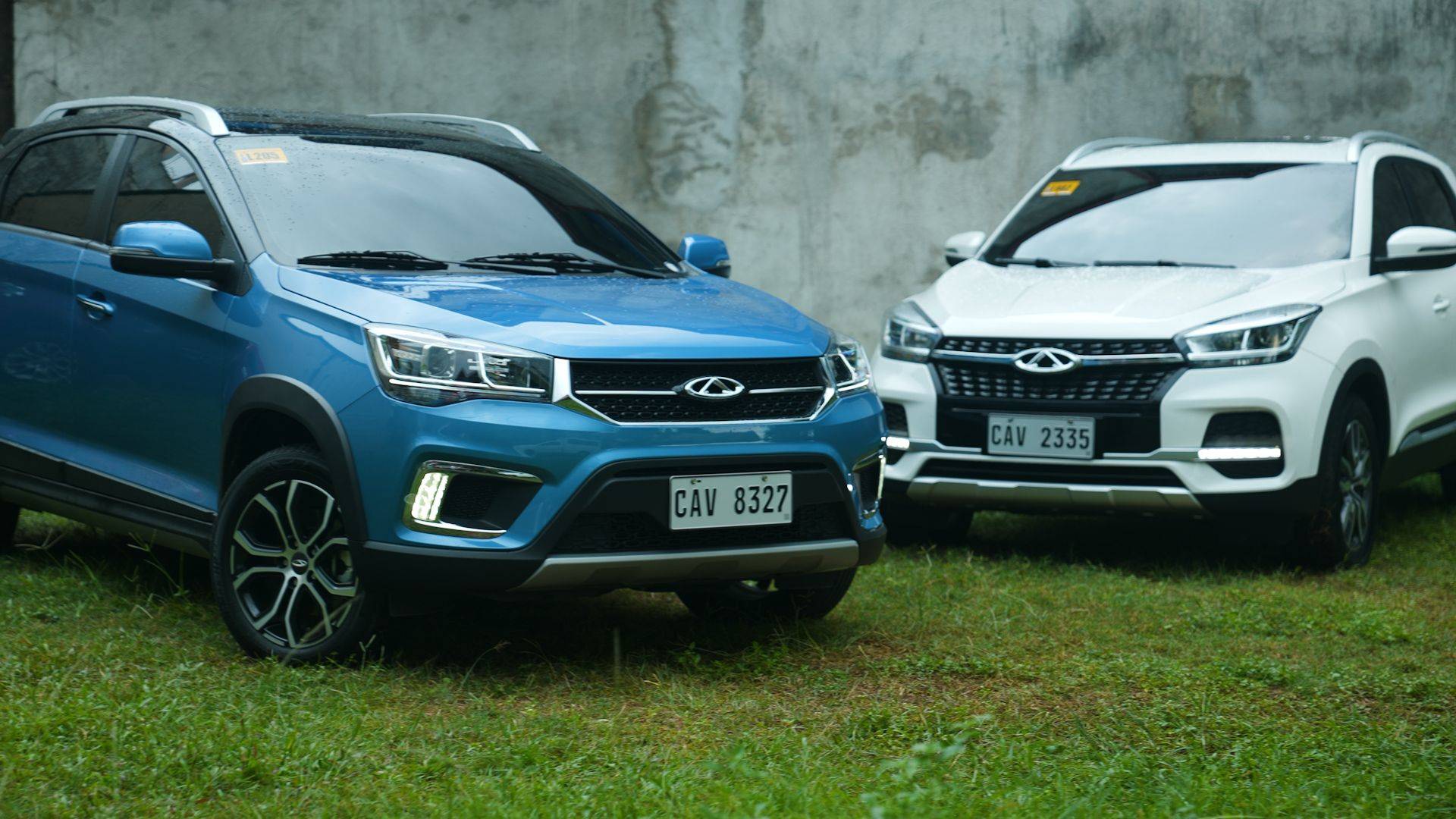 Compact crossover SUVs are making their way into, and dominating, the sales charts. Car companies are now focusing their resources more than ever on this segment, which is largely winning fans over owing to their increased ride height and spacious interiors,
You still have your compact sedans and hatchbacks for entry-level motoring, but even that price segment is being encroached upon by the aforementioned crossovers.
Take Chery, for example. Its local lineup of vehicles now consists almost exclusively of compact crossovers. What used to be a single model for a first stab at the market more than a decade ago, the Tiggo now consists of a multitude of offerings available for any budget.
Today we compare two of the brand's budget offerings, the 2021 Chery Tiggo 2 AT and the 2021 Chery Tiggo 5X AT Luxury. Either of these models can be had for under a million pesos and we want to help you figure out if the more premium model is worth the extra hard-earned cash, or you will be totally fine with the more affordable one.
Exterior
You can't fault Chery for trying to capture your attention with its design language. Both the 2021 Chery Tiggo 2 and the 2021 Chery Tiggo 5X have distinct design executions that set them apart from each other. This would definitely help you out with your decision if you are in the market for either of them.
The 2021 Chery Tiggo 2 features a sleeker, dare I say sportier under the right light, look. The overall design reminds me of a compact sports wagon with increased ride height. Paired with wrap-around black plastic claddings, front and rear faux skid plates, and roof rails, The Tiggo 2 pushes its sporty aspirations further. Overall, the design, especially in this two-toned body color version, is on par with what people might expect from a compact crossover SUV.
Halogen projector headlamps are a welcome addition but, the angular facia seems to be a tad out of place compared to the smooth curves of the rest of the body. Thankfully, the 16-inch alloy wheels' design lends itself well to the overall look. I wouldn't mind getting spotted stepping out of Chery's most affordable compact crossover SUV.
While the Tiggo 2 adopts a sleek, sports wagon design, the 2021 Chery Tiggo 5X buys into the SUV look even more. With its boxy proportions, the Tiggo 5X exudes a more macho appeal that impresses potential buyers in the market for an affordable yet rugged-looking vehicle. At 1,830mm in width, it is easily one of the widest vehicles in its class and has a better-looking stance. Seventeen-inch alloy wheels with 215/55/R17s complete the overall look. I never really expected the Chery TIggo 5X to have such a striking facia. With a large front grill, flanked by sweeping headlamps with Halogen projector headlamps, you would know that Chery means business and has put a lot of thought into the design of the 5X. Some people may call it generic, but I have to give props where it is due and the brand nailed it with this one.
Interior
If you ask me, the interior is just as, if not more, important than what you see on the outside. This is the part of the car that a driver sees the most in its lifetime and — apart from aesthetics, ergonomics and intuitive design — can either make or break your decision. Luckily, Chery has upped its interior design game and everything seems to be well built. 
I wasn't surprised to find that the interior of the 2021 Chery Tiggo 2 isn't as fancy or infused with as much tech as the more expensive choice. I did, however, appreciate the brand's efforts to make the inside more distinct and didn't simply slap seats and panels to keep you accommodated inside. Don't get me wrong; this is still considered an entry-level subcompact crossover SUV and, to that effect, hard plastics expectedly abound. Chery has, however, found a way to make sure that it does not look like a Fisher-Price clearance-sale special.
The leather seats with cloth inserts are comfortable albeit a tad firm, but space is plenty upfront. The dashboard is lined with a carbon fiber-textured accent to break the monotony of the design. I lament the lack of a center armrest but, thankfully, you do get an eight-inch capacitive touchscreen which sadly does not have Android Auto or Apple CarPlay.
The only smartphone integration you can get out of it is a Mirrorlink system that mirrors your phone's screen on the display. Cruise control and media buttons can be found mounted on the leather-wrapped steering wheel, which is a nice touch. The gauge cluster is certainly something you don't see every day with the tachometer needle going counter clockwise on the right and the speedometer on the left going the other direction. At least it looks sporty and the trip computer provides all the information you need from the car.
Inside the 2021 Chery Tiggo 5X, you do get more premium materials versus to its little brother. The seats, for one thing, are wrapped in a softer leather material and feel softer yet still supportive. You'll certainly appreciate the electronically adjustable front passenger seats (a feature usually found only in more expensive vehicles) as well as the almost tablet-like nine-inch capacitive touchscreen in the center stack which does have Apple CarPlay but, curiously, no Android Auto. Audio is also pumped out of six speakers instead of four. 
You do lose the handbrake lever as it has an electronic parking brake button, but this frees up even more space for the front occupants. Speaking of space, the Chery Tiggo 5X has an automated moonroof which adds more value and flare to the vehicle. One can debate the actual use of this feature, but this is undeniably cool. Hard plastics still abound in the interior but the 2021 Chery Tiggo 5X gives you better texture and feel. One of the most interesting parts of the interior amenities is its fully digital gauge cluster with vertically stacked readouts for both RPM and speed. Fiddling through the menu options, you can find that you can actually change the color theme of the displays which adds a fair bit of customization to your everyday ride.
Both the 2021 Chery Tiggo 2 and 5X have fairly capable cargo space with the latter having more usable volume. My biggest qualm is with the 2021 Chery Tiggo 2 is that it has a ridiculously high loading door which needs you to do some impromptu lifting. Once you get over that part, you will find enough space for even two weeks worth of groceries inside for both of these models — making them quite a capable tool for stocking up on your ECQ lockdown supplies.
Performance
Given that the 2021 Chery Tiggo 2 and the 5X both have 1.5-liter engines, you would be forgiven to assume similarity in power and performance. I'll tell you this: 1.5 liters would probably be the only similar number you would see when comparing these two cars.
The 2021 Chery Tiggo 2 has a 1.5-liter SOHC engine making 106hp at 6,000rpm and 135Nm of torque at a fairly early 2,750rpm. These figures are reined in by a traditional four-speed automatic transmission with power heading to the front wheels. It's got MacPherson struts up front and an independent torsion beam suspension. These figures, paired with the 1,216-kg curb weight, won't set the world on fire in any sense of the imagination but should provide you with an adequate driving experience.
I use the word "adequate" very generously in this regard as the actual performance of the vehicle was pretty underwhelming to say the least. It has two drive modes, SPT and ECO, assuming that the first drive mode means "sport" this will be your default mode when driving the 2021 Chery Tiggo 2 and both these modes don't mean a thing when you drive. Hitting the accelerator requires some practice in this car as you have to smoothly depress the pedal to achieve smooth and gradual thrust. 
Simply flooring it would cause the ECU to voice out in protest by sending a whole lot of engine noise into the cabin without any actual forward momentum. Maybe it's the way the transmission was tuned, but enthusiast drivers will not find this car quite amusing.
However, it does get the job done and if you don't mind taking your time along traffic, you'll be rewarded with a smooth ride. The suspension isn't meant to fire up your loins and carve canyons either. Chucking this car around, you will definitely feel a ton of body roll which helps with the overall comfort of the vehicle but not with your dreams of becoming the next Takumi Fujiwara.
You might have a better time with the 2021 Chery Tiggo 5X. This one has a 1.5-liter DOHC engine with variable valve timing, making 114hp at 6,150rpm and 141Nm of torque at 3,800rpm with a continuously variable transmission system or CVT. It also has MacPherson struts in the front wheels and also has an independent torsion beam setup in the rear. It weighs quite a bit more than the Tiggo 2 at 1,321 kg but, as you will find out, not all 1.5-liter engines are made to be the same.
Having a CVT means that this too, won't appeal to enthusiast drivers but by ditching the four-speed automatic, acceleration is more linear and precise. You won't be hearing much complaints from the engine this time around apart from the usual revving sounds that permeate the cabin. The Chery Tiggo 5X Luxury also has electronic power steering that gives you more control over your steering input, but has less road feel compared to the traditional hydraulic steering system on the Chery Tiggo 2. 
The suspension parameters are also tuned to give the 2021 Chery Tiggo 5X Luxury a more stable driving experience around corners. It still wasn't meant to be driven and cornered hard in the twisties of Marilaque, but this at least gives you more confidence with your drive. It's good to note that both cars have disc brakes all around with ABS and EBD giving you better stopping power when you need it. 
Fuel economy varies, but in the time we drove these affordable compact crossover SUVs in the city, the 2021 Chery Tiggo 2 registered around 7kpl and the 2021 Chery Tiggo 5X netted around 8kpl. Considering their size and weight, these numbers seem to be just right. 
Safety 
I remember a time when going for entry-level motoring meant you would be lucky enough to have a driver airbag and anti-lock brakes. Both the 2021 Chery Tiggo 2 and the 5X Luxury are brimming with everything you need in the safety department. dual front passenger airbags, anti-lock brakes, traction control, hill descent control and hill start assist, cruise control, LED daytime running lights, rear parking sensor, and a reverse camera come as standard on both vehicles. The 2021 Chery Tiggo 5X Luxury adds a tire pressure monitoring system, variable parking guidelines for the rear camera, and automatic brake hold.
Final thoughts
These are two of the most affordable compact crossover SUVs you can get. The 2021 Chery Tiggo 2 4 AT with this 2-tone paint job starts at P785,000 while the 2021 Chery Tiggo 5X AT Luxury can be had at  P950,000. Both of these cars offer a compelling value proposition beyond their stated price tags.
I still remember my first Chery experience which was almost a lifetime ago. I was going to hitch a ride with my college buddy in his brand-new car. I was stoked. Thoughts of road trips came to mind, picking up our other classmates on the way and taking a quick detour south to Tagaytay. It was pretty much every college kid's dream.
Getting to the parking lot, I was greeted by his "new car," a Chery QQ. It was a curious sight as it was even smaller than other already small hatchbacks of the era. It wasn't a smooth ride; taller cars, let alone buses startled the bodywork as they passed it by. I couldn't blame the guy for being as excited as he was.  For him, this meant no more lining up for the cramped jeepney ride home, and this was the time when people could pretty much smoke their cigarettes anywhere, even the driver. He could safely be ensconced in the comfort of his very own car. 
Those aware of those days of notoriety will be pleasantly surprised by today's generation of Chery vehicles. These two, for instance, are light years ahead of the infamous QQ,
Far from just taking pride in having your own set of wheels, Chery as a brand makes sure that you are covered. Speaking of coverage, the 2021 Chery Tiggo 2 and the Chery Tiggo 5X Luxury enjoy three years of free preventive maintenance as well as roadside assistance, and a five-year general vehicle warranty. For those who have further doubts about the quality of their cars, Chery serves up an unprecedented 10-year/one-million-km engine warranty, whichever comes first. The brand wants you to know that you can purchase its cars with the same confidence that they have for their lineup.
Chery's previous stewards may have failed the first time to capture our hearts and minds  with its shotgun style of giving us a model for every car segment. This time, Chery Auto Philippines has decided to give the market what it wants and with different models to choose from at different price points, we all win. 
Head on over to our Car Comparison page to find a spec by spec comparison of the 2021 Chery Tiggo 2 and the 2021 Chery Tiggo 5X. You can also compare any car you want and find the best deals there to make an informed decision.
Photos by Kent Flores
Latest Chery Tiggo 5x Cars Videos on Zigwheels