The good and the bad of the Ford F-150's aluminum body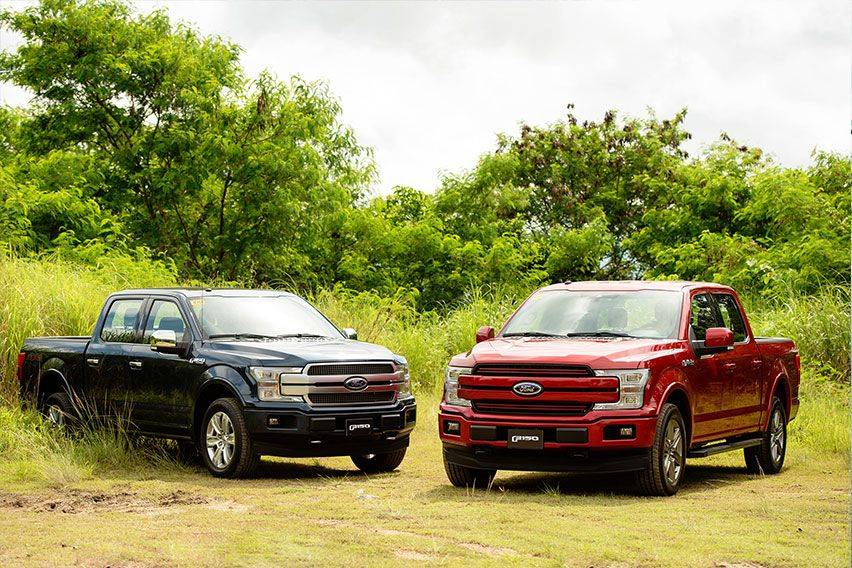 The F-150 launched by Ford PH in mid-June marks the first time the F-Series is produced with an aluminum body instead of steel. Body panels use high-strength, (almost) military-grade aluminum alloy, including the bed, but the frame is still made of steel, increasing in fact from 23% to 77%, plus the firewall.
Both trims in the local market, the Lariat Super Crew 4x2 AT and the Platinum Super Crew 4x4 AT, sport this innovation. But how does that affect the vehicle's pricing, maintenance and repair, weight and fuel efficiency, and safety?
We're getting the 13th-generation unit, which premiered globally in 2015. As early as 2013, Ford was already touting aluminum's properties. Former CEO Alan Mullaly said back then that "pound for pound, aluminum is stronger and tougher than steel" and that using it will increase the F-150's fuel economy by as much as 29%.
How much does aluminum cost?
According to World Auto Steel, aluminum as a raw material is three times more expensive than steel. It's also two times more expensive to convert, and 20 to 30% more expensive to use in an assembly line.
A study by CIRP, a leading organization in production engineering research, also contends that "manufacturing body panels in aluminum via stamping is more expensive and more difficult."
The cost premium from all of the above is about 60 to 80%, says MIT (Massachusetts Institute of Technology), but a recent computation by Forbes magazine brings it down to a more acceptable US$500 per F-150.
Maintenance and repair
Tests done by the IIHS (Insurance Institute for Highway Safety) in the US indicated that the aluminum body of the 2015 model is 26% more expensive to repair than its predecessor, which was made of steel. Fast-forward two years later and the IIHS reports that there was no longer any difference in the cost of body repairs between the aluminum- and steel-body F-150.
What happened? To reduce costs, technicians underwent modern and innovative training and certification, and dealerships upgraded equipment to make repair work more efficient. It also helped a lot that the new modular body architecture meant that damaging one panel doesn't necessitate the replacement of the whole fender.
Ford is leveraging close to three decades of work with aluminum dating back to the 1993 Mercury Sable. That year, an aluminum Sable was sent to the Argonne National Laboratory (owned by the US Department of Energy) for scientists to study. The results after six years showed that it didn't rust compared to the three steel-bodied Sables in the study and "there was no structural failure of any aluminum part, and no body noise or rattles developed."
Weight and fuel efficiency
Almost 750 pounds were lifted off the F-150 with the use of aluminum. That is considerable and it doesn't take a doctorate in physics to theorize that a lighter body means the engine will consume a lot less fuel to move it.
The 2015 model with the 3.5L V6 EcoBoost returned 8.5 kilometers per liter, which is already good in itself because you don't even get that from a few of the 1.5L compact sedans out there.
But the tweaked version squeezes out just a few more clicks. According to the US EPA (Environmental Protection Agency), it nets 8.9 kilometers per liter in combined city and highway driving. That already challenges the efficiency of some of the subcompact units in the current market.
The lighter weight also allowed Ford to beef up other components in order to raise the towing capacity from 11,300 pounds to 12,200 pounds and payload from 3,100 pounds to 3,270 pounds.
Safety
Steel, without a doubt, is harder and denser than aluminum, which makes it stronger and less likely to deform under weight or force, but aluminum absorbs energy better. Couple that with a well-designed crumple zone and you get an aluminum pickup truck that could be safer than a steel-bodied one.
Per IIHS, the aluminum F-150 got top marks in each of the crash tests it went through — from the driver and passenger side, moderate front overlap, side, and roof strength — making it the only truck in 2015 to earn a Top Safety Pick from the agency.
The F-150's 12-corner front crush horn also helps it disperse the energy of a frontal crash to protect its passengers.
Lighter, faster, stronger, and more efficient
This gamble with aluminum seems to have paid off for Ford. This baby is lighter and stronger, and it's even faster. It will go from 0 to 96 kilometers per hour in just 5.8 seconds. That's 0.6 seconds faster than its predecessor.
Sure, there may be a point against it when it comes to the cost of aluminum, but I don't think it will bother folks shopping for vehicles at the price level of P2.6 million and above.
The aluminum body has allowed Ford to increase the capability of this truck and unleash its full potential. With its arrival in the country, it's time to see for yourself what the new and improved F-150 can do for you.
Photos from Ford Philippines
You might also be interested in
Latest Ford Cars Videos on Zigwheels