Hyundai defines electric mobility future with Ioniq 5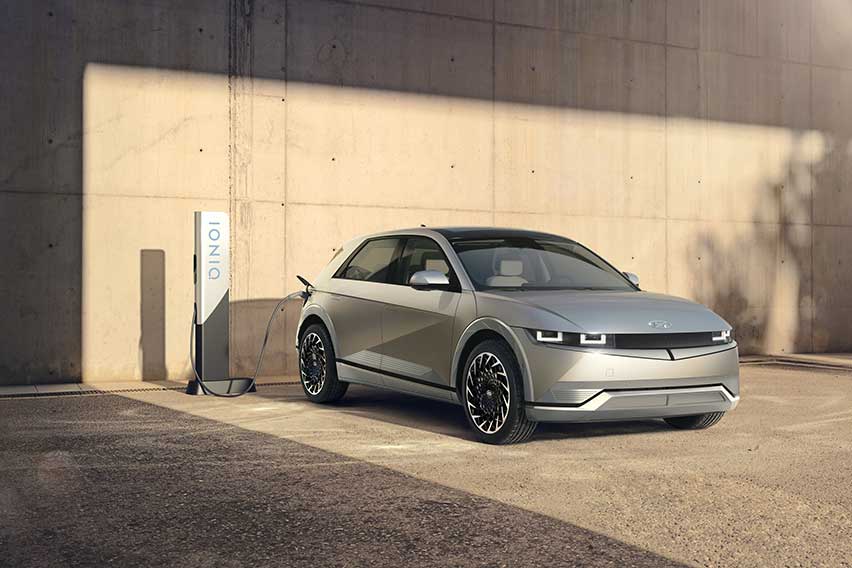 MANILA: Hyundai Motor Company unveiled its newest battery electric vehicle (BEV), the Hyundai Ioniq 5, in a virtual launch event last Monday.
The recently launched vehicle is the first model in Hyundai's new Ioniq brand. The Hyundai Ioniq 5 is engineered with the Electric-Global Modular Platform (E-GMP), which is Hyundai Motor Group's specialized architecture for BEVs. The vehicle features a long wheelbase, eco-friendly interior features, modern driver assistance and safety features, and a powerful performance with ultra-fast charging and a Vehicle-to-Load (V2L) function.
In a statement, Hyundai Motor Company Vice President and Global Chief Marketing Officer Thomas Schemera said, "Ioniq 5 will accommodate lifestyles without limits, proactively caring for customers' needs throughout their journey. It is truly the first electric vehicle to provide a new experience with its innovative use of interior space and advanced technologies."
The Hyundai Ioniq 5's design was inspired by the Hyundai Pony, which is the brand's first-ever production car. This highlights the 45-year journey of Hyundai in the automotive industry.
The Ioniq 5 exhibits a unique midsize crossover utility vehicle (CUV) exterior look, chiseled with clean and edgy linear accents. It has a length of 4,635mm, width of 1,890mm, and height of 1,605mm. The vehicle is designed with a 3,000mm wheelbase.
The vehicle's front features Hyundai's first clamshell hood that is developed with less panel gaps for better aerodynamics. The Hyundai Ioniq 5 also sports a striking front bumper, which is accentuated by unique V-shaped daytime running lights (DRLs). The vehicle is also equipped with auto flush door handles and the Hyundai's "Parametric Dynamics" style, which was derived from the all-new Hyundai Tucson. The Ioniq 5's bold C-pillar structure, which was inspired by Hyundai's "45" EV concept, makes it more distinctive on the road. The "45" concept was first seen at the 2019 International Motor Show Germany where it exhibited its monocoque body and avant garde interior.
The Ioniq 5 gets the largest rims among all Hyundai electric vehicles. Each of its aero-optimized wheels has a diameter of 20 inches.
The Hyundai Ioniq 5 features an eco-friendly solar roof that can collect and transmit energy to the vehicle's battery to avoid battery discharge when traveling over longer distances.
On the inside, the Hyundai Ioniq 5 features the "Living Space" design, which is highlighted by the adjustable center console called the Universal Island. It is designed to provide a more flexible space inside the cabin. Its longer-than-usual wheelbase provides extra legroom for a more comfortable ride. The vehicle is also upholstered with electronically adjustable front seats, whose thickness were decreased by 30 percent to offer more room for the second-row passengers. The Ioniq 5 is also equipped with heated steering wheel and heated front seat functions that can be used during the winter season. To manifest its commitment in promoting sustainable development, the car seats, headliner, door trim, floor, and armrest were all made from eco-friendly materials such as recycled PET bottles, bio PET yarns and wool yarns, eco-processed leather, and bio paint with plant extracts. The cabin also features a unique ceiling which is made of one large glass panel without any support materials.
The second-row seats get slide forward and folding functions to provide more trunk space if needed. If the seats are fully folded, the Ioniq 5's standard 531-liter luggage space can be expanded to almost 1,600 liters. The vehicle also provides a front trunk space that can accommodate a maximum cargo of 57 liters.
The Ioniq 5 gets a wide and customizable dual cockpit with a 12-inch touchscreen infotainment display and a 12-inch digital gauge cluster. The vehicle's infotainment system is designed with a Jong-e Graphic User Interface (GUI) that lets the occupants configure the interior ambience to Soft, Delicate, or Exuberant. For an enhanced music streaming inside the cabin, the Hyundai Ioniq 5 offers a premium Bose sound system with eight speakers and a subwoofer. Another state-of-the-art cabin feature is the Augmented Reality Head-up Display (AR HUD) that transforms the windshield into a screen to display relevant vehicle information, navigation, and even the car's surroundings.
The vehicle also features a dynamic voice recognition system that lets the driver manage the air-conditioning system, radio, and hatch opening and closing. The system has also the ability to provide brief weather reports and stock market updates.
Hyundai Motor Group Senior Vice President and Hyundai Global Design Center Head SangYup Lee stated, "A new mobility experience for the next generation — this was the mission from the first day we began this project, to look ahead towards the horizon, but stay fundamentally Hyundai. Ioniq 5 is the new definition of timeless, providing a common thread linking our past to the present and future."
The latest version of the Bluelink connected car services can be used in the Hyundai Ioniq 5 to allow the owners to conveniently control their unit through their smartphone or voice commands. The additional features on the Bluelink's latest upgrade include Connected Routing, Last Mile Navigation, and User Profile feature. The vehicle's range, battery state, and charging times are also indicated in the mobile app. It also has a Remote Profile Management feature that allows the driver to save their personalized vehicle settings in the Bluelink cloud. The app also enables the seat adjustment, heating and ventilation functions through its Remote Start Enhancements feature. It also sends Vehicle Status Notifications to the Ioniq owner if the vehicle's door and windows are left open. The vehicle's multimedia system can be managed through the mobile app's Maintenance Alert Enhancement feature, while the navigation system can be connected to app through the POI Send to Car Now with Waypoints function. The Bluelink app can also pre-heat the vehicle remotely through the Remote Climate Control feature.
The Hyundai Ioniq 5 comes in different power electric (PE) systems to suit every customer's needs. It offers two battery pack variants, either 58kWh or 72.6kWh. Customers can also choose between its two electric motor layouts, either both front and rear motors or with a rear motor only. All PE configurations can produce an optimal speed of 185 km/h.
An all-wheel drive (AWD) option is also available for the Ioniq 5. It comes with a 72.6-kWh battery which delivers a maximum power output of 225 kWh and a maximum torque of 605 Nm. This PE system has the ability to accelerate from standstill to 100 km/h within 5.2 seconds. If this layout is used with a 58-kWh battery, the vehicle can go from 0 km/h to 100 km/h in 6.1 seconds.
Customers can also select the two-wheel drive (2WD) option with a 72.6-kWh battery that can drive around 470 to 480 km on a single charge, according to the Worldwide Harmonized Light Vehicle Test Procedure (WLTP). The single-motor layout has the ability to accelerate from standstill to 100 km/h in 7.4 seconds. The PE can also be paired with a 58-kWh battery, which enables the vehicle to go from 0 km/h to 100 km/h in 8.5 seconds.
The BEV architecture of the Ioniq 5 is compatible with 400-V and 800-V charging stations. It features a multi-charging system that runs the motor and inverter to deliver 400 V to 800 V for constant charging compatibility.
The Hyundai Ioniq can be charged from 10% to 80% within 18 minutes when using a 350kW charger. According to WLTP, the vehicle can be charged for only five minutes to reach 100km.
With the V2L function, the Ioniq 5 can charge up to 3.6 kW of power on electric bicycles, scooters, camping equipment, and any electric devices. The charging ports are situated under the second row seats and on the vehicle exterior. High-powered electric devices can be charged through a converter.
The Hyundai Ioniq 5 gets the latest Hyundai SmartSense version. It is a set of modern driver assistance features that heightens the vehicle's safety and convenience level. This includes Highway Driving Assist 2 (HDA 2) that uses the front view camera, radar sensors, and navigation data to assist the driver in passing through a highway. It also monitors the vehicle's speed and following distance and it also comes handy when changing lanes. The Forward Collision-Avoidance Assist (FCA) comes with a Junction Turning function that activates the brakes if it detects another vehicle when turning left at an intersection, a Junction Crossing function that detects other vehicles from the side when the going straight through an intersection, and a Lane-Changing Oncoming function that alerts the driver once it senses an approaching car crossing the center line when the driver is changing lanes. Another SmartSense feature is the Blind-Spot Collision-Avoidance Assist (BCA) that detects other vehicles on the side through the radar and uses differential braking to prevent collision. The Hyundai Smartsense also comes with a Driver Attention Warning (DAW) that alerts the driver once it senses any sign of inattentiveness.  Other SmartSense features include Intelligent Speed Limit Assist (ISLA), which monitors the vehicle's speed and adjusts it based on the speed limit, and High Beam Assist (HBA), which enables high beams to avoid blinding approaching drivers.
The Ioniq 5 also comes with a blind spot view monitor (BVM) that displays the vehicle's side surroundings to guide the driver in changing lanes. The vehicle is also equipped with a remote smart parking assist (RSPA) feature that lets the driver conveniently park from outside the vehicle through a button on the smart key. The driver can also get a 360-degree view of the vehicle's outside surroundings through the surround view monitor (SVM). The Ioniq 5 also comes with a reverse parking collision-avoidance assist (PCA) feature that uses the rear view camera and rear ultrasonic sensors to warn the driver and enable the brakes when it detects an obstacle while backing up. Another driver assistance feature is the rear cross-traffic collision-avoidance assist (RCCA) that detects an approaching car from the side. It alerts the driver through a visual warning and alarm.
To learn more about the Hyundai Ioniq 5, refer on the spec chart below.
SPECIFICATIONS

Hyundai Ioniq 5

Overall Length (mm)

4,635

Overall Width (mm)

1,890

Overall Height (mm)

1,605

Wheelbase (mm)

3,000

Boot/Trunk Space (L)

531 / 1,591 (when second-row seats are fully folded)

Front Trunk Space (L)

North American Model: 24 (both AWD and 2WD)

Non-North American Model: 57 (2WD) or 24 (AWD)

Platform

Electric-Global Modular Platform

Maximum Driving Range (km)

470~480 (when pairing 2WD with 72.6-kWh battery option)

Power Output (kW)

Long Range 72.6-kWh Battery:  225 (AWD), 160 (2WD)

Standard Range 58-kWh Battery: 173 (AWD), 125 (2WD)

Torque (Nm)

Long Range 72.6-kWh Battery: 605 (AWD), 350 (2WD)

Standard Range 58-kWh Battery: 605 (AWD), 350 (2WD)

0-100 km/h Acceleration (seconds)

Long Range 72.6-kWh Battery: 5.2 (AWD), 7.4 (2WD)

Standard Range 58-kWh Battery: 6.1 (AWD), 8.5 (2WD)

Supported Charging Infrastructure

400 V and 800 V

Vehicle-to-Load (V2L) Port Locations

Inside: Under Second Row Seats

Outside: Vehicle Charging Port

Instrument Cluster

Hoodless 12-inch Digital Gauge Cluster

Infotainment System Display

12-inch, Full-touch Infotainment Screen

Bluelink® Connected Car Services

Remote Profile Management, Remote Start Enhancements, Vehicle Status Notifications, POI Send to Car Now with Waypoints, Maintenance Alert Enhancement, Dynamic Voice Recognition, Blind-Spot Collision-Avoidance Assist (BCA), Safe Exit Assist (SEA), Intelligent Speed Limit Assist (ISLA), Driver Attention Warning (DAW), High Beam Assist (HBA), Surround View Monitor (SVM), Rear Cross-Traffic Collision-Avoidance Assist (RCCA), Parking Collision-Avoidance Assist (PCA), Highway Driving Assist 2 (HDA 2), and Remote Smart Parking Assist (RSPA)

Available Exterior Colors

Gravity Gold Matte, Shooting-Star Gray Matte, Digital Teal-Green Pearl, Lucid Blue Pearl, Atlas White, Cyber Gray Metallic, Phantom Black Pearl, Galactic Gray Metallic (not available in North America region), and Mystic Olive-Green Pearl (not available in North America region)

Available Interior Colors

Obsidian Black and Dark Pebble Gray/Dove Gray, Dark Teal/Dove Gray, and Terra Brown/Mud Gray (only available in Korea)
Hyundai shows the company's commitment in promoting sustainability and innovation through its new Ioniq brand. With a mission of "Progress electrified for connected living," the Ioniq vehicles will be engineered with eco-friendly concepts that will suit the customer's needs and lifestyles to be in line with their vision of "Progress for humanity."
The Hyundai Ioniq 5 will be available starting the first half of 2021. Hyundai is expected to release other Ioniq models including the Ioniq 6 sedan and Ioniq 7 sports utility vehicle (SUV) soon.
Photos from Hyundai
Hyundai Ioniq EV Promos, DP & Monthly Installment
You might also be interested in