Hyundai PH offers easy Starex ownership with 'MerrygaLOW' promo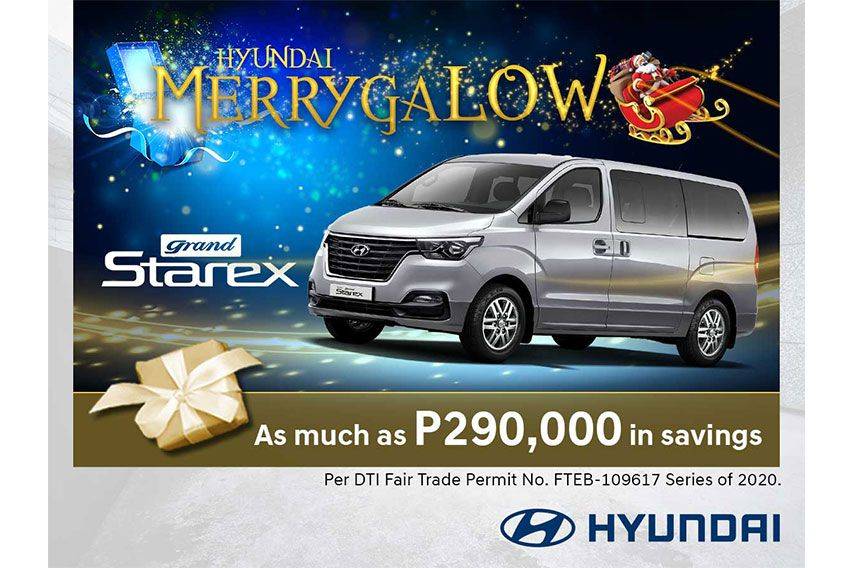 MANILA: Hyundai Philippines provides a merrier Christmas celebration for Filipino families with its month-long "MerrygaLOW" promo for the Hyundai Starex that is now available with up to P290,000 discount.
The Starex is well-known for its vast interior equipped with plush seats and multiple door compartments. This van has been one of the Filipino families' favorite companions when it comes to long road trips.
Aside from the comfort and convenience that it provides, the Hyundai Starex is also famous for its advanced power and safety features which have also gained the trust of the Filipinos. Just like most Hyundai models, this fuel-efficient van is operated by 2.5 CRDi VGT Diesel engine that gives  maximum power of 170ps and a maximum torque of 45kg-m matched with a five-speed automatic transmission with H-matic manual mode. Hyundai has also made sure that the passengers will be protected in the event of a frontal collision, as the vehicle's engine is mounted in front. It is also designed to lessen vibrations and heat emissions. The van is also installed with driver safety windows, dual front air bags, rear parking sensors, and rear underview mirror for a more enhanced road safety and protection.
Also included in the Hyundai MerrygaLOW promo are the Hyundai Kona, which can now be purchased for P205,000 off, the Hyundai Accent, now available with a P160,000 discount, and the Hyundai Reina which can now be taken home for P110,000 in savings.
The Hyundai MerrygaLOW promo runs until December 31.
Photos from Hyundai Philippines
Also read: Hyundai PH gets in holiday spirit with 'MerrygaLOW' promo
You might also be interested in