Maxus PH donates new V80 Flex ambulance to Manila city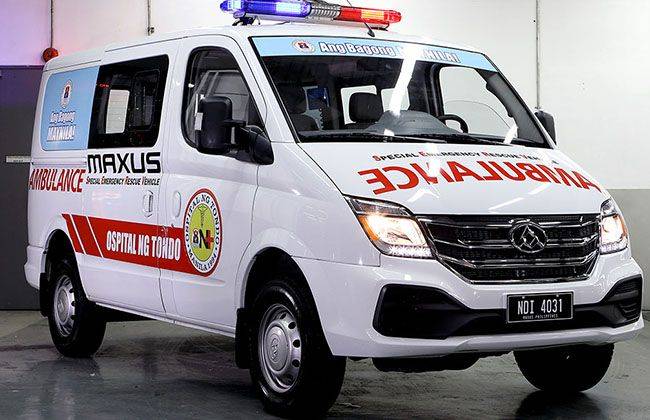 MANILA: Last Monday, Maxus Philippines donated a brand new Maxus V80 Flex ambulance to the Ospital ng Tondo. The donation marks Maxus Philippines' support for the local government of Manila's efforts towards the Mayor Isko Moreno's "Ang Bagong Maynila (A New Manila)" projects. One of the goals under this is to improve healthcare services for the residents of Manila.
The new Maxus V80 ambulance is a three-seater van specially customized by Winterpine Marketing Corporation. The vehicle features an LED toplight equipped with a siren and public address (PA) system. The exterior has the official decals and vinyl sticker ambulance markings. It was also fitted with a stainless steel bumper and stainless ramp approach.
The inside of the van was also modified to fit various apparatuses. A two-layer medical floor-mounted cabinet was fitted inside the ambulance. Maxus also supplied a fully collapsible stretcher with a locking mechanism. 
The V80 has a spacious cabin, allowing it room for various tools such as: a 20-pound oxygen tank; a wall-mounted blood pressure (BP) apparatus; a first-aid kit; an oxygen tank regulator; a combination adult and pedia ambu bag; minor surgical kit; LED flashlight with batteries supplied, and stethoscope. Maxus also installed a fire extinguisher, fluorescent lamp, IV hook with strap, single oxygen tank holder, marine plywood and non-slip matting, and a jump seat.
The ambulance is powered by a 2.5-litre VGT-equipped CRDi diesel engine capable of generating 134 hp and 330 Nm. According to Maxus, the periodic maintenance service (PMS) interval schedule for the V80 Flex ambulance are the first 5,000 km and every succeeding 10,000 km, or once a year. This is standard with all Maxus vehicles.
The turnover of the Maxus V80 was held at the Bonifacio and Katipunan Shrine in Ermita right across Manila City Hall. The ceremony was led by Felipe Estrella, President of Automobile Central Enterprise, Inc (ACEI)., and Reginald See, General Manager of Maxus Philippines. ACEI is currently the exclusive  importer and distributor of Volkswagen and Maxus vehicles in the Philippines.
The ambulance was received by Manila Mayor Francisco "Isko Moreno" Domagoso and Ospital ng Tondo OIC Hospital Director Dr. Myrna Lacson-Paloma. During the turnover ceremony, the aforementioned parties signed the deed of donation after the flag-raising ceremony.
Also read: Maxus launches the G10 Assist, a van especially for PWDs
Explore Maxus V80
Maxus V80
₱1.19 - ₱1.57 Million

MA starts : ₱27,035
You might also be interested in