Toyota flags off first round of 2021 Toyota Gazoo Racing GT Cup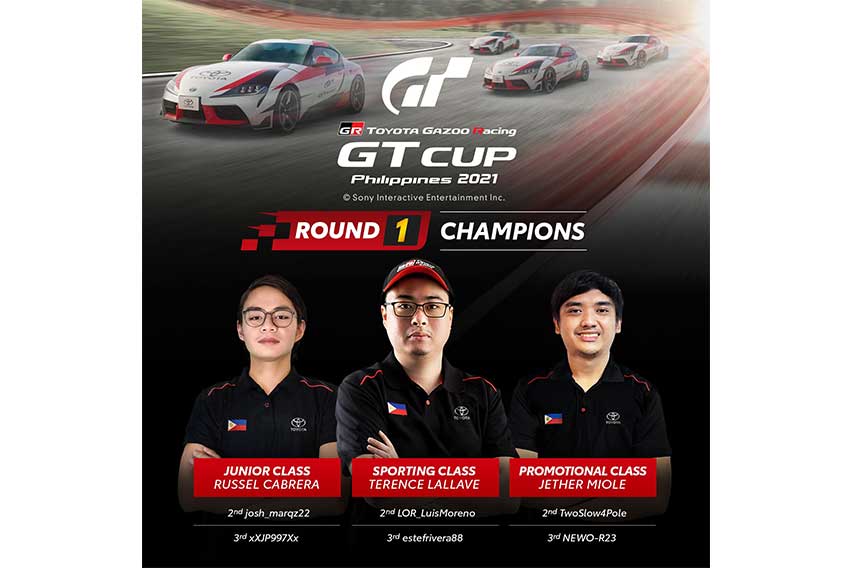 MANILA: Toyota Gazoo Racing and Toyota Motor Philippines have successfully wrapped up the first round of the 2021 Toyota Gazoo Racing GT Cup.
The first leg virtually brought the participants to the Autodromo Nazionale di Monza in Milan, Italy. It is the third-oldest circuit in the world with a length that of almost 5.8 kilometers. Racers were challenged by the circuit's 11 turns in which some are chicanes or artificial curvatures on the road.
The qualifying races for the Junior Class (17 years old and below), Promotional Class (non-professional), and Sporting Class (professional) were conducted on the first day.
The top spot of the Junior Class was taken by Russel Cabrera, who consistently led the race until the last minute. He was followed by Josh David Marquez, who got the best time of the race at 2:02.5. Claiming the third spot is John Paul Veloso, who wisely used the artificial curvatures as an opportunity to overtake and secure his spot.
Their lack of e-sports experience did not hinder the Promotional Class participants to showcase impressive performance in the race. Jether Miole took the top spot of the category. He was able to successfully defend his lead, widening the gap from the competitors from a quarter to almost half a second, leading to a home stretch.
Returning racer Terrence Lallave ruled the highly anticipated Sporting Class where most of the participants represent their own esports team. Luis Moreno got second place, while Vios Cup racer Estefano Rivero took the third spot.
The winners of the first round received gaming gear to upgrade their arsenal. Bigger rewards will be given away to the winners of the next round, where there will be multipliers applied. The scores will be multiplied by 1.5, making the champion of the round earn 30 points instead of the initial 20. To get more chances of increasing points, racers are encouraged to join and re-qualify. Interested participants can still sign up for the second round by visiting the official Toyota GR GT Cup Website at toyota.com.ph/gtcup.
To be notified of the race's live streams, bookmark the official Facebook page of Toyota Motor Philippines at facebook.com/ToyotaMotorPhilippines. To know more about Gazoo Racing, like the official Facebook page of Toyota Gazoo Racing Philippines.
Photo from Toyota Motor Philippines
Also read: P1-M worth of prizes await Toyota GR GT Cup winners
You might also be interested in
Latest Toyota Cars Videos on Zigwheels