Volkswagen x Ford for CV, EV, and autonomous vehicle development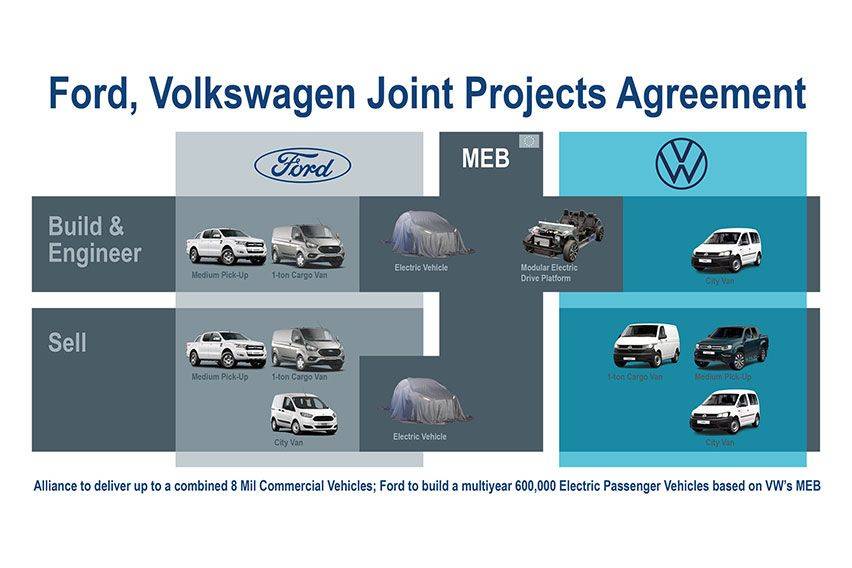 MANILA: Volkswagen AG and Ford Motor Company have signed an agreement for the expansion of their global joint venture to address the rapidly changing needs of customers in Europe and other countries. The two auto companies will take advantage of balancing strengths in electric and commercial vehicles and mid-size pickup trucks.
The companies expect the collaboration to improve ownership experiences for existing and prospective customers in terms of bringing more model options, bringing better utility, integrating significant new technologies, and developing vehicle offerings. They also expect continuous improvement in the global industry demand for high-performing electric vehicles and commercial vehicles to add substantial value to their respective product ranges.
The alliance aims to generate a Ford-engineered and built medium pickup truck and for sale by Volkswagen as the Amarok beginning in 2022 within the Volkswagen commercial vehicles portfolio.
The collaboration also plans to solidify the commercial-vehicle businesses of the two companies by 2021, with a city delivery van based on the current Caddy model, constructed and developed by Volkswagen commercial vehicles and at a later time, a one-ton cargo van from Ford.
The goal of the alliance is to lead to a highly distinguished Ford electric vehicle for Europe by 2023 constructed on the modular electric drive or MEB toolkit of Volkswagen, promoting the zero-emission capacity of Ford.
Volkswagen Group CEO Dr. Herbert Diess stated that the partnership would drive down the costs of development, which enables a more extensive global distribution of commercial and electric vehicles and improve the status of both companies.
In the life cycle of the products, Volkswagen and Ford anticipate generating a total of 8 million of both commercial vans and the medium pickup truck.
Both Volkswagen and Ford have reliable pickup and commercial van businesses worldwide, including high-ranking models like the Ford Ranger and Ford Transit as well as the Volkswagen Commercial Vehicle's Amarok, Caddy, Crafter, and Transporter.
For many years beginning in 2023, Ford can bring 600,000 electric vehicles atop the MEB architecture, which made to merge performance and space with electric drive. Ford will design and manufacture the vehicle and will contribute to another convincing nameplate to its all-electric Mustang Mach-E, which is set to debut in 2021.
Aside from this, the auto companies will work closely with Argo AI (a Pittsburgh-based company) to create unique, highly capable autonomous vehicle businesses that are based on the self-driving technology of Argo AI.
Last week, Volkswagen closed its investment with Argo AI, where Ford also had development and ownership interests.
The independent investments of Ford and Volkswagen signify the technical advancement and leadership of the self-driving system of Argo Al, and how collaborations can aid in allowing the development of innovative technologies which need significant resources and time. The SDS of Argo Al is the pioneer in terms of commercial deployment initiatives for both the US and Europe.
To date, the global reach of Volkswagen and Ford will provide the platform of Argo Al, the most significant geographic positioning potential of any autonomous driving technology. Scale and scope are vital aspects of attaining cost-efficient and robust SDS development.
The partnership between Ford and Volkswagen excludes cross-ownership between the two companies since they will maintain healthy competition in the automotive market.
Photo from Ford/Volkwagen
Also read: Volkswagen PH offers discounts on Lavida and Santana, Ford Ranger, Transit pulled into duty for frontliners and hospitals
You might also be interested in
Latest Cars Videos on Zigwheels