Best Automatic Scooter in Philippines under Php 80,000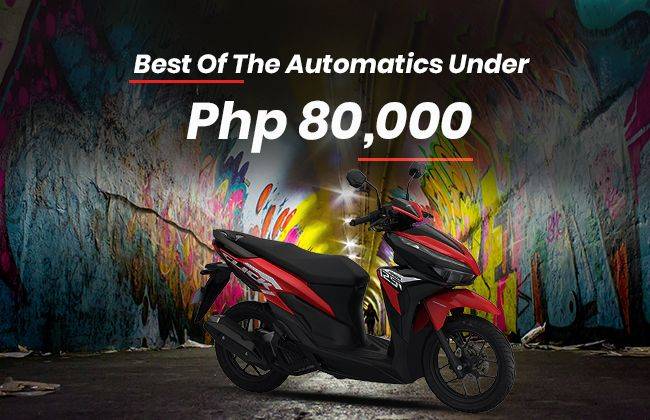 A big chunk of our population uses automatic scooters to run their daily errands. These two-wheelers are the best means of transportation for them to travel through dense city traffic and reach their destination on time.
No wonder there has been a surge in the sales of automatic scooters in the country over the last few years and, to be honest, we aren't surprised by it. Just like the other sectors of the huge automobile industry, automatic scooters, too, are available at different prices offering very premium features and build quality. However, in this story, we will be focusing on the best models that you can buy under Php 80,000.
List of Best Automatic Scooter in Philippines under Php 80,000
Suzuki Skydrive Fi
The Skydrive Fi is one of the most affordable automatic scooters that Suzuki Philippines has on offer. It is powered by a 124cc single-cylinder SOHC engine that makes 9.25 hp at 7,500 rpm and 9.5 Nm of torque at 6,500 rpm. Thanks to the advanced fuel injection system on the Skydrive Fi, which Suzuki introduced a few years after the launch of the carburetted version in 2009, both the performance and fuel efficiency are impressive. Another impressive feature that you will appreciate on the Suzuki Skydrive Fi specs sheet is the front disc brake. It really helps in the braking performance of the scooter.
In terms of design, the Skydrive Fi looks decently styled. But there is nothing very attractive about it. Perhaps, age has taken a toll on it. Maybe female buyers would still have an affinity for it. Anyway, in case you are wondering, the Suzuki Skydrive Fi price falls just under the 80,000 mark at Php 78,900 and is the most expensive one in our list.
Honda Click 125i
After launching the Click 125i in the country in 2015, Honda gave a massive update to this automatic scooter making it one of the best deals that you can have in the segment right now. It has a modern and futuristic design. Its twin LED headlight setup looks very mean and aggressive. The side panels or fairings have been kept sharp to match the front end. The scooter also has a stylish rear end with an LED tail light. So, the Click 125i gets full LED lighting. Also, its fully digital meter panel is very nicely put together and provides information like real-time fuel consumption, battery and change oil indicator, trip meter, and digital clock. The scooter comes with tubeless tyres and an 18-litre under seat storage. All these features make this scooter a premium one.
Mentioned at the top of the technical section of the Honda Click 125i specs sheet is its 125cc single-cylinder liquid-cooled engine with Honda's PGM-Fi technology. It produces 11 hp at 8,500 rpm and 10.8 Nm of torque at 5,000 rpm, which makes riding through the city an easy task. The Honda Click 125i price is Php 74,900 and it comes in 4 different colors - Black, Orange, Blue, and Magenta.
Yamaha Mio i 125
Yamaha Mio series is quite popular amongst the youngsters. The most affordable one of this series is the Mio i 125. Yamaha has tried to make the Mio i 125 as special as possible by incorporating a couple of unique 'M' design elements. At the front, there is a sleek M-shaped design that adds a bit of sportiness and aggressiveness to the scooter. And at the rear, there is an M-shaped grab bar which looks really cool. The rest of the scooter is pretty standard but comes with attractive color options - Black, Yellow, White, Blue, Magenta, and Vibrant Orange. The striking graphics further enhance the appearance.
There are a few handy features like smart stand switch which automatically shuts off the engine if the side stand is down, and a large under seat storage space. The Yamaha Mio i 125 specs reveal that powering the Mio i 125 is a single-cylinder air-cooled engine that produces 9.38 hp at 8,000 rpm and 9.6 Nm of torque at 5,500 rpm. And with Yamaha's Blue Core technology, it offers more performance while consuming less fuel. The Yamaha Mio i 125 price is Php 74,900.
So, there you have it guys. These were the best automatics that you can buy under Php 80,000 right now. We really don't need to point out which one of the three makes more sense and provides an incredible value for your money. Do let us know which one you would pick.
Yamaha Motorcycle Models
Yamaha Nmax

Yamaha Sniper 155

Yamaha Aerox 155

Yamaha Mio Gear

Yamaha Mio i 125

Yamaha Xmax

Yamaha YZF R15M

Yamaha XSR155

Yamaha Mio Sporty

Yamaha MT-15

Yamaha Mio Fazzio

Yamaha YZF-R3

Yamaha Mio Gravis

Yamaha Mio Soul i 125

Yamaha YTX 125

Yamaha Super Tenere ES

Yamaha XSR900

Yamaha YZF R1M

Yamaha XSR700

Yamaha SR400

Yamaha Tracer 9 GT

Yamaha MT-07

Yamaha MT-10 SP

Yamaha TMAX Techmax

Yamaha Tenere 700

Yamaha MT-09

Yamaha YZF R7

Yamaha BOLT R-SPEC

Yamaha TMAX

Yamaha XTZ 125

Yamaha Serow 250

Yamaha MT-03

Yamaha WR155R
Yamaha Motorcycles

You might also be interested in
Compare & Recommended
Engine Type

Single Cylinder, 4-Stroke, SOHC Liquid-Cooled Engine

Single Cylinder, 2 Valves, 4-Stroke, Air Cooled, SOHC Engine

Single Cylinder, 4-Stroke, SOHC Air Cooled Engine

Single Cylinder, 4-Stroke, 2-Valve, Air-Cooled, SOHC Engine

Single Cylinder, 4-Stroke, 2-Valve, Air-Cooled, SOHC Engine
Yamaha Mio i 125 Motorcycle Articles From Carmudi
Best Automatic Scooter in Philippines under Php 80,000
Select your city to start search
Or select from popular cities