Honda BeAT-FI eSP: 5 Key Highlights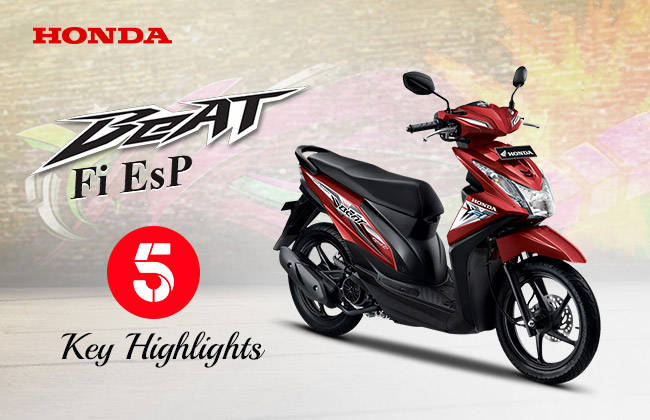 The Honda BeAT-FI eSP series first hit the Philippines market in the year 2015 and was designed keeping in mind the young customer base. The BeAT-FI eSP has undoubtedly been successful in acquiring the market share it desired. One of the main reasons for generating the amount of sale that it did is its design. It comes with a unique design making it suitable for both men and women. Unlike many other two-wheelers, its sales do not dependent on one particular gender.
The BeAT is comparatively lightweight and has a sloping seat which makes it comfortable for the short height people. The scooter has compact dimensions measuring 1,856mm in length, 665mm in width, and 1,065mm in height and has a wheelbase of 1,256mm. A big headlight along with a stylish silencer cover makes this scooter very appealing in its own right.
The Honda BeAT-FI eSP runs on a 110cc air-cooled engine which is capable of generating a maximum power of 8.5hp at 7,500 rpm along with a peak torque of 9.01Nm at 6,000 rpm. The scooter is easy to handle and offers pretty smooth performance. Its CVT transmission and telescopic suspension at the front also perform well. However, the 4 litre of fuel capacity is quite small.
When it comes to braking and safety, the scooter uses a front disc brake along with a rear drum brake. Honda's Combi-Brake system allows you to use both the brakes by pulling the left lever simultaneously. Its Idling Stop-Start System helps rider save fuel by stopping the engine when it is idle for too long. A magnetic shutter is also present to cover the keyhole.
Here is a list of the five key highlights of the Honda BeAT-FI eSP:
1. The Honda BeAT-FL eSP uses the Honda Smart Technology, an advanced technology that was first used in the Honda Click 125i. The technology is a collection of innovative features that enhance safety and road performance.
2. The scooter has a remarkable fuel efficiency of 63 kmpl in its CBS and ISS variant, whereas, the standard model offers a mileage of 58.5 kmpl. Its economical mileage is one of the primary reasons for the Honda BeAT-FI eSP gardening such a big market. After all, fuel efficiency is one of the main factors for the success of any two-wheeler and Honda is well aware of that.
3. The Beat also has a number of new and advanced safety features as we have seen in almost every Honda scooter and bikes. The list includes a side stand switch, park brake lock, secure magnetic key shutter, Automatic Headlight On (AHO) as well as the combi-brake system.
4. Honda has always produced its vehicles keeping the convenience of the users in mind, and the Honda BeAT-FI eSP is no different. It comes with a large utility box that can accommodate around 11.2 litres of personal stuff or safety equipment.
5. Under the eSP, which stands for Enhanced Smart Power, comes with a number of technologically advanced features. The ACG (Alternating Current Generator) starter-type system ensures a noise-free and smooth start. The PGM-FI technology which was first introduced by Honda in the year 1982 with its Honda CX500 Turbo provides higher torque, power, and fuel efficiency while keeping the emission low. The CVT (Continuous Variable Transmission) which can now be seen in most of the modern scooters allows for low vibration and friction.
With such advanced features and technology coupled with a great design and excellent performance, the Honda BeAT-FI eSP has been a hit since its inception. The Japanese manufacturer has always tried to stay a step ahead of its rivals, and these innovations have been their mantra for success all these years globally.
You might also be interested in
Latest Honda BeAT Motorcycles Videos on Zigwheels