Yamaha Mio i 125 vs Honda Click 125i - Which one to buy?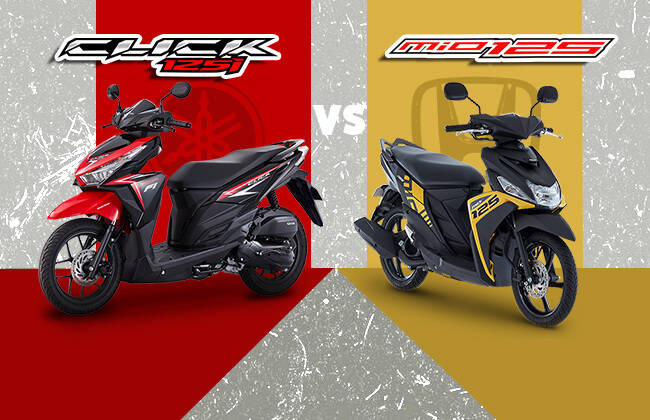 What happens when two enemies compete against each other for a long time? They both start to resemble each other. In the Philippines, one such battle is fought in the scooter segment between the Yamaha Mio i 125 and Honda Click 125i. Being the cash cows of the respective companies, they have a lot resting on their shoulders. They have both been on the scene for a long time and understand the needs of their customers very well.
Choosing between these mature products appears to be a toss-up. But there are subtle differences that can help you decide which is the better scooter. Not just for the masses but also for you.
Starting from the most essential part, we look at the styling. They're so similar, we won't judge you for mistaking one for the other. However, the Honda has a decidedly better-looking front with the dual keen LED headlight. The Yamaha with its M themed design looks almost pedestrian in comparison. From the side, both are pretty equally matched, but the Honda has twin spoke alloys. These are much nicer than the ones on Yamaha.
The Yamaha has slimmer and racier rear section with funkier color options. But this results in some serious faults otherwise. It results in a narrower and deeper under seat storage area which at 10 L is nowhere close to Honda's 18 L. The one in Honda is wide enough to store a full face helmet, which is impressive considering how slim the scooter looks.
The Honda also has an instrument cluster that incorporates a multi-functional digital display along with an analogue dial. The Yamaha has to do with analogue dials only. Honda also comes with magnetic security ignition key, a seat release button, a park brake lock, and an ACG starter that lets you start the engine noiselessly. The Yamaha also comes with a lockable key shutter. The key also has an answer back system that enables you to find your scooter in crowded parking spots.
Yamaha Mio i 125 vs Honda Click 125i - engine
The engine in the Honda is a 124.8 cc liquid-cooled 2-valve fuel injected SOHC unit. It is good for 11.5 PS at 8500 rpm and 10.8 Nm of torque at 5500 rpm. The Yamaha has a 125 cc SOHC forced air cooled two valve unit producing 10 PS at 8000 rpm and 9.6 Nm of torque at 5500 rpm. The differences are clear as day. The Yamaha engine is a highly advanced unit using the brands Blue Core technology that handles everything from forged pistons and roller rocker arms. But this pales in comparison to the fact that the Honda engine is liquid cooled. The Yamaha returns 50 kmpl on the highway and 43 on city roads which is lower than the Honda's 55-60 kmpl. This is after Honda decided to drop the engine stop-start system that used to shut down the engine after a certain amount of time spent idling. Yamaha still comes with this admittedly annoying feature. Yet it still struggles to achieve nearly the same figures that Honda gets with just its fuel injection mapping. That being said, both the engines are powerful enough for carrying an extra passenger and some cargo without feeling out of breath. The power delivery is also quick enough to let you filter through traffic and launch yourself from traffic stops.
Another major point of difference is the smaller fuel tank in the Yamaha (4.2 L) compared to the Honda at 5.5 L. However, the Yamaha is much lighter at 92 kg with a full tank. The Honda in comparison weighs as much as 106 kg.
Speaking of dynamics, the Yamaha has a seat height of 750 mm while the Honda has a higher seat at 765 mm. The rear seat is notably higher in the Honda but not worryingly so. The ground clearance is the same for both at 135 mm. This means that both of these scooters are best suited for light commuting on smooth city roads. The tires on the Yamaha are 70/90-14 in the front and 80/90-14 on the rear. The Honda has slightly larger 80/90 - 14 front and 90/90-14 rear setup, giving it more grip. Both the scooters have a disc on the front and a drum brake on the rear doing stopping duties.
For all its advantages, the Honda Click 125i sells for Php 80,900. The Yamaha Mio i 125 is cheaper at PHP 70,900.
Is the Honda worth the extra Php 10000? Only you can decide.
Honda Click 125i vs Yamaha Mio i 125 Comparison
Honda Motorcycle Models
Honda Click 125i

Honda Click 160

Honda PCX160

Honda ADV160

Honda TMX125 Alpha

Honda X-ADV

Honda BeAT

Honda CB150X

Honda TMX Supremo

Honda Gold Wing

Honda Rebel

Honda DIO

Honda XRM125 Motard

Honda CBR150R

Honda CRF150L

Honda XRM125 DSX

Honda CBR500R

Honda CRF1100L Africa Twin Adventure Sports

Honda XRM125 DS

Honda CB1000R

Honda Genio

Honda RS125 Fi

Honda Wave RSX

Honda CL500

Honda CRF1100L Africa Twin

Honda CBR650R

Honda Airblade160

Honda XL750 Transalp

Honda CRF300 Rally

Honda CB500F

Honda CBR1000RR

Honda Rebel 1100

Honda XR150L

Honda CRF300L

Honda CRF250RX

Honda CB500X

Honda CB650R

Honda Supra GTR 150
Honda Motorcycles Price

You might also be interested in
Compare & Recommended
Engine Type

Single Cylinder, 4-Stroke, SOHC Air Cooled Engine

Single Cylinder, 2 Valves, 4-Stroke, Air Cooled, SOHC Engine

Single Cylinder, 4-Stroke, 2-Valve, Air-Cooled, SOHC Engine

Single Cylinder, 4-Stroke, 4 Valves, Liquid-Cooled, SOHC
Honda Click 125i Motorcycle Articles From Carmudi
Yamaha Mio i 125 vs Honda Click 125i - Which one to buy?
Select your city to start search
Or select from popular cities