Yamaha Sight: Reasons to buy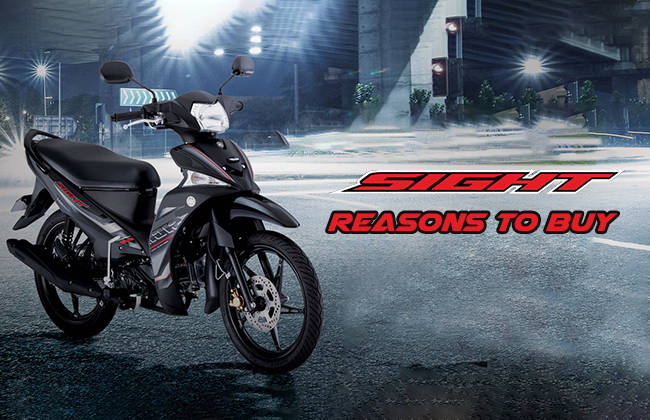 The demand for mopeds in the Philippines is insatiable. Mopeds are efficient, reliable and practical – just what is needed in a country with miserable public transport. Motorcycle makers have been taking advantage of the situation for as long as we can remember and as a result, there is no dearth of choice.
Yamaha, however, thinks that the 115cc segment has space for one more competitor. The Sight, as they've named it, seems to Yamaha's affordable commuting moped in a crowded segment populated by the likes of Suzuki Shooter FI. So how well does it square up against the competition? Why should someone buy it?
For starters, there is the engine. A 114 cc air-cooled 4-stroke SOHC 2-valve engine that produces peak power of 8.5 hp at 7000 rpm and peak torque of 9.5 Nm at 5500 rpm. The transmission uses a 4-speed semi-automatic gearbox. Not very remarkable at all. But this engine is not a run of the mill engine. It has rocker roller arms for good heat dissipation. It also comes with lightweight forged pistons that reduce vibrations. Then comes the spiny sleeve cylinder that also reduces weight. And for good measure, it uses fuel injection instead of carburetors. There seems to be a theme developing here. This engine is made to be extremely fuel efficient. In the recent SafeRun IV motorcycle competition, the Yamaha Sight scored the highest mileage of an astonishing 129.87 kmpl. This run is also different from common endurance runs and very closely follows normal city driving. So, this number is very trustworthy. This number also makes it the most fuel-efficient vehicle in the country. Or at least among the 280 participants that competed in the run.  
The Yamaha Sight is not completely focused on mileage either. The moped is attractive without being too flashy. It is a compact design with many small design details like the 3D emblem, black triangular aluminum grab rail, sharp indicators lights mounted on the apron and a striking tail light cluster. The color options on offer – Black Raven, Yellow Hornet, and Red Metallic – with the typical Yamaha like snazzy graphics add a touch of flair. The long brawny exhaust, thin 5 spoke alloys (on the alloy variant) and 17" wheels with thick tires make for a very appealing bike.
On the practicality front too, the Yamaha Sight does a more than decent job. The front fender rids high above the wheel and performs well on bad roads. Suspension setup is conventional but being so lightweight at just 94 kg, the bike is a breeze to ride. The single piece seat is comfy and allows the rider to adjust their position as much as they want. The seating position is also very comfortable. The Sight also comes with an under-seat storage compartment that is handy for storing documents and rain gear. Looking at the problem of bike theft, the company also provides it with a keyhole shutter. The instrument panel is basic and analog but does come with a gear indicator making it a good choice for new riders.
Finally, safety has also been given a high priority. There is a hydraulic disc brake on the front wheel and a mechanical leading-trailing drum brake on the rear.
With these features and utilities, the Yamaha Sight comes at a very affordable PHP 59900 for the spoked wheel version and PHP 62900 for the cast wheel variant. These prices are very close to the competition and make for extremely good value. Living with the bike should also be hassle-free with easy parts availability and servicing. Yamaha has a solid reputation in the country and with the Yamaha Sight in their portfolio, they can have much higher numbers in their sight. No pun intended
You might also be interested in