All-new Yamaha XSR 155: What's in stock?
Ah, the beauty of exposed gears with vintage and rugged appearance - there is no doubt that the retro style motorcycles are gaining popularity again these days. Ever noticed the motorcycle that Captain America a.k.a. Steve Rogers (played by Chris Evans) used to ride in his scenes? Yes, that's it. And Yamaha just released something similar that you will definitely like.
The new Yamaha XSR 155 is a modern classic motorcycle that has been launched in Thailand last August 2019 and will soon arrive in the Philippine shore with a price tag of roughly Php 162,000.
Channeling the 'Sports Heritage' design language from its bigger siblings XSR900 and XSR700, the XSR155 is a definite must-have for those motorcycle lovers who are fascinated with naked bikes and retro style riding experience.
Yamaha's XSR series higher displacement variants like XSR700 and XSR900 was made to go head to head with Honda Neo Sports Cafe's CB650R and CB1000R, respectively. Meanwhile, the all-new Yamaha XSR155 will go against the Honda CB150R. Fair enough? We'll see once we get to know more about Yamaha's new entry.
What does 'XSR' stand for? Well, its Xtreme Street Racing.
Although there is no exact date yet as to when it will be finally released in the Philippine market, lots of moto sapiens are already anticipating its arrival. After all, it's a neo-retro style naked bike with some advanced features, who wouldn't want to see it in metal?
Here are the things that we know so far about Yamaha's latest wonder:
Yamaha XSR 155 engine
The XSR155 will be equipped with the same motor that Yamaha YZF R15 V3 has which is a 155cc liquid-cooled four-stroke, single-cylinder, four-valve SOHC gasoline engine that can fire up to 19.3 horsepower at 10,000 rpm and maximum torque of 14.7 Nm at 8,500 revs per minute. Its engine is mated with a 6-speed gearbox assisted by a slipper clutch as the standard.
In addition, the engine is packed with Variable Valve Actuation (VVA) technology that ensures optimum power output within variable speeds. The VVA in the XSR155 allows the unit to use a single overhead cam which makes the cylinder head more compact and can also promise a sharper throttle response. It also helps in regulating fuel combustion at different speeds and throttle inputs while also getting a higher compression ratio for the engine.
For the suspension, the front uses telescopic forks while the rear employs an adjustable mono-shock. The featured 17-inch wheels, being 110/70 in the front and 140/70 in the rear, will be both accompanied by disc brakes. Will it be equipped with an Anti-Lock Braking System or ABS? We're not yet sure but we're hoping it's going to be a standard.
Yamaha XSR 155 fuel tank and efficiency
XSR155 has a 10-liter fuel tank capacity and weighs around 134 kilograms. It can return an average city mileage of 48.58 kilometers per liter and an average highway mileage of 52.02 kilometers per liter.
Yamaha XSR 155 design and saddle
This naked bike will be offered in two color options namely Matte Silver Premium and Matte Black Elegance. The seat height is at 810 mm which is just enough for the average Filipino height.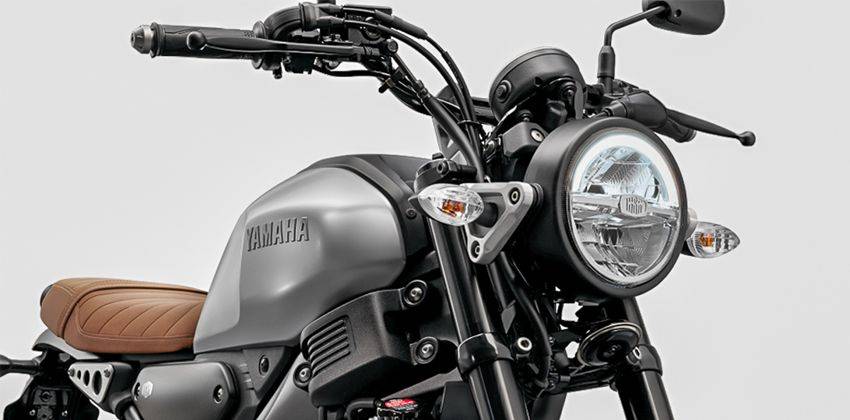 As for the lighting system, this bike employs an all-LED lighting system which includes LED headlights, taillights, and even the turn signals.
With its neo-retro style, the XSR155 is also bound to exceed the expectations when it comes to overall outlook as it features a sporty stance with an aura similar to the 1940s bike. Just imagine riding in a motorcycle that has a 40s vibe with a mix of advanced touch-ups around Metro Manila in the year 2020, cool, right?
Yamaha XSR 155 LCD instrument panel
One major advanced feature that this neo-retro style motorcycle has is the full LCD instrument display that has color-coded signals and digital meters. This one is a definite plus for this motorcycle as it accentuates the fact that a naked bike with a retro vibe can go futuristic as well.
So there you go folks, these are just some of the things that we know so far and surely enough, we'll let you have more of the information once we get the full spec sheet of this wondrous bike.
There is no doubt that the Yamaha XSR155 is a definite fusion of sporty stance with old school vibes. With all of these features and eye-pleasing design, it is just right that a lot of moto sapiens anticipate its launch here in the Philippines.
Can't get enough of this amazing neo-retro style motorcycle? We too! Stay tuned here at Zigwheels PH for more updates and interesting automotive industry stories!
Yamaha Motorcycle Models
Yamaha Nmax

Yamaha Aerox 155

Yamaha Sniper 155

Yamaha Mio i 125

Yamaha Mio Gear

Yamaha Xmax

Yamaha Mio Fazzio

Yamaha MT-15

Yamaha XSR155

Yamaha Mio Gravis
Yamaha Motorcycles Price


You might also be interested in
Yamaha Motorcycle Articles From Carmudi
Yamaha partners with Spartan PH to push Mio Gear, 'Play Your Tough' campaign

Here's what see in the Yamaha E01

Ruben Manahan IV,

Nov 23, 2023

Yamaha PH gathers YClub officers at 2023 Leaders Summit

Yamaha Motor PH server hacked

Ruben Manahan IV,

Nov 21, 2023

Yamaha to showcase FG-01 EV at 2023 International Robot Exhibition
All-new Yamaha XSR 155: What's in stock?
Choose a city to get promos and prices in your area