Yamaha Tricity: Reasons to buy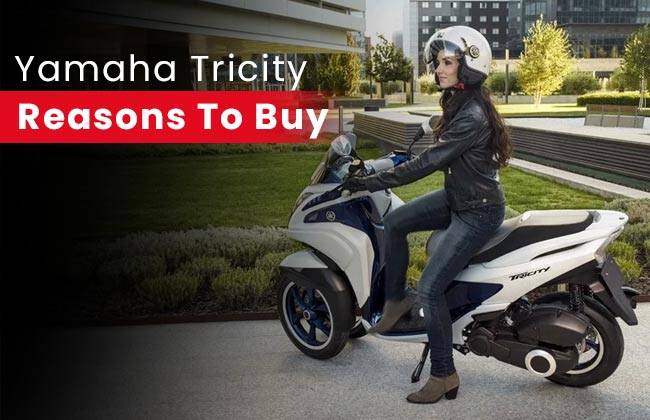 Yamaha reminded us of its marvellous Leaning Multi-Wheel (LMW) technology by bringing in the new Niken into the picture. But not everyone knows that Yamaha Niken isn't the first LMW vehicle to come out from Yamaha's garage. There's already a much smaller vehicle that's currently on sale in the Philippines and it's called the Yamaha Tricity. It might not be as powerful and aggressive as the Niken but it is built from the ground up using a similar set of ideas. But does it make sense to buy a 125 cc, three-wheeled commuter? Here are a few reasons to buy the Tricity.
Three wheels and aesthetics
The fact that Yamaha Tricity has three wheels will either make you love it or hate it. There couldn't be a middle ground here. Since we are talking about the reasons why you should buy this machine, we will be focusing on the positives of this arrangement. The Tricity has a totally different road presence thanks to its three wheels. It looks unconventional and people will turn their heads to fathom what exactly is going on. Some might even think that it's a modification.
The Tricity looks bulkier for a 125 cc commuter 'scooter' but there are certain elements that try to hide that extra fat. At the front, we have a pair of LED position lights that add to the modern design of the vehicle. Combine that with the rest of the front fairing and things look pretty decent. Also, the two colour options - red and white - look quite good on the Tricity. The rear end gets an LED taillight and integrated side turn signals.
Ride quality and handling
Fitting two wheels at the front isn't as easy as it sounds. Yamaha had to take innovative measures to make sure that the ride quality and handling of the Tricity isn't negatively affected by this. And they have succeeded. The two wheels at the front work in unison to provide you with that extra grip on the surface. This comes in handy in braking as well as cornering. Also, the cantilevered telescopic suspension at the front works brilliantly to soak up bumps and undulations and provide a smooth ride.
Handling is also improved with the inclusion of an additional wheel upfront. There is more traction and hence you feel more confident while riding this vehicle. Also, the optimised frame design that provides a 50:50 weight distribution further helps. However, we can't really comment on its low-speed manoeuvrability because of the added weight.
Liquid-cooled engine
Although it's the 'Leaning Multi-Wheel' title that takes all the attention when you are going through the Yamaha Tricity specs sheet, it isn't the only remarkable thing about this machine. The 125 cc, single-cylinder, liquid-cooled engine is also pretty impressive. It produces 11 PS of max power at 9000 revs per minute and 10.4 Nm of peak torque that kicks in at 5500 rpm. It gets a V-belt type automatic transmission. Yamaha says that it has designed the engine specifically to suit the LMW character of the Tricity. For example, the engine comes with Yamaha's YMJET-Fi system that is built for optimal fuel efficiency as well as a quick response.
Digital dash
Apart from having an additional wheel, the Tricity is normal in other aspects. It features a fully-digital dash or instrument console which looks pretty cool. It is wide and has a lot of space to display the necessary information like speed, time, air temperature, fuel level, etc.
Braking performance
Yamaha has implemented what it calls as the Unified Braking System. So, when the rear brake is applied this system makes sure that a certain amount of braking force is distributed to the front two wheels as well to maintain balance. This means that all three wheels are under the braking action. However, when the front brake is applied, the force is transmitted to the front wheels only. And of course, since there is more surface area in contact with the ground underneath the braking performance is notably enhanced.
There will always be the question of why to have three wheels in a 'two-wheeler'. Well, why not? We don't want to open a discussion on this topic as it is going to be a never-ending one for sure. Perhaps, it wouldn't be wrong to say that the Tricity is a good result of the curiosity of Yamaha's engineers and designers and you can have it for Php 146,000.
You might also be interested in
Latest Yamaha Tricity Motorcycles Videos on Zigwheels