Yamaha Tricity: Features explained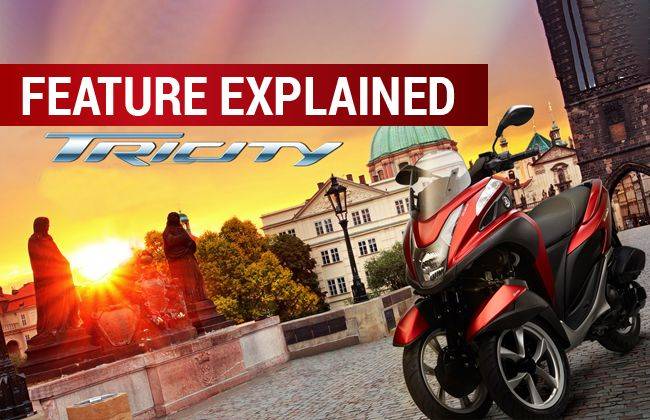 What does the future of two-wheeler mobility hold? Some would say electric power. Others might even say autonomous vehicles. But possibly no one would say is adding a third wheel. Yet the Yamaha Tricity tries to do exactly that. This is an out and out commuter scooter but one that has two wheels in the front and one in the rear. Yamaha says that this setup combined with their unique linkage and suspension setup provides a riding experience like no other. Is this really what the future needs? Or is it solving a problem that does not even exist? We are not sure. But as a scooter today, this unique and highly original creation does pack in a few features that make it stand out on its own.
The three-wheel setup
Yamaha has been pursuing this wheel layout for quite some time now. With the launch of the sporty Niken, they put it on the road to largely positive reviews. Now Yamaha has put that same setup to use on what is essentially an everyday scooter. The main components behind making this setup work, are the parallelogram linkage and the cantilevered telescopic suspension. As you might imagine, leaning on two wheels while keeping them parallel is not easy. On a scooter, they have the additional task of soaking up bumps and moving up and down. These movements have to be synchronized to perfection to allow the scooter to have the natural feel of an actual scooter. Thankfully Yamaha's engineers have managed to do just that. Without getting into too many technicalities, we can say that the Tricity provides the natural feel that a rider wants from a commuter scooter.
The suspension even provides 90 mm of stroke length giving the scooter a plush ride. Riders can even lean as much as they want or could on any other scooter. The best way to describe it then would be to say that it feels like any other scooter. Only here you are more stable and will not fall off as easily. This setup should come in very handy for people who are not very confident in their riding ability but still want to experience the thrill of leaning a motorcycle into a corner.
Modern urban features
A vehicle, no matter how futuristic it may be, has to be useful today. And the Tricity has enough well thought out features to serve any kind of need. It comes with an answer back key that helps you locate it in parking lots. Lighting uses LEDs. The storage compartment under the seat has a massive 20-litre capacity and can easily fit a half face helmet. The information display is also futuristic and uses a fully digital LCD screen. It displays everything from the time to the air temperature and much more. Yamaha has also thought of giving the Tricity amenities like a luggage hook in the front compartment.
Dynamic performance
The Yamaha Tricity is powered by a liquid cooled 125 cc engine producing a perfectly reasonable 11 PS and 10.4 Nm of torque. It uses a CVT for effortless driving. Thanks to YMJET-FI it gets optimum fuel delivery ensuring low consumption, low emissions and good performance. The chassis allows the Tricity to have 50:50 weight distribution that ensures great riding comfort and maneuverability. While being equipped with hydraulic disc brakes both front and rear, Yamaha has also given the Tricity a little extra. We are talking about the Unified Braking system that distributes braking between all three wheels when the rear brakes are applied. This system also adjusts spring loads to optimize the braking force. When the front brakes are applied it only engages the front brakes. So, the rider gets the best of both worlds.
The Yamaha Tricity is definitely not for everyone. But for new riders or those who are not the most confident in their riding ability, this is a god send. It is also quite expensive and misses out on some additional modern features like ABS that would have really sweetened the deal. Yet as a modern urban commuter scooter it is a very comfortable and unique alternative that solves a very unique problem. Yamaha' engineers are paving towards a future where more and more people can ride without their physical bodies limiting them in any way.
You might also be interested in
Latest Yamaha Tricity Motorcycles Videos on Zigwheels