Mazda 6 2.2L Skyactiv-D: D is for detail in this mid-sizer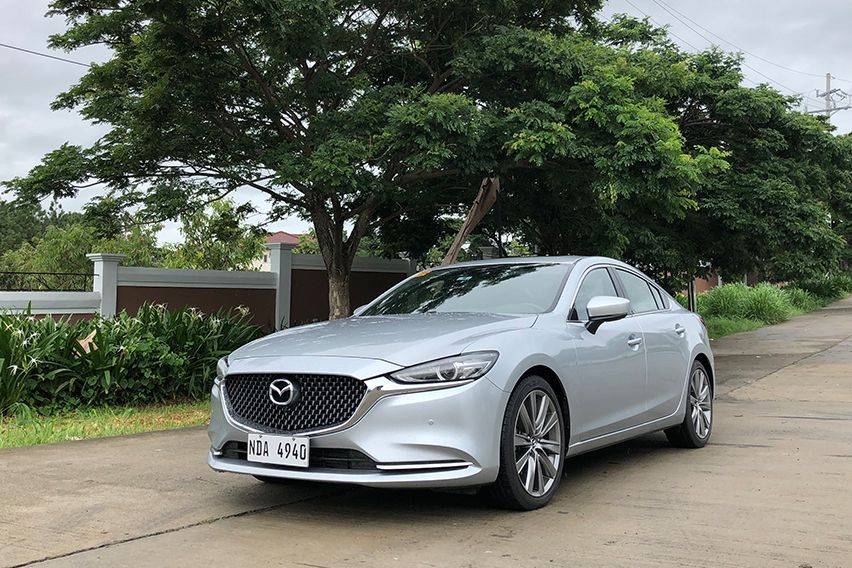 Save for the all-new Mazda 3, the combo of the Kodo design language and elements of the Mazda Vision Coupé (a stunning concept unveiled at the 2017 Tokyo Motor Show) gives this mid-size sedan a huge edge over the competition.
It looks sporty and elegant without even trying and aesthetics isn't even its best feature. Read on as I tell you what impressed me most about the Mazda 6 2.2L SkyActiv-D four-door.
Exterior
What fascinated me about the massive chrome-bordered grille is the de-emphasized logo that gives the façade a lot of real estate to fully express the design without the branding getting in the way.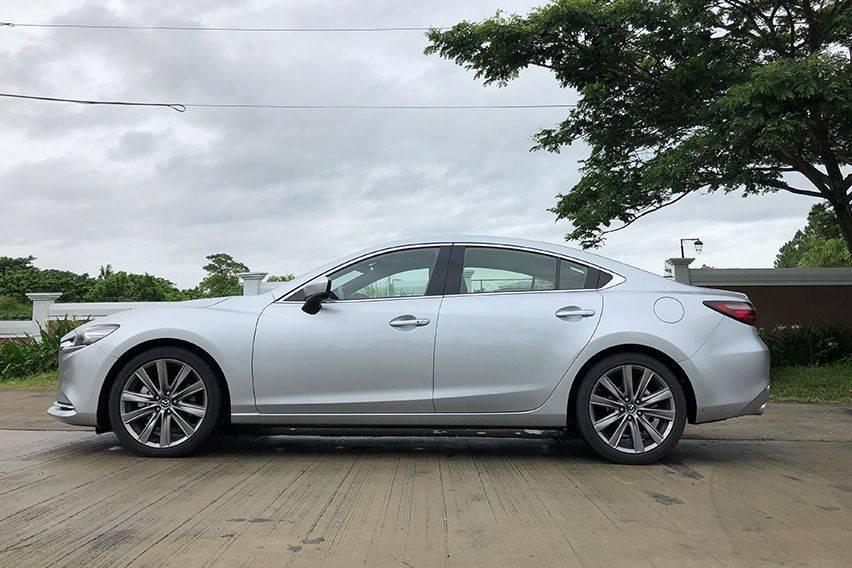 The logo is at the center, albeit the upper portion of the grille, because this is where Mazda conceals front-facing camera that's used as part of the vehicle's safety systems.
Front fenders are cheetah-inspired as part of the Kodo design philosophy, making it one of the most expressive in the segment. Even with a trunk, Mazda still manages to almost make it look like a hatch with that fastback shape and short tail.
In the executive sedan segment, it has to be the sportiest one yet.
Like all units in the P2 million range (this model is priced at P2.25 million) it doesn't scrimp on interior amenities and appointments but that's not to say it doesn't go over and above the limit.
Interior
Mazda uses deep chestnut Nappa leather generously in the cabin. In fact, it is practically all over, from the steering wheel, dashboard, door panels, and center tunnel and console. There's also Alcantara on the horizontal trim right below the aircon vents extending all the way to the door panels, but they call it Ultra Suede.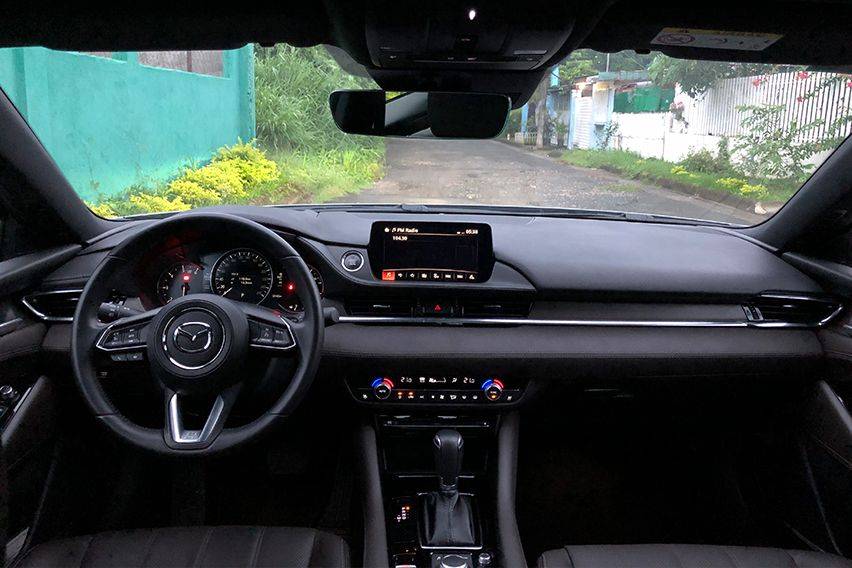 Combined with the brushed aluminum strips located on the dashboard and door panels (front and rear) and the visible stitching on the leather, it makes for a very posh interior that even exceeds the exterior's refinement.
It uses the Mazda Connect system and may look and feel dated, especially since it hasn't really had significant updates to the Commander (rotary dial) or the graphic user interface (GUI) since 2013, but that's not so say it is not an absolute delight to handle.
Ease of use is right up there with the best of them. You can opt for the touch feature on the eight-inch screen but the Commander is better because you can keep your eyes on the road more. Also, there isn't an excess of icons hiding menus and submenus to locate what you need. Finally, the GUI fonts and the plain design makes all the labels easy to read.
Best cabin feature? An 11-speaker Bose sound system.
Engine
If you're already impressed, you haven't felt anything yet.
I was expecting a more energetic impression from the SkyActiv-D 2.2-liter engine, but I was pleasantly surprised.
As it is diesel-powered, torque is big — truck-level big at 450Nm but how it uses all that pull is what's amazing.
Whether you mash or massage the throttle, there's no sudden jerky movement. The pace is more hastened but power is still delivered smoothly through the Skyactiv six-speed AT. It doesn't roughly lunge forward or move uncouthly like an anxious teenager. More pressure gets you there faster but it never loses poise along the way.
When I kept my foot light, it took its time accelerating, which felt weird because it does have 187hp, but I think of it more as being regal, firm and stable even, which befits its class.
Combined fuel consumption is a fabulous 13.5 kilometers per liter.
Ride and handling
Ride comfort is beyond reproach. Large holes are but a quiet thud while all other road imperfections are simply shrugged off without a sound.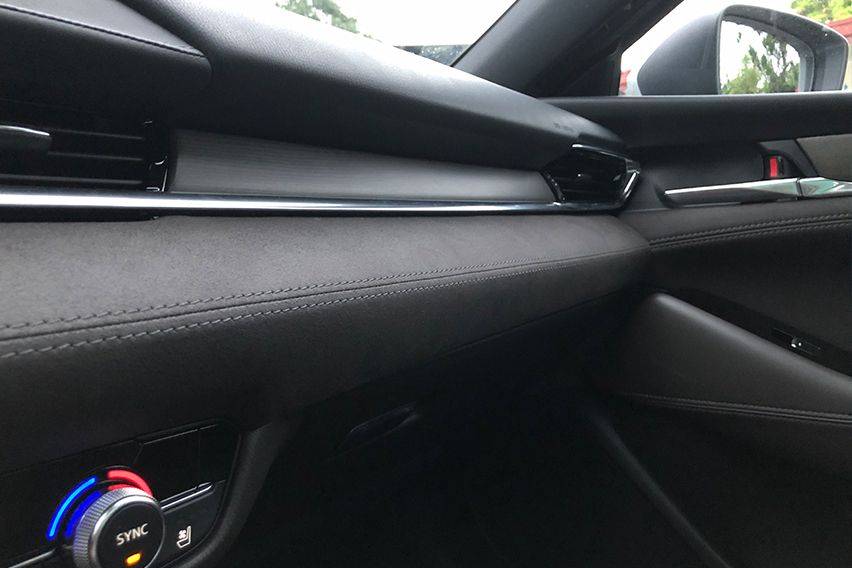 Handling is terrific along turns and curves even at high speed because of the low roof and floor level, which brings down the center of gravity.
As a mid-size, it has some heft to it but despite that, it feels light with electric power-assisted steering. It does sadly dull out road feedback, but it's response to driver input is very sharp and precise.
Airbags are a-plenty — six to be exact — front and side (driver and passenger), and curtain, but what makes it smart and safe, beyond the usual sensors, etc., is a 360-degree-view camera, lane departure warning system, and blind spot monitoring.
The last two features appear on the head-up display (exclusive to this trim).
Verdict
Being so well put together, it was hard to find something I didn't like. If there ever was one thing, I'd probably say price, as it makes this unit the most expensive unit in its class.
But the cost totally justifies its worth. The eye-catching exterior, posh interior, and a thrifty yet powerful engine, is proof that the attention to detail of the Mazda 6 2.2L Skyactiv-D 4DR is second to none.
Photos by Eric Tipan
Sell your car at the best price
Verified and genuine buyers
Free listing
List your car
Mazda Car Models
Mazda 3 Hatchback

Mazda CX-3

Mazda MX-5

Mazda 3 Sedan

Mazda MX-5 RF

Mazda 2 Hatchback

Mazda CX-8

Mazda CX-30

Mazda 6 Wagon

Mazda BT-50

Mazda CX-5

Mazda CX-9

Mazda 6 Sedan
Mazda Cars
Mazda 6 Sedan Promos, DP & Monthly Installment
SkyActiv-D 2.2 L

DP ₱68,000

MA ₱46,669 x 60 Months

₱2.25 Million SRP
View Offers

SkyActiv-G 2.5 L Turbo

DP ₱68,000

MA ₱46,669 x 60 Months

₱2.25 Million SRP
View Offers
Mazda 6 Sedan Car Articles From Carmudi
Select your city to start search
Or select from popular cities