No EyeSight, no problem for base-model Subaru Forester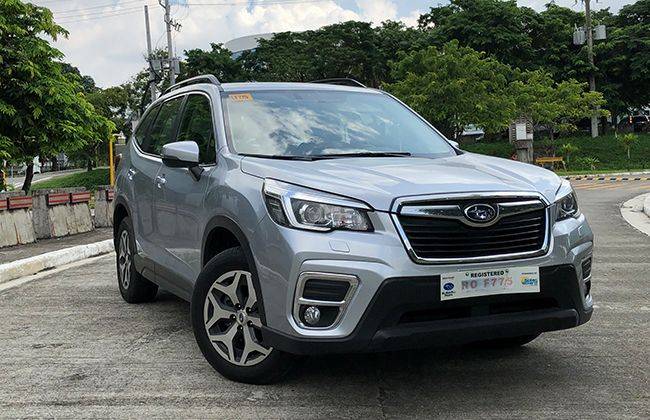 In case you haven't heard, all new Foresters aren't turbocharged anymore, and this base model doesn't even have the brand's highly touted safety feature EyeSight.
I took the Subaru Forester 2.0i-L out for a week to see how big the difference is with a new powertrain and how it compares to its predecessor in terms of performance, comfort and off-road capability.
Exterior
At first glance, it may appear to have retained its overall exterior design, but look closely and you'll see that minor tweaks have been added.
The bumpers have been enhanced, the shoulder line and around the area of the C-pillar has been retouched, and shiny chrome frames have been added to the air intake/fog lamp housing.
Wheelbase has been extended by 1.2 inches, which translates to an extra 1.4 inches of rear legroom.
Its tail gets the least amount of updates and looks plain with simple wraparound C-shaped taillights.
Interior
The brand is known for very techy cabins and the Forester is no different. Like most Subarus, it comes with an elegant black color scheme and, specific to this trim, it has soft-touch materials with carbon-fiber-looking trim and some silver accents.
Its fabric seats aren't as great a fit as in the higher trims, is only two-way adjustable, but does get you in a good driving position with the help of the tilt and telescopic steering wheel.
There's a good contrast from the beige headliner and the very neat stitching on the steering wheel, seats, and dashboard all the way to the center console.
You'll have to get used to seeing lots of switches, knobs, and buttons because from the steering wheel, door panel, and center stack. it's like mission control over here.
Plus, there's a lot of data on hand — from the infotainment touchscreen that doubles as the reverse camera, the multifunction display above with vehicle data and the one in the instrument cluster that shows which Subaru Intelligent-Drive (SI-Drive) mode you're on.
It's all overwhelming at the start, but nothing anyone who can operate a smartphone can't handle.
The climate control system features dual-zone AC and if you golf, you'll love to know that the redesign made the boot wider by 5.3 inches, which means golf bags can now be loaded sideways and still be laid down horizontally across the cargo floor.
If you need more cargo, you'll be glad to know that it comes with 60/40 split folding rear seats across the model lineup.
Engine
Instead of a turbocharged engine, Subaru plugs in an improved version of the 2.0-liter engine in the same boxer layout.
It's been given direct injection to increase output by 6hp for a total of 154hp and 196Nm of torque going through a continuously variable transmission (CVT) with manual mode.
It has to go without saying that a lot of people will miss the turbo, myself included. The difference is night and day but don't sleep on this new engine, though.
Subaru has somehow made throttle response quicker. I heard the engine rev followed promptly by the sudden movement forward, no lag whatsoever on any gear. It is so good that a heavy foot may make it jerky at times.
It's become more fuel efficient without the turbo. In pure city rush-hour driving, it gets a commendable seven kilometers per liter.
All four wheels get power with Subaru's Symmetrical All-Wheel Drive system — that's traction and control that not many SUVs this size have.
Ride and handling
I love how the steering feel is honest — not too light and not too heavy either. It projects the right weight for its size, which helps a lot in split-second decisions in traffic and tight streets.
The new Subaru Global Platform, with revised suspensions and a more rigid body, has greatly improved the ride comfort, making it feel comfy even under stressful driving situations.
There were occasions I pushed it hard and even with the engine roaring and the tires screeching, the cabin felt composed and balanced. I hardly felt body roll and that's amazing for a vehicle with 220mm ground clearance.
Safety advocates are going to love the fact that Subaru's new platform has received highly favorable numbers in various crash test ratings.
Verdict
It sounds cliché but this all-new model is totally bigger and better. Longer and wider, it lives us to Subaru's claim of being more fuel efficient than its turbocharged predecessors without losing its renowned driving qualities.
Some appointments are basic, which is understandable as this is a base model. It doesn't even have EyeSight. Regardless, if you want a compact vehicle with starter set of SUV qualities, the Subaru Forester 2.0i-L is exactly what you're looking for.
Photos by Eric Tipan