Here's the schedule of Changan PH's 1st nationwide test drive tour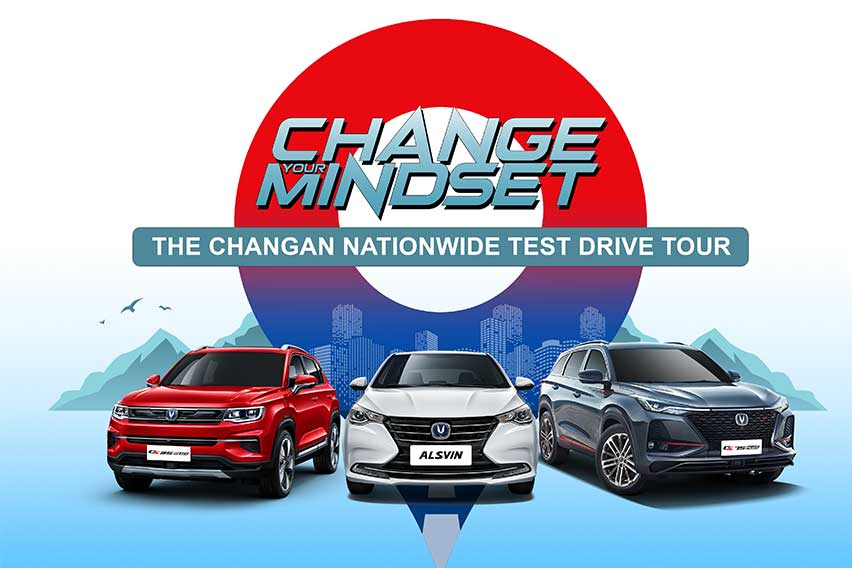 MANILA: Changan Motor Philippines, Inc. (CMPI) will conduct its first nationwide test drive tour from January 25 until March 17.
The "Change Your Mindset: The Changan Nationwide Test Drive Tour" will go around 33 Changan dealerships nationwide to feature the Changan Alsvin, the Changan CS35 Plus, and the Changan CS75 Plus.
CMPI President and CEO Ma. Fe Perez-Agudo stated, "We are so excited to share to the market the remarkable features and the 'Lasting Safety' of Changan. Now you can experience our brand's proof of quality and fuel efficiency as you will be road testing them in various locations of the country under real driving conditions in a safe and comfortable way."
The three featured vehicles were launched in the country last year. They were unveiled in November 2020, together with the Changan CS95 seven-seat SUV and the Changan Eado EV 460 electric vehicle. They were also introduced at the Manila International Auto Show Wired in December 2020.
The Changan Alsvin is a subcompact sedan, which is best known for its state-of-the art features such as cruise control, blind spot and rear cameras, tire pressure monitoring system, leather seats, and a sunroof.
Customers will also have a chance to experience the seven-speed dual-clutch transmission (DCT) of the Changan CS35 Plus. This subcompact sports utility vehicle (SUV) is also equipped with an engine remote start, a passive keyless entry, blind spot and rear cameras, a 10-inch touchscreen display, and a panoramic sunroof.
The Changan CS75 Plus will also be available for test drive. This award-winning compact SUV is highly recognized for its modern features, which include a 360-degree panoramic camera, a panoramic sunroof, an engine remote start, a 12-inch touchscreen display, a seven-inch digital cluster, cruise control, triple drive modes, and six airbags.
Agudo added, "Now that Filipinos are back on the road, but cautiously still, we want to be proactive in addressing their need for personal mobility. This is what Changan would like to offer. Changan is a standout choice in quality and price points, given the present market that is on the lookout for a great deal in mobility. Let our products speak for themselves."
The test drive tour will be held in the following Changan dealerships:
January 25-26 – Changan Quezon Avenue
January 27-28 – Changan E. Rodriguez
February 1-2 – Changan Alabang
February 3-4 – Changan Cainta
February 5-6 – Changan Sta. Rosa and Changan Calamba
February 10-11 – Changan Pagsanjan
February 12-13 – Changan Commonwealth Avenue
February 23-24 – Changan Santiago City and Changan Baguio
March 4-6 – Changan Davao and Changan General Santos
March 12-13 - Changan Cebu
March 16-17 – Changan Iloilo
To book a test drive appointment, visit Changan's official website at changanphil.com or follow their Facebook page at facebook.com/Changanphil.
Photos from Changan Motor Philippines, Inc.
Also read: MIAS Wired: Changan PH continues to highlight initial 5 vehicles
You might also be interested in