Hyundai continues to pivot with D2D Home, Pick-up, and Delivery services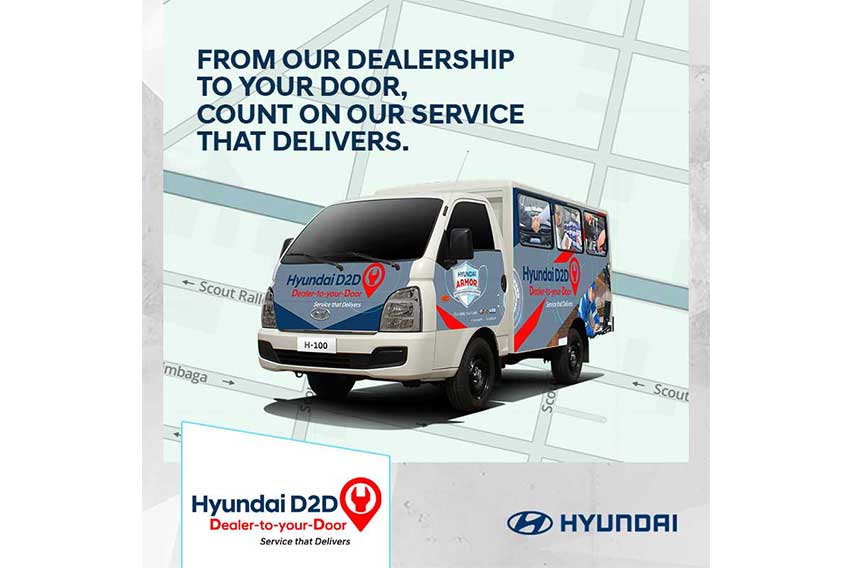 MANILA: Hyundai vehicle owners will now have the opportunity to keep their cars in good condition, especially for emergencies and scheduled trips, through the Dealer-to-your-Door (D2D) Home Service and Pick-up and Delivery Service. 
The D2D Home Service has on-call service mobile teams to handle the customer's regular preventive maintenance service (PMS) through online booking at @YourService. It also handles minor PMS repairs, which cover 1K and 5K, 5K series, and 10K series while the customers are in their respective homes.
Meanwhile, the D2D Pick-up and Delivery service will have the on-call mobile teams pick up the customer's vehicle, bring it to the service workshop for checking, and return the car back to the customer in tiptop condition. 
Customers can still avail the ongoing "Back on Trax in TwentyOne PMS promo" of Hyundai. They can schedule for D2D Pick-up and Delivery for their regular PMS from March 15 to April 10, 2021. 
Customers can also enjoy a 21% discount on PMS parts, 21% discount on PMS labor, a free car wash, and a free 21-point checkup. 
Hyundai D2D and @YourService are some of the advancements that Hyundai Asia Resources, Inc. (HARI) meticulously conceptualized and developed to satisfy the current needs for contactless and safe operations. 
During the past year, the Hyundai Guidelines for Protection and Safety (GPS) was revealed in the market as the groundbreaking design of Hyundai Philippines for new normal dealership activities. 
Beneath it is Hyundai ARMOR — Active Response, Management, Operations, and Resumption program, which recreates the award-winning "Right Here, Right Care" commitment of HARI for the new normal.  
Customers can schedule their preferred D2D appointment here to give their Hyundai vehicle the maintenance and care that it needs. 
Photos from Hyundai Asia Resources Inc. (HARI)
Also read: Hyundai helps vehicle owners get 'Back on Trax' this summer
You might also be interested in
Latest Hyundai Cars Videos on Zigwheels