Suzuki Raider 150 vs Yamaha Sniper 150 MXi - The underbones fight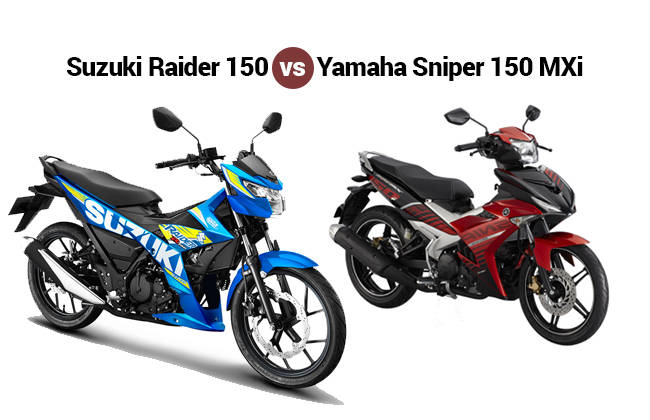 The love for underbones in the South East Asian market is no joke. They give people the thrill of motorcycles and the practicality of mopeds. They are cheap and easy to maintain. They are even easier to modify in any way imaginable thanks to the thriving customising scene.
From this love of underbones, have arisen two clear choices for anyone looking for a slice of that underbone life - Suzuki Raider R150 and Yamaha Sniper 150 MXi. Both of these bikes have been in the Philippines market for some time now. In this duration, both of them have created a huge fan base for themselves, as well as some haters. Choosing between the two, therefore, becomes a very difficult task. Many comment threads on numerous forums have died gory deaths because of this.
On first glance, the differences between the two seem very superficial. Both of them have paint schemes and styling elements inspired by the livery of their bigger racing siblings. Both come with a mix of digital and analogue instrument panels. They have very similar grippy tires and hit the scales at around 110 kgs. Both have tanks with fuel capacity around the 4.5 l mark and similar mileage figures. They also have equally capable braking and suspension components. In conclusion, we may have to delve deeper to come up with any kind of conclusion.
Any bike can be evaluated on certain specific criteria. And this is where the differences between the two really start to emerge. For this, we need to go beyond the spec sheet and listen to people and try things out for ourselves. We need to have a long look at the design of the bike and also look at how people tend to use them. Let's have a breakdown of how these two very capable machines perform on some these parameters.
The Raider has more torque giving it a more brutal power delivery. Although the difference in peak power is not that significant, the Yamaha handles it better. But the Yamaha only has a 5-speed transmission compared to the Suzuki's 6-speed. This makes the Suzuki's power easier to manage and play around with. The Yamaha is easier to lean into corners, probably because of its wider rear tire. The Suzuki has lower handlebar position that is not very high from the seat height itself. This gives it a riding position and posture that is very front heavy. This might be better for racing but it does leave your wrists sore after only half an hour.
Design wise, the Yamaha is a fresher spin on the old underbone recipe. Yamaha's sharp take on the underbone makes it look like a few pencil strokes away from the R1. Compared to that, the Suzuki would be easy to get lost in a busy parking lot. The Suzuki gains back some points by having more features like a keyhole shutter, under seat storage, and an engine cowl to protect it from the elements.
With bikes like these, a lot depends on the rider's riding style, especially mileage and comfort. Reliability, parts availability, and service are other factors that need to be considered. The aftermarket scene and the infinite customizing options further complicate the plot.
Owing to these complications, any enthusiast looking to buy one of these affordable underbones should have a good long thought about what they really want from their bike. A few tests rides will also help. Arguments about which bike is better are going to be endless and in the end entirely pointless. What we can conclude though is that no matter what you buy you'll have a very capable performer on your hands.
You might also be interested in
Latest Suzuki Raider R150 Bikes Videos on Zigwheels