5 reasons to love the gas-powered Honda CR-V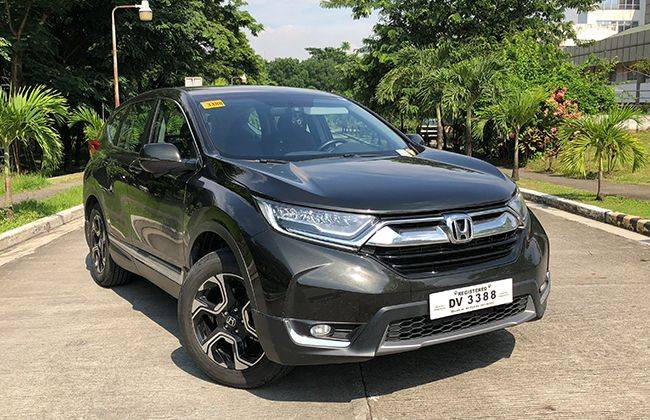 If money is no object, the S or SX Diesel would be the hands-down, unanimous choice. But the reality is not everybody has a P2.138-million budget for an SUV.
But if you're still bent on getting a CR-V, we take a look at what the base model offers, aside from the popular badge and compact SUV body, because I know it's not easy to overlook the P470,000 price difference.
After a week with the Honda CR-V 2.0 S CVT, here are five features I saw that make it a very sound, yet cheaper choice — if you really only have eyes for the CR-V.
1. CR-V-level comfort and performance
At P1.668 million, this is the cheapest CR-V in the lineup, making it the immediate go-to choice if this is the model you want. And really, what's not to like? It's historically a pretty model with a track record of reliability from a brand with a good amount of panache.
On the flipside, it is the base model and as such, will not have some of Honda's newest safety and higher-tier features but you'd be remiss to think that it's a barebones unit.
It carries over the engine from the previous generation, a 2.0-liter 16-valve VTEC engine that quietly produces 152hp/189Nm of torque. That may seem small especially for this body but thank goodness for the new gearbox, a continuously variable transmission (CVT), which uses the output more efficiently by constantly varying the gear ratios to always keep the engine speed in the optimal power band.
It will need some throttle prodding to push it past 2,000rpm for more agility, but it comes minus the lag and less engine noise compared to the diesel variant.
Ride comfort has always been high on Honda's list of priorities and you can feel it in the CR-V. The MacPherson Strut (front) and Multi-link (rear) suspension do a fine job, as expected, of delivering a high level of dampening versus road harshness and the surprise potholes that pop up along EDSA.
2. Upmarket interior amenities
Its large seven-inch touchscreen is arguably one of the best in the segment and the only thing it doesn't have compared to the top model is a navigation app.
The interface layout is very nice with big icons that make it easy to see and, more importantly, click and since it seems to be a proprietary operating system there aren't any redundant apps and there weren't any glitches or delays.
Appointments aren't Accord-level but the cabin is put together very well with leather seats on both rows, brushed chrome and leather accents on the panels plus soft-touch materials on the dashboard.
The seats of the second-row feel shorter and seem to be more of an Asian fit but the upside is you get more legroom. Plus, there are aircon vents here.
Cargo can be increased with the 60:40 split-type configuration of the rear seats but with the ceiling slung just a little lower than its predecessor, cargo height will have to be taken into consideration.
3. Fuel efficiency
The petrol engine doesn't have Earth Dreams technology but it still is surprisingly fuel efficient even with its large and hefty body.
With the Econ feature turned on the whole time, it didn't feel like it totally dialed back the overall performance of the vehice. Climate control was superb even on hot and humid Manila days, delayed throttle response was barely noticeable, and the CVT adjusted easily to the tweaked shift points.
I had it for seven straight days, drove exclusively within the city, and didn't even aim to get high fuel economy, but still got a solid 9.5 kilometers per liter.
4. Multi-view reverse camera
Say what you will about this feature, it's a godsend in this day and age when vehicles are getting bigger and parking slots are getting smaller. Sure, you can cozy up to a slot right down to the last millimeter but not everyone has the same ability and you don't want your car to be the victim in this scenario.
Take all the "guesstimating" out of the equation with a simple reverse-parking maneuver. Let this feature do 80% of the work for you.
Okay, the CR-V may not be all that big but having this feature makes it that much easier to park. It's even multi-view, which is better than an off-the-shelf, third-party unit.
You can choose to ignore it if you like, but having it in your back-pocket saves you from rear-end incidents, time, and even money.
5. Lane watch camera
A new safety feature is actually another camera which is discreetly positioned right under the passenger side view mirror. This is the 'lane watch camera'.
Don't think for a second that it will replace your obligation to check the right side view mirror every single time you merge or turn right to make sure the coast is clear; think of it as an extra eye — a third eye if you will — watching out to make sure you make the "right" turn.
Better than an entry-level
Yes, there are major savings to be had by getting this instead of the S Diesel variant, but these are some of what you'll lose: ceiling aircon vents, a sliding and reclining second row, a couple of extra cup holders, the Earth Technology diesel engine of course, and a few other minor features. If you can cough up the dough, I believe the diesel engine is worth it. But beyond that, you can really live without the rest.
I even prefer the CVT gearbox on this one. The S Diesel has a 9-speed AT with electronic gear selector.
It also has more horsepower but it does give up 111Nm of torque to the diesel engine.
The best part is that you keep more money in the bank and still have a Honda CR-V 2.0 S CVT to take you from A to B.
Photos by Eric Tipan
Explore Honda CR-V
Honda CR-V
₱1.678 - ₱2.158 Million

MA starts : ₱38,122
Honda CR-V Promos, DP & Monthly Installment
Latest Honda CR-V Cars Videos on Zigwheels