BAIC M50S, a super-saver seven-seater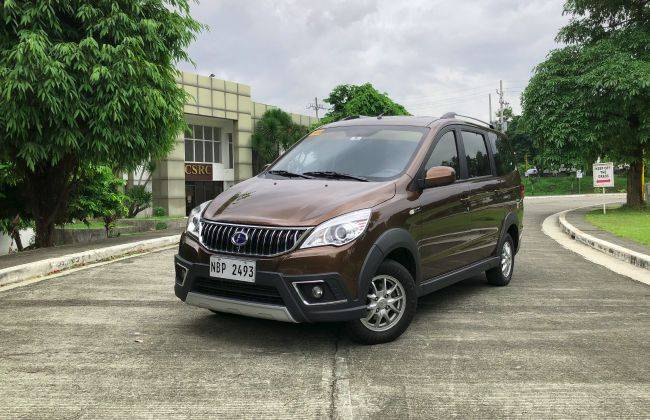 At just P638,000, the 2019 BAIC M50S Luxury is probably the best price on a seven-seater you'll get in the market right now. And since we're always about greats deals, we take a look at Bayan Auto's (official distributor of BAIC vehicles in the Philippines) M50S Luxury to see what you get for the price you pay for.
Exterior
On the outside, it sports the throwback shape of a compact multipurpose vehicles (MPVs) – with a long snout, slim body, tall stance, and a highly tilted windshield. The latter is to increase aerodynamic efficiency but the added height negatively influences the coefficient of drag.
Headlamps use halogen bulbs on a projection-type system, and if you switch to park lights, a strip of LEDs along the top turns on. If the badge on the grille confuses you, the logo is a combination of C and H which stands for Changhe, an automaker operating under the umbrella of the BAIC Group.
It has MPV essentials like fog lamps (front and rear), high-mount stop lamp, and even body cladding (front, side and rear), but the roof rails are only decorative. A deep swage line gives the otherwise plain body some styling and so does the rear spoiler. But if you take in the visible keyholes (driver and passenger door, hatch) and the almost vertical orientation of the hatch, you'll still feel its old-fashioned vibe.
While its design may look dated with the keyholes and all, it already has a keyless entry system.
Interior
Open the doors to a spacious cabin thanks to the height which affords it plenty of headroom.
Interior color theme is different shades of brown.
Bronze-colored seats come with microfiber leather, are slim and padded just enough to be comfortable without looking cushy. Bottom panels and headliner are tan, accents are dark brown, while the dashboard, steering wheel, and upper panels are more chocolatey in hue.
Most surfaces are of hard plastic. It looks dated and makes you feel like you stepped back in time. But its redeeming factor is the infotainment system. It has a nine-inch touchscreen display with a USB port, SD card slot and even Bluetooth connectivity. It's intuitive to operate and pairs easily to devices.
Climate control is manually operated and I had to turn up the fan speed to 3 and keep the thermostat at maximum to cool the cabin during the hottest parts of the day. That's maybe because I keep the second-row blowers turned off when I'm alone.
Engine
Like its contemporaries, it has a gasoline engine with a 1,500-cc displacement. Power output is typical of the segment at 114 hp and 150 Nm of torque. Based on my five-day drive, it proved more than sufficient for city driving and will even hold its own on the highway.
It uses a five-speed manual transmission so the response is quick, which makes overtaking easy. Just remember to stay above 1,800 rpm if you want it to feel agile. You'll hear the engine roar in the cabin if you punch it but that does translate to palpable on-demand power.
The MacPherson struts in front feel a little splashy whereas the multilinks in the rear are highly stiff which causes a pronounced bounce, especially over speed bumps.
Ride and handling
It rides tall, which is good for when the rain comes around, but when combined with a slim body, it makes for low rollover resistance. Noise, vibration, and harshness levels are pretty high, and EDSA's state didn't do it any favors as well. Potholes and large cracks will force its body to creak and squeak a bit, and even though it sports 14-inch wheels, some of the road's roughness snuck into the cabin.
Overall comfort is good; it's not amazing by any measure but if you just need a decent people mover, this will tick the right boxes.
Verdict
The whole package is a work in progress and that only means it will get better in time. Remember that its automaker Changhe has only in the last seven years found stability under BAIC. Prior to that, it was owned by two other Chinese companies, AVIC and Chang'an.
For now, pardon the logo see the 2019 BAIC M50S Luxury for what it really is: a super-saver seven-seater.
Explore BAIC M50S
BAIC M50S
₱638,000 - ₱668,000

MA starts : ₱14,494
BAIC M50S Promos, DP & Monthly Installment