The pretty Strada: Not just about looks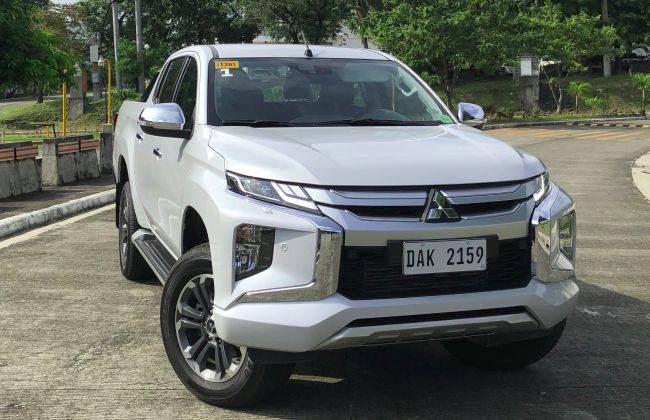 2019 Mitsubishi Strada GT 4WD A/T may just be the prettiest truck out there, but let's get its looks out of the way for a while.
Exterior
That fascia is just disarming. It's a larger, advanced expression of Mitsubishi's Dynamic Shield Concept and that sleek design mixed with sharp angles and shiny chrome is more than just easy on the eyes.
Just like on the Xpander, the LED headlamps are found in the large sockets just on top of the bumper, while the slim lights on either side of the grill (just below the hood) are the LED DRLs.
It's futuristic, yet macho, a tough combination I know, but the Japanese automaker pulled it off. No other pickup truck in the market matches this level of styling – not even close.
There's a sharp character line that complements its face emanating from the front quarter panel, fades towards the middle, and then reappears from the middle of the rear door all the way to the taillights and around the tailgate. It's a small touch, really, but completes the edgy look of the Strada.
For added toughness, literally and figuratively, roll bars have been installed on the trunk bed, which can also double as mounts for extra lighting systems for real off-road enthusiasts.
Interior
As the top trim, this unit comes with a smart key that allows easy ingress with just a click of a button on the door handle.
The dashboard design is a little less fancy than its looks and with a lot less chrome, which is actually a good contrast. Black is the overall theme, using hard plastic, but the layering is very nice and layout gives all the components a good spread.
The steering wheel is leather-wrapped and has buttons on the left stalk for audio, on the top right is cruise control and below it is for the multi-information display in the instrument panel (trip computer, fuel consumption, etc.). Paddle shifters can be found right behind it.
There's a 6.9-inch touchscreen at the center with controls for the radio, media, AUX and connectivity options. Pairing is quick and very easy.
Despite being the top Strada trim, I like how Mitsubishi didn't go all-out and make things complicated. Everything is laid out properly and very easy to operate even for non-techies.
Devices can be plugged in via a USB port just at the bottom of the center stack and on top, right beside the map lights, is a switch that turns on the rear ceiling vents. There's also a separate control for rear ventilation right in the middle of the ceiling complete with fan speed, and a couple of USB ports at the rear of the center console.
It comes with leather seats and the single seats in front are highly improved. The bolstering is much better as it feels more snug and comfortable compared to the previous model.
Engine
The engine is Mitsubishi's 4N15, which has a 2.4-liter displacement, variable geometry turbo, and MIVEC technology. Output of 181ps and 430Nm is sent to the wheels via a six-speed automatic transmission.
Power delivery is almost immediate with very minimal turbo lag and feels much more robust. Engine noise is a little too audible but it does kind of confirm the throttle input you're giving it and the performance it provides.
It's surprisingly very agile for a truck, and maneuvers very well along with slow-moving traffic. You'll only really feel its size when you're squeezing or backing into a tight parking slot. Otherwise, it handles easily and lightly.
Ride and handling
Comfort is not very high, as expected. If you're alone running anywhere above 50kph and the vehicle is unladen, even with the added telescopic shock absorbers to the elliptical leaf springs, it will still feel a little bumpy inside.
It turns relatively well for a tall vehicle but you will feel some rollover force taking over.
Going off-road and adjusting from 2H to 4LLc is made easy with Mitsu's Super Select 4WD-II electronic dial selector. It also comes with off-road mode traction control, trailer stability assist, hill descent control, hill start assist, and even a few advanced safety features like Forward Collision Mitigation System, Ultrasonic Misacceleration Mitigation System, Blind Spot Warning System with Lane Change Assist, and Rear Cross Traffic Alert.
Verdict
At P1.670 million, you're getting the whole off-road package Mitsubishi trucks are renowned for, plus a new set of driver assistance systems to help you drive safer and maybe silence crazy critics out there, and it certainly doesn't hurt that it's the reigning "beauty queen" of pickup trucks.
Explore Mitsubishi Strada
Mitsubishi Strada Promos, DP & Monthly Installment
Latest Mitsubishi Strada Cars Videos on Zigwheels