B-Segment sedan battle: New Toyota Vios vs Rivals (specs comparo)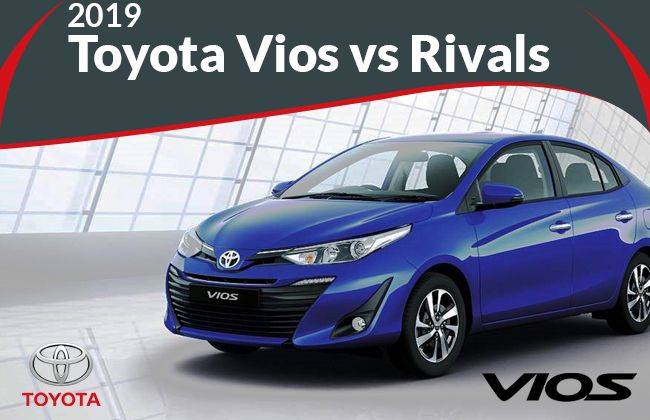 After ruling the B-segment sedan market for many years, the latest all-new Toyota Vios is confident to continue its streak of being not only the best-selling passenger car in the segment but also in the country. Toyota has just launched this new model which will be manufactured at the brand's factory in Laguna. Toyota is also eyeing to grab the incentives of the government's CARS (Comprehensive Automotive Resurgence Strategy) Program, for which it will need to produce 200,000 units of the Vios over the next six years. It means on an average 33,000 units of Vios should roll out from the Laguna factory every year.
The new Toyota Vios is available in different trims and will be facing a tough competition from its rivals. This makes it a bit difficult for the customers to decide which one to buy. To make it a bit easier for you guys, today, we're here going to do a spec comparison of the top-end model of the updated Toyota Vios and its competition that includes eight major players - Chevrolet Sail, Ford Fiesta, Honda City, Hyundai Accent, Mazda 2, Nissan Almera, Suzuki Ciaz, and Mitsubishi Mirage.
Engine specs
The majority of the cars in question here are powered by a 1.5-litre petrol engine. So it's quite clear that their power figures would be somewhat similar. However, the most powerful contestant here is the Hyundai Accent that boasts of its 136 PS of max power and 170 Nm of peak torque generated by its 1.6-litre CRDi turbo diesel engine.
The new Vios along with the Sail, City, Mazda 2, and Almera features a 1.5-litre petrol engine. They produce 106 PS, 109 PS, 120 PS, 108 PS, and 99 PS respectively. The least powerful candidate is the Mitsubishi Mirage that has got a 1.2-litre, 3-cylinder engine which produces 78 PS and 100 Nm of torque. Ford Fiesta has got the smallest displacement engine, a 1.0-litre unit, but thanks to its EcoBoost technology it produces an impressive 125 PS and 170 Nm of peak torque. The remaining one here, the Suzuki Ciaz hides under its hood a 1.4-litre mill that churns out 92 PS.
Dimensions
The B-segment sedans have gained popularity for numerous reasons. One of them is the fact that they provide a good amount of interior and boot space. This, obviously, is possible because of their generous dimensions.
All of these cars are over the 4-metre mark (compact sedans are under 4-metres), but they do differ in their proportions. Being the least powerful at just 78 PS, the Mitsubishi Mirage is also the shortest, measuring at 4.245 metres in length. And the longest amongst all is the Suzuki Ciaz at 4.49 metres, which makes nearly as long as the C-segment sedans. But Suzuki likes to market it as a B-segment one. The Chevrolet Sail is the widest of the lot at 1.735 metres wide.
Boot capacity
A longer car doesn't mean it has the largest boot space. This is quite evident by the fact that the Suzuki Ciaz being the longest here has to offer 495 litres of boot space. And the shortest car, the Mitsubishi Mirage comes with a boot capacity of 450 litres.
It is the Chevrolet Sail that has got the smallest trunk at only 366 litres. While the Honda City has got the largest one at 536 litres. The Vios has to offer 478 litres and the Almera has a respectable 490 litres. The Mazda 2 provides a decent 410 litres of boot space, whereas the Hyundai Accent has got 465 litres and Ford Fiesta has 471 litres of boot capacity.
Fuel tank capacity
This is another important aspect of a car because the larger the fuel tank, the more distance the car can cover without stopping for a refill. Of course, various other factors like fuel efficiency of the engine, driving style, etc. come into the picture, but keeping them aside, the fuel tank capacity does matter.
Once again Suzuki Ciaz takes the first position with its largest fuel tank of 45 litres. Following it is the Mazda 2 with its 44 litres of a fuel tank. The third position is shared by Hyundai Accent and Ford Fiesta, both can hold up to 43 litres of fuel. Another tie-up is between Toyota Vios and Mitsubishi Mirage, both of them come with 42 litres of a fuel tank. Nissan Almera gets 41 litres and the Honda City sits just below it with 40 litres. The smallest fuel tank among all the cars is of the Chevrolet Sail, only 39 litres.
Interesting features
Every car manufacturer tries to incorporate interesting features into its product to help it stand out from the competition. While there are some basic features that you'd find in almost every car that we're discussing here, but there's some or the other USP of each one that helps it to sell more.
Toyota Vios comes with rich safety features and a smartphone mirroring feature. The Accent is the only one with a turbo diesel engine. Ford has got its less displacement yet powerful engine with figures that can put a healthy 1.5-litre engine of its competitors to shame. Honda tries to win customers by providing a plethora of safety features like seven airbags, stability control, etc.
Suzuki Ciaz has got a ton of interior space to offer, whereas the Nissan Almera helps keep your friends at the rear comfortable with its rear air-con vent. Chevrolet Sail, which falls short in a couple of categories here, shows off its sunroof. Mazda 2 can keep your entertainment needs in check with its feature-rich infotainment system. The Mirage, too, has got a spacious cabin.
Price (top-end models)
It is the 2019 Toyota Vios G Prime which is the most expensive one here with a price tag of Php 1,095,000. And the most affordable car is the Mitsubishi Mirage G4 GLS CVT at Php 816,000.
The Ford Fiesta Titanium EcoBoost will set you back by Php 905,000, and the Chevrolet Sail LTZ will cost you Php 917,888. Hyundai Accent GL CRDI is priced at Php 930,000 and Nissan Almera VL is at Php 933,000. If you want the Ciaz GLX, then you'd need to shed off Php 963,000.
With its striking looks and decades of existence, the Honda City VX+ Navi carries a price tag of Php 1,059,000, and following it in the million peso mark is the Mazda 2 SkyActiv R sedan at Php 1,065,000.
You might also be interested in
Latest Toyota Vios Cars Videos on Zigwheels