All-new GLA is gateway to refreshed Mercedes-Benz SUV lineup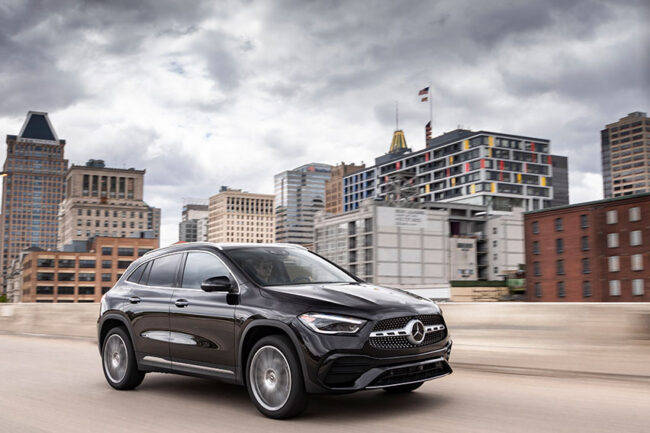 MANILA: The all-new Mercedes-Benz GLA serves as a gateway for the revitalized Mercedes-Benz SUV family.  The new-generation GLA is touted to be more comfortable, spacious, and robust compared to its previous version, as it features compact dimensions, aerodynamic proportions, and a sporty style.
The all-new Mercedes-Benz GLA is set to first arrive in the US in mid-2020.
During the previous year, Mercedes-Benz upgraded its whole SUV range, which included the introduction of the first-ever compact GLB that has an optional third row, which enables versatile configurations, to the welcoming of the revamped bestselling midsize GLC.
The new-generation GLE also launched a highly convincing new configuration and an optional third-row seat for the very first time. The all-new full-size GLS, on the other hand, now provides captain seats for up to six occupants or a rear bench for up to seven.
Although the all-new Mercedes-Benz GLA stays as a compact SUV in a flexible city-size package, the latest version has a more mature look. This is because it is currently wider (1.2 inches), taller (+3.6 inches), and has a longer wheelbase (+1.1 inches) compared to its predecessor.
The GLA has a more expansive front headroom, more rear legroom, and more cargo space compared to its predecessor.
The new generation exhibits a more muscular SUV appearance with unique features like incorporated fog lights, roof rails, side panels, and skirts. Regardless of such features, it still maintains its sporty and dramatic design cues, which include its standard dual exhaust, single lamella grille, and sloping roofline.
The all-new GLA 250 and GLA 250 4MATIC are fitted with a new, robust and reliable 2.0-liter inline-four turbocharged engine generating 350Nm of torque and 221hp of power. The engine is matched with the newly designed 8G DCT (dual-clutch transmission), which enables smoother operation, improved efficiency, and enhanced output at lower engine speeds.
Additional standard features include a seven-inch digital instrument cluster, seven-inch touchscreen display, 18-inch wheels, and LED taillamps and headlamps.
The new GLA is also fitted with a new Mercedes-Benz User Experience (MBUX) infotainment system and provides state-of-the-art safety systems. With its widescreen dual display with touchscreen, smartphone integration, and standard MBUX interface, the GLA includes extraordinary communication capabilities and in-car operation.
MBUX brings the user experience to a higher level through the inclusion of voice control with natural language recognition, learning-capable software, a personalized display, brilliant displays and graphics, and a powerful computer.
This comprehensive system is further improved through the available full-color head-up display and augmented video for navigation. Due to its revolutionary technology, diverse operations within the cabin are made more intuitive and convenient for the MBUX to support the occupants of the vehicle.
The GLA also provides exceptional driving assistance systems with cooperative driver support. These systems ensure the highest degree of active safety in this particular segment with functions implemented from the standard S-Class. Through the utilization of this technology, GLA can be subjected to semi-autonomous driving in specific circumstances.
The GLA also maintains a keen eye on the traffic situation through its enhanced radar systems and camera, which can see up to 500 meters ahead.
The all-new Mercedes-Benz GLA also utilizes navigation information and maps to reinforce driver assistance functions.
Photos from Mercedes-Benz
Also read: Mercedes-Benz, Nvidia to develop AI for autonomous driving
Mercedes-Benz GLA-Class Promos, DP & Monthly Installment
You might also be interested in
Explore Mercedes-Benz GLA-Class