TRB, toll operators ready for 100% cashless toll transactions by Dec.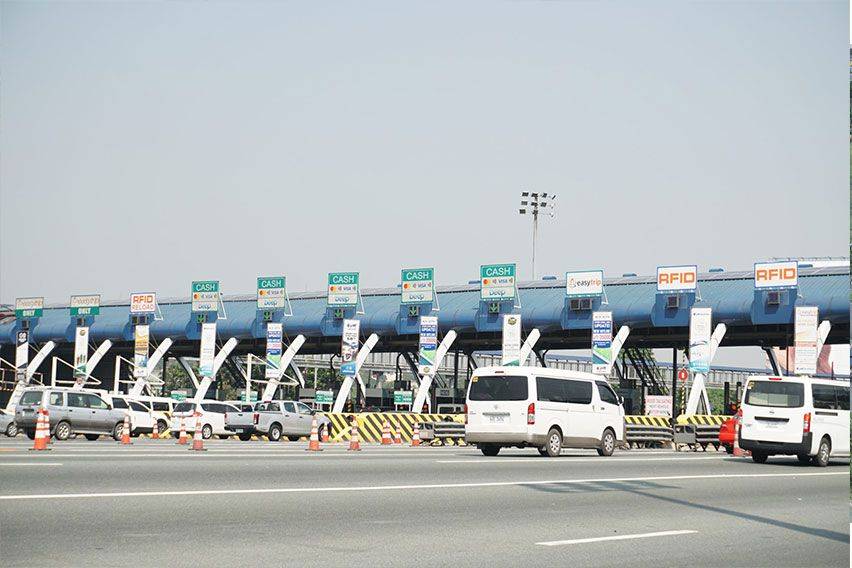 MANILA: In a virtual press conference held yesterday, the Toll Regulatory Board (TRB) said that the government and expressway operators are ready to transition to a 100% cashless toll collection scheme transactions in toll plazas by next month.
TRB Executive Director Abraham Sales (in photo below) explained, "We are 100% ready to implement cashless transactions. Naka-ready na po ang ating toll plazas... almost 800 toll lanes na po ang nakaready na (Our toll plazas have been prepared…almost 800 toll lanes are ready)."
He added, "More than 3.2 million (vehicles) have radio frequency identification (RFID) stickers already. The capacity to install is 3,000 a day…but we see that we are ready to go for cashless payment by December 1. We want this to be efficient to prevent the spread of COVID-19."
The cashless toll collection plan follows Department Order No. (DO) 2020-012, which targets the mitigation of COVID-19 transmission through minimized physical interactions during payment.
Meanwhile, Department of Transportation (DOTr) Assistant Secretary for Communications and Commuter Affairs Goddess Hope Libiran (below) made a clarification that the December 1 deadline for complete cashless payments is only for toll road operators, not for motorists to have their RFID stickers installed on their vehicles.
Libiran also added that a "transition period" will be set from December 1, 2020 until January 11, 2021 for the RFID sticker installation.
Asec. Libiran explained, "Ang deadline po sa  December 1 ay para sa operators, hindi po ito ultimatum para magkabit ng stickers ang mga motorista. Wala pong mangyayaring hulihan mula December 1, 2020 to January 11, 2021. Maaari lang po silang bigyan ng ticket kung pipila sila sa maling lane (The December 1 deadline is for the operators, not an ultimatum for the motorists to install their stickers. They will not be penalized from December 1, 2020 to January 11, 2021. They will only be given a ticket if they will line up at the wrong lane)."
The Department of Transportation (DOTr) also said that there is no need for vehicle owners to worry if their vehicles will not be installed with RFID stickers until January 11, 2021.
The DOTr also explained that RFID installation at toll booths and lanes will be maintained on a 24/7 basis until January 11 even if the tollways transition to a completely digital cashless system by December 2020. After January 11, not all tollgate lanes will be converted to stickering lanes. There will be one or two designated stickering lanes only or there will be one installation tent before entering the toll gate where RFID stickers can be installed on the vehicles.
Moreover, DOTr Assistant Secretary for Road Transport and Infrastructure Atty. Mark Steven Pastor (below) shared that all of these are part of the efforts of the government to offer a more efficient means of transportation to Filipinos amid the pandemic.
He said, "The DOTr strikes a balance between providing transportation and ensuring safety. There will be initial inconveniences but it will have a long-term effect."
Both the Easytrip and Autosweep systems, which account for the expressways that are linked to Metro Manila, are ready to go completely contactless by December 1.
The San Miguel Group for the Skyway, the Muntinlupa-Cavite Expressway (MCX), the NAIA Expressway (NAIAx), the Tarlac-Pangasinan-La Union Expressway (TPLEx), the STAR Tollway, and the South Luzon Expressway (SLEx) also released Autosweep tags.
The Easytrip System includes the Cavite-Laguna Expressway (CALAX), the Manila-Cavite Expressway (CAVITEx), the C5 Southlink, the Subic-Clark-Tarlac Expressway (SCTEx), and the North Luzon Expressway (NLEx).
Under the first stage of the Toll Collection Interoperability Project of the government, the Autosweep tags will be readable with the Easytrip System.
As for the second stage, it will enable Easytrip RFID tags to be readable in the Autosweep system.  
Meanwhile, Metro Pacific Tollways Corp. (MPTC) Senior Vice President for Communication and Stakeholder Management Junjie Quimbo explained that the company has already installed 1.5 million RFID stickers and that it only requires installation in 250,000 more vehicles to meet the100% target.
MPTC is the holding company of CAVITEX, CALAXX, SCTEX, and NLEX.
Quimbo said, "For motorists who don't have the time, we will continue to install RFID stickers on a walk-in basis... We will continue to install stickers beyond the December deadline."
According to the President of Skyway O&M Corp. (SOMCO) Manuel Bonoan, the company has already installed 1.7 million RFID stickers to date. 
Bonoan said, "Makakaasa kayo na whenever you want to use our tollways, may mga tao po kami who can assist you for stickering and loading (Rest assured that whenever you want to use our tollways, we have people who can assist you for stickering and loading)."
Screengrabs by Prim Lamaroza
Also read: Saving time through ORRAS: RFID stickering appointments soon possible
You might also be interested in
Latest Cars Videos on Zigwheels