MotorStar Xplorer X200R: Know its alternatives
The riders of Philippines are no strangers to Chinese motorcycles from unknown and unpronounceable origins. Often looking like their more famous Japanese counterparts, these bikes are also plagued by reliability issues that often live up to their dirt cheap prices.
Zongshen is one of many such brands that have a huge presence in China but otherwise unknown outside. One of their bikes is sold under the moniker of MotorStar Xplorer X200R. Sporting Yamaha R15 fully faired styling, sporty riding position with a stepped seat and clip-on handlebars, USD front forks, disc brakes both front and rear and modern instrumentation, the bike seems to have it all. And when you find that the Xplorer X200R price tag reads Php 65000, you are bound to entertain the idea of actually buying one. There are many adventurous buyers who have bought one and have good things to say about their purchases. But still, details about the Xplorer X200R specs are sketchy. The reliability of the bike is also not expected to be stellar.
So, what is the enthusiast rider on a small budget supposed to do? Here are a few alternatives to consider.


Yamaha SZ
On sale for around Php 69000, the Yamaha SZ is indeed more expensive than the X200R. But it is a proven commuters motorcycle from a more reputed brand. The bike has decent styling with a few design details like the split grab rail, the sporty silencer, and a few matte color options. Powering the SZ is a 149 cc 2 valve SOHC carbureted and air-cooled engine that churns out 12.1 PS at 7500 rpm and 12.8 Nm of torque at 6000 rpm. It uses a 5-speed transmission and delivers a mileage of up to 55 kmpl. Also included in the price is a hydraulic disc brake on the front and a drum brake for the rear. With a comfortable ride and decent handling, the Yamaha SZ is a very good commuter motorcycle for the price.


Kawasaki Fury 125
Part of the appeal of the MotorStar Xplorer X200R is its superbike looks and the ease it provides riders to modify their bikes. As these bikers will put it, if the bike gives an impression of speed with its styling alone. But compromising on performance because of lack of funds is a thing of the past. With bikes like the Kawasaki Fury 125, even humble 125 cc can give riders a lot of fun. It comes with a hybrid design that is a combination of the motorcycle and the underbone. This also gives it a fuel tank that is larger than other bikes in the same category. Its 125 cc engine produces 9.66 hp and 9.22 Nm of torque giving it spirited performance. With 68 kmpl it also scores big on fuel economy.


Suzuki Raider J11 5 Fi
Much like the Fury, the Suzuki brings its Raider J115 Fi, an underbone to this motorcycle fight. Its 113 cc engine easily matches the Fury's engine producing 9.25 hp and 9.1 Nm of torque. Suzuki has equipped the engine with fuel injection, thanks to which it delivers 63 kmpl. The bike comes in two variants. The standard one for Php 64900 comes with spoke wheels. But for just Php 67900 you can get one in Suzuki's MotoGP livery. Spend a little more to the tune of Php 68900 and you get a premium matte black variant with spoked wheels and titanium colored engine. Included with all these variants are a front disc brake and a handy under-seat storage area.
For a bike often described as a poor man's superbike, the MotorStar Xplorer X200R is little more. Yet with its shady nature and dodgy reliability, it is a long way from becoming a staple on our roads. Till then we will have to stick with more closer to home options.
Explore MotorStar Xplorer X200R
MotorStar Motorcycle Models
MotorStar Xplorer 250R

MotorStar Xplorer X200R

MotorStar Cafe 400

MotorStar MSX200-II

MotorStar Star X 125 II

MotorStar Nicess 110

MotorStar Ebike

MotorStar Zest X110-IIIM

MotorStar Urban125

MotorStar Magnum 250

MotorStar Moto X155

MotorStar Star-X 125S

MotorStar Viber

MotorStar Zest X110-III

MotorStar Elite350i

MotorStar Xplorer Z150

MotorStar Moto R155

MotorStar Star-X155 IIA

MotorStar MSX125S-II

MotorStar Co-in125

MotorStar MSX 150X

MotorStar MSX 125M

MotorStar Star-X155

MotorStar Sapphire 110 -II

MotorStar Escooter
MotorStar Motorcycles Price

You might also be interested in
Compare & Recommended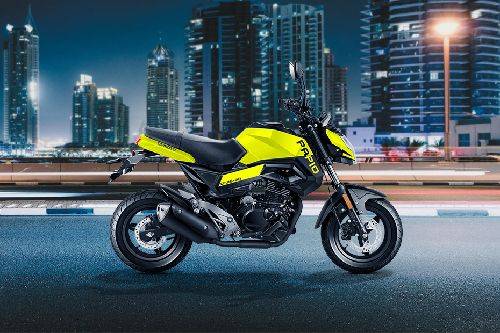 MotorStar Xplorer X200R Motorcycle Articles From Carmudi
MotorStar Xplorer X200R: Know its alternatives
Select your city to start search
Or select from popular cities