Mapped Manila and Beyond in Honda Mobilio, Here\'s What it Offered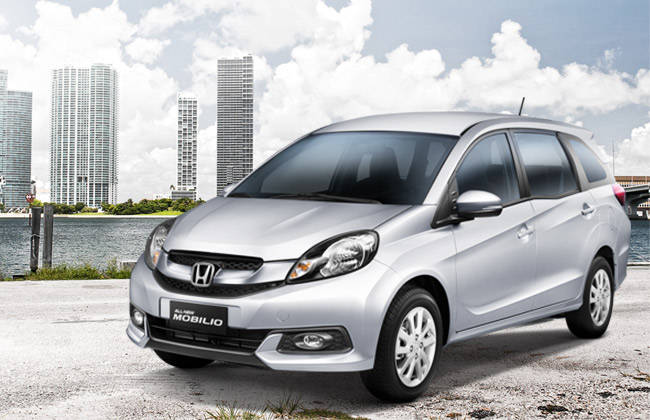 It was a time when car makers were keen on following an orthodox approach by not experimenting too much on the styling, and consumers were also happy with that monotonous approach, but now with new car types coming in, the scenario of automotive market has changed. You can now find crossovers, MPVs, urban utes and what not. Each segment is blooming and the response of consumers is tremendous. Car manufacturer like Honda, which is famous for developing refined sedans has also drafted in the MPV market with its second generation Mobilio. Carrying a Honda tag, you'd assume it to deliver the best and attain an upper hand against all the competitors prevailing in the present market. Yes, we do believe the same about the aforementioned statement, but does it really prove the worth and hype it created since its inception in the Philippines? We at CarBay decided to experience the MPV by taking it out to the real turf in order to unfold all the secrets it packs within and the upcoming sections are the proof of what we concluded about the latest MPV from Japan. Get a closer look at the 1.5-litre powered Mobilio which claims to pump out a max power output of 120 PS alongside a peak torque of 145 Nm.
Exterior
It was bright day when I and my partner, Luke were designated to have a go at the Japanese MPV. Just when we waited for our test mule to arrive, we discussed about the MPV segment that how it has grown over a period of time. Obviously, for one possible reason, members of a family. Family size is growing and so do the requirement of a vehicle that can accommodate it with ease, which is what modern MPVs are doing. So, there it was, our silver Mobilio, which was inviting us with a shy look to get us in and cruising. Commonly mistaken by many with a wagon, Mobilio has been designed very stylishly by the Honda designers. It was a little awkward in proportions but the cuts and slashes throughout the body made it look upmarket and modern. However, some might not agree with me in this regard as they would appreciate the cleaner and simpler Ertiga, but to me slashes were a thumbs up. The front was identical to that of its siblings, Brio and Brio Amaze which had a thick chrome slat with Honda emblem at the centre. It connected the large headlamp clusters giving it a more individual appeal. Moving to the side, it was an unpleasant feeling to be honest. The short bonnet and bulky rear didn't sync at all, however the longer wheelbase and the large rear door were pretty evident from this angle. The rear was graced by the presence of wrap-around tail lamps, roof spoiler and a rectangular tailgate design.
On a whole, Mobilio does have an appeal that can attract a large customer base but some angles still look quirky to me. If you can ignore those angles and practicality is all you need in combination with some modern styling cues then this can certainly be on your charts.
Interior
Moving inside the Mobilio was nothing spectacular as most of the styling cues inside are same that of Brio Amaze. Unlike its exterior, the cabin was simple and straightforward. Me as a driver like easy to operate and user friendly dash unlike some cars that have complex interfaces. So, on that front, Mobilio was a winner for me. Its simplicity was impressive. For some simple seems boring but I come for a different island and simplicity is what fascinates me. The elements fitted inside the cabin were upto the standards while the design looked ergonomically sound. The steering wheel was small and easy to grab while its adjustment features helped me to adjust it accordingly. Just like any other Honda, the controls and buttons were big and easy to use. The interesting thing to be noticed was the placement of stereo buttons. They were good away from the driver's usual sitting position and for some it might look a bit of concern as they'd had to stretch their arm to access them. Sitting height was not so great considering the MPV standards. You'll sit much below than what you'll like. Frontal and lateral views aren't a matter of concern but the thick D-pillar and small inside rear view mirror creates a bit of worry especially when the rear seats are occupied by the passengers. Although, parking sensors and reverse camera come to help the cause.
Comfort-wise, it was a star. Front seats offered impressive comfort levels with adequate cushioning and support while the legroom and headroom were up to the mark as well. Being a tall-heighted person I didn't feel stress even on long drives. However, one thing that could have enhanced the experience is the presence of armrest. Rear seats offered tremendous comfort as well with more than enough leg as well as headroom. The second row could be folded and tumbled in 60/40 split while the rear seat can be tumbled down in 50/50 split configuration enhancing the space for longer objects.
The air conditioning did a fair job throughout the drive and fortunately didn't cool to the bones. The air vents were flexible to move 360 degrees and also had a 'full close' option. Second row passengers got a privilege to enjoy cool air while the third row ones have to sweat it out in the back. On the entertainment front, you'll have to compromise a bit as it offered just the USB, AUX and FM connectivity. The sound quality was also up to the OEM standards, which was somewhat acceptable.
Storage wise, it is a practical vehicle. With a medium-sized glovebox, storage compartments on the doors capable of holding 1-litre of bottles, two large spaces in addition to a storage bin ahead of the gear lever and pockets at the front seats provide considerable spaces throughout the cabin for your knicks and knacks.
Engine, Ride and Handling
Driving an MPV wasn't fun a couple of years ago, but times have changed and so do the peculiar looking MPVs. When it's a Honda you'd expect it to cruise along without any hassle. Powered by a 1.5-litre i-VTEC SOHC engine, it can pump out a max power output of 120 PS and a peak torque of 145 Nm. So, it was then time to actually sit behind that Mobilio wheel to experience the real power. Driving Mobilio was fun and not even for a second we felt that it was an MPV. It drove just the same way like any other Honda with a sense of an additional third row. Be it city, expressway or bumpy road, it responded pretty well. Although, the structure was a bit bulky from outside, but it was easy to move along the city roads, thanks to its responsive and electronic steering. It was light within the city boundaries while good enough to mould itself heavy on high speed roads. However, after a certain level it does understeer but that point was far off and it gave us the confidence to push it through the corners. Bumpy and uneven turf was a testing ground for the MPV, which somehow was passed, but with a limited margin. The cabin was quiet and not much was heard inside unless you cross a dampy and weared off surface. With one or two people on board, it was a bliss to drive the Mobilio while the addition of passengers, probably to a fifth or sixth would create a load on the engine. The real power was experienced at the higher revs and at that moment of time, the engine looked certainly alive. At steady speeds, power delivery was linear and the real fun was experienced at revs above 4000. Throttle response was good too while the engine remains silent at all times. The performance and refinement are major pillars of Honda, which were witnessed while driving this MPV.
Ride quality was satisfactory and it managed to absorb little bumps with ease. Even rear passengers weren't complacent about it, which means the developers have done fairly a good job. No vertical movement and bounciness was experienced by the passengers accommodating the second or for that matter the third row. But, on any day front seat ride is better than the one you experience while sitting at the second or third row, which had been the case with MPVs and hence with this Japanese MPV too. The stiffness of suspension can be felt at the rear rows but that too is minimum.
Overall, it was fun driving Mobilio and it never made us felt that we are in an MPV rather the sense of comfort was always there, which certainly makes it a winner ahead of the competition.
Variants
In the Philippines, Mobilio is available in following variants:
Verdict
Being a Honda lover and not so MPV admirer, I believe it has enough to impress the consumer base. Sharp and edgy styling being its forte while the refinement and trustability it packs within are further add ons to make you incline towards this MPV for sure. It is well engineered and has been designed to fill up the gap large families usually come across of accommodating. With a responsive engine, it is a fun-to-drive car and certainly keeps up to the expectations.
Latest Honda Mobilio Cars Videos on Zigwheels