Hyundai Accent: Subcompact performance and elegance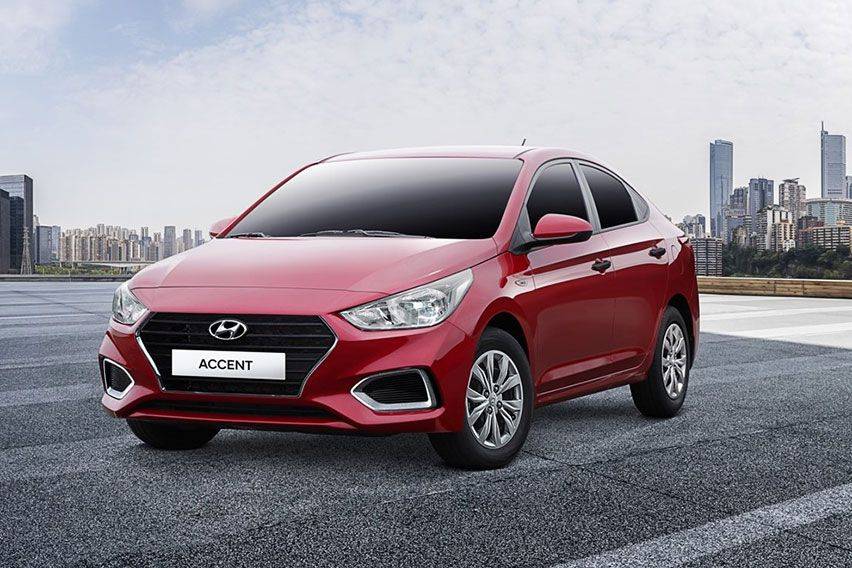 A popular choice among first-time car buyers and even among taxi and TNVS operators, the Hyundai Accent has been a fixture in the streets for a while now.  
With a base variant that is priced below P800,000, the Accent makes it easier to own and experience the excellent quality of a Hyundai vehicle without having to break the bank.
Under the Accent's hood is a fuel-efficient, 1.6-liter CRDi VGT engine mated to a six-speed automatic transmission. The sedan's powertrain delivers a maximum power output of 128ps and a maximum torque of 259Nm.
The Hyundai Accent bears a clean, classy exterior look, thanks to its edgy structure and prominent front grille. The car was chiseled with dynamic details. The Accent's outside look is even made sleeker with its halogen headlamps and 15-inch steel rims (depending on trim).
The body structure of the Hyundai Accent is made of high-tensile strength steel to achieve upgraded crash protection. The sedan's rigid frame is built to meet the safety standards of the National Highway Traffic and Safety Administration of the United States.
To keep passengers entertained, the Hyundai Accent gets a 3.8-inch LCD audio display with Aux and USB connectivity. The car also comes with a manual air-conditioning system with rear vents to make sure that every occupant experiences comfort on the road.
The Hyundai Accent is available in six variants. To know more about this five-seat sedan, we have listed down its full specs on the chart below.
SPECIFICATIONS

Hyundai Accent CRDi GL 6MT

Hyundai Accent CRDi GL 6AT

Hyundai Accent GL 6MT with Airbags

Hyundai Accent GL 6AT with Airbags

Hyundai Accent GL 6MT without Airbags

Hyundai Accent GL 6AT without Airbags

Body Type

Four-door Sedan

Four-door Sedan

Four-door Sedan

Four-door Sedan

Four-door Sedan

Four-door Sedan

Overall Length (mm)

4,440

4,440

4,440

4,440

4,440

4,440

Overall Width (mm)

1,729

1,729

1,729

1,729

1,729

1,729

Overall Height (mm)

1,460

1,460

1,460

1,460

1,460

1,460

Wheelbase (mm)

2,600

2,600

2,600

2,600

2,600

2,600

Curb Weight (kg)

1,165-1,246

1,195-1,276

1,050-1,131

1,080-1,161

1,050-1,131

1,080-1,161

Gross Vehicle Weight (kg)

1,650

1,680

1,540

1,570

1,540

1,570

Fuel Tank Capacity (L)

45

45

45

45

45

45

Seating Capacity

Five

Five

Five

Five

Five

Five

Engine Model

U-II 1.6-liter CRDi VGT

U-II 1.6-liter CRDi VGT

Kappa 1.4-liter Multi-point Injection (MPI) Dual Continuously Variable Valve Timing (CCVT)

Kappa 1.4-liter Multi-point Injection (MPI) Dual Continuously Variable Valve Timing (CCVT)

Kappa 1.4-liter Multi-point Injection (MPI) Dual Continuously Variable Valve Timing (CCVT)

Kappa 1.4-liter Multi-point Injection (MPI) Dual Continuously Variable Valve Timing (CCVT)

Emission Rating

Euro 4

Euro 4

Euro 4

Euro 4

Euro 4

Euro 4

Displacement (cc)

1,582

1,582

1,368

1,368

1,368

1,368

Maximum Power (ps / rpm)

128 / 4,000

128 / 4,000

100 / 6,000

100 / 6,000

100 / 6,000

100 / 6,000

Maximum Torque (kg-m / rpm)

26.5 / 1,500-3,000

26.5 / 1,500-3,000

13.5 / 4,000

13.5 / 4,000

13.5 / 4,000

13.5 / 4,000

Hood Insulator

With

With

Without

Without

Without

Without

Transmission

Six-speed MT

Six-speed AT

Six-speed MT

Six-speed AT

Six-speed MT

Six-speed AT

Steering Wheel

3-spoke Polyurethane

3-spoke Polyurethane

3-spoke Polyurethane

3-spoke Polyurethane

3-spoke Polyurethane

3-spoke Polyurethane

Steering Type

Motor Driven Power Steering (MDPS)

Motor Driven Power Steering (MDPS)

Motor Driven Power Steering (MDPS)

Motor Driven Power Steering (MDPS)

Motor Driven Power Steering (MDPS)

Motor Driven Power Steering (MDPS)

Steering Wheel Adjustment

Manual Tilt

Manual Tilt

Manual Tilt

Manual Tilt

Manual Tilt

Manual Tilt

Suspension

Front: MacPherson Strut with Coil Spring

Rear: Coupled Torsion Beam Axle

Front: MacPherson Strut with Coil Spring

Rear: Coupled Torsion Beam Axle

Front: MacPherson Strut with Coil Spring

Rear: Coupled Torsion Beam Axle

Front: MacPherson Strut with Coil Spring

Rear: Coupled Torsion Beam Axle

Front: MacPherson Strut with Coil Spring

Rear: Coupled Torsion Beam Axle

Front: MacPherson Strut with Coil Spring

Rear: Coupled Torsion Beam Axle

Brake Type

Front: Ventilated Disc

Rear: Drum

Front: Ventilated Disc

Rear: Drum

Front: Ventilated Disc

Rear: Drum

Front: Ventilated Disc

Rear: Drum

Front: Ventilated Disc

Rear: Drum

Front: Ventilated Disc

Rear: Drum

Wheels and Tires

15-inch Steel Rims with Full Wheel Cap

15-inch Steel Rims with Full Wheel Cap

15-inch Steel Rims with Full Wheel Cap

15-inch Steel Rims with Full Wheel Cap

15-inch Steel Rims with Full Wheel Cap

15-inch Steel Rims with Full Wheel Cap

Spare Tire

Full Size Steel Wheel and Tire

Full Size Steel Wheel and Tire

Full Size Steel Wheel and Tire

Full Size Steel Wheel and Tire

Full Size Steel Wheel and Tire

Full Size Steel Wheel and Tire

Headlamp

Halogen

Halogen

Halogen

Halogen

Halogen

Halogen

Outside Rearview Mirror

Body Color

Body Color

Body Color

Body Color

Body Color

Body Color

Sun Visor

With Vanity Mirror for Driver and Passenger

With Vanity Mirror for Driver and Passenger

With Vanity Mirror for Driver and Passenger

With Vanity Mirror for Driver and Passenger

With Vanity Mirror for Driver and Passenger

With Vanity Mirror for Driver and Passenger

Rear Headrest

With

With

With

With

With

With

Seatback Pockets

Driver and Passenger

Driver and Passenger

Driver and Passenger

Driver and Passenger

Driver and Passenger

Driver and Passenger

Front Map Lamps

With

With

With

With

With

With

Central Door Locks

With

With

With

With

With

With

Power Side Mirrors

With

With

With

With

With

With

Power Windows

Auto Down on Driver's Side

Auto Down on Driver's Side

Auto Down on Driver's Side

Auto Down on Driver's Side

Auto Down on Driver's Side

Auto Down on Driver's Side

Portable Ashtray

With

With

With

With

With

With

Instrument Cluster

Conventional

Conventional

Conventional

Conventional

Conventional

Conventional

Audio System

3.8-inch LCD Display Radio + RDS

3.8-inch LCD Display Radio + RDS

3.8-inch LCD Display Radio + RDS

3.8-inch LCD Display Radio + RDS

3.8-inch LCD Display Radio + RDS

3.8-inch LCD Display Radio + RDS

Connectivity

Aux and USB

Aux and USB

Aux and USB

Aux and USB

Aux and USB

Aux and USB

Air Conditioning

Manual with Rear A/C Vents

Manual with Rear A/C Vents

Manual with Rear A/C Vents

Manual with Rear A/C Vents

Manual with Rear A/C Vents

Manual with Rear A/C Vents

SRS Airbags

Driver and Passenger

Driver and Passenger

Driver and Passenger

Driver and Passenger

Without

Without

Available Body Colors

Fiery Red, Phantom Black, Star Dust, Sleek Silver, and Polar White

Fiery Red, Phantom Black, Star Dust, Sleek Silver, and Polar White

Fiery Red, Phantom Black, Star Dust, Sleek Silver, and Polar White

Fiery Red, Phantom Black, Star Dust, Sleek Silver, and Polar White

Fiery Red, Phantom Black, Star Dust, Sleek Silver, and Polar White

Fiery Red, Phantom Black, Star Dust, Sleek Silver, and Polar White

Price

P910,000

P1,038,000

P838,000

P890,000

P790,000

P838,000
Photo from Hyundai
Hyundai Accent Promos, DP & Monthly Installment
You might also be interested in
Latest Hyundai Accent Cars Videos on Zigwheels