The Honda Accord gets safer, smarter, and sportier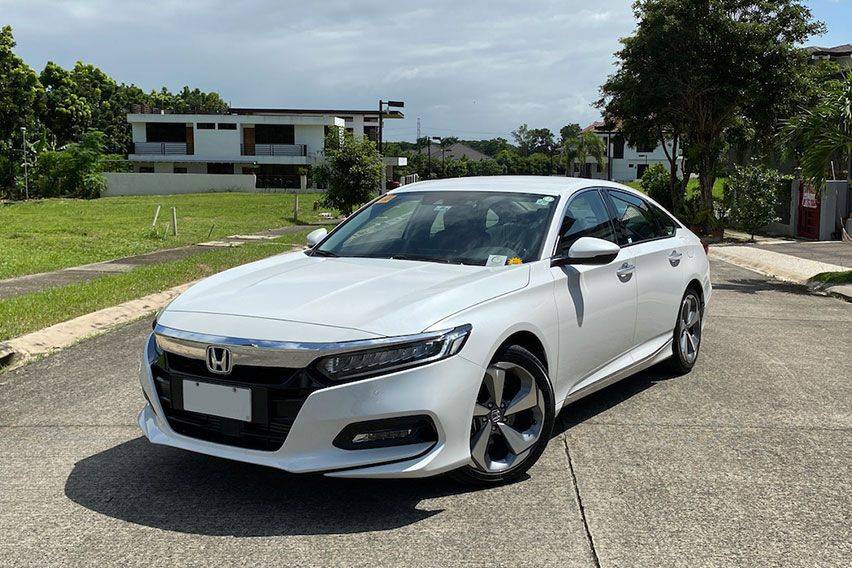 That sporty look has been the perennial calling card of the Honda Accord long before contemporary compact executive sedans started adopting fastback bodies to attract moneyed managers.
But now it one-ups itself with two firsts, using a small displacement turbocharged engine and adding its safety suite Honda Sensing for increased driver, passenger, and even pedestrian protection.
Its current iteration is its widest, longest, and largest yet, which makes it susceptible versus poorly fashioned humps and steep ramps, so be careful when approaching either. That being said, it probably is its sportiest version yet with that sinewy front end and fastback rear.
What immediately catches the eye is the long chrome bar that's slim just above the full LED headlamps with daytime running lamps, which makes it look like a simple trim, but turns wide and highly prominent along the middle as it makes up the top half of the grille. It's a very subtle aesthetic addition but totally complements the Platinum White Pearl body color.
The front lip is integrated into the bumper and connects to an awesome and edgy designed front fog lamps housing.
It comes with side skirts just below the contoured rocker panel with thin chrome strips that stretch all the way to the quarter panel of the rear bumper.
Bringing up the rear are LED taillights and dual exhaust pipes.
Befitting its status as a compact executive sedan, the Accord uses a smart key that allows the driver to unlock the vehicle just by reaching for the door handle and to lock it just by tapping on the handle's stripes. It also comes with a push-start system.
As expected, the cabin is very nicely put together with its leather seats (power-adjustable in front and spacious in the rear), soft-touch dashboard that adorned with faux wood trim along the front. It comes with leather-wrapped multi-function steering wheel (with paddle shifters), dual-zone automatic climate control, and an eight-inch touchscreen infotainment system with Bluetooth, two USB ports, Apple CarPlay and Android Auto, and even iPod and iPhone connectivity.
The large TFT screen in the instrument cluster is very easy on the eyes. It can change its display between a tachometer, trip computer, speed and range info, audio, phone, navigation, and even driver support, driver attention, maintenance, safety support and warnings just by flicking a switch on the steering wheel.
Typical of a Honda, all cabin equipment is very easy to use and it is no different in the Accord even with all its new high-tech equipment. The operating systems, menu, and graphic user interfaces of both monitors are so intuitive and practically fool-proof. The icons and typeface are large and legible enough so everything is clear and there's no confusion. Bluetooth pairing is quick and connected in just one try.
The cabin is still as spacious despite all the additions. It feels highly premium with its plush appointments and all the bells and whistles that come with it. The headroom in the second row doesn't appear to be affected by the new body shape and there's a very comfortable amount of legroom as well even if the front seats are pushed back.
Personally, I would add an extra two speakers and maybe even install a subwoofer because as good as the audio is, the eight-piece (four speakers and four tweeters) setup feels like it needs more oomph to match the overall ambience of the cabin.
For the first time ever, the Accord goes with a small displacement engine – a 1.5-liter turbocharged VTEC four-banger with Earth Dreams technology. It sends 187hp and 260Nm of torque to the wheels via an Earth Dreams technology CVT (continuously variable transmission). You would deign to think that it's too small for its 1.5-ton body but that's where you're wrong. Small yet powerful, it can rapidly make its top speed of 260kph in Sport mode or more efficiently (albeit slowly) get there under the Econ setting.
It will do that with an engine whose swept volume of all four cylinders make up only 1.5 liters, which is just equal to the size of the free cola you get with your pizza. And no, it doesn't lose any of the power associated with the Accord's 2.5-liter or 2.0-liter engines of the past. Its pull is still exhilarating and it effortlessly handles on the highway.
For the Accord, sporty has never just been about its looks. Handling has been is terrific through generations and it hasn't changed one bit. The wide body gives it great stability, and the low stance delivers higher rollover resistance so you can zip through corners with ease and inject some fun to your weekend drives out of town.
Steering is light, which mutes feedback to a certain extent, but it is sharp and could be fun to take on the track to test on a slalom course.
As great a drive as it is already is, the Accord just got a lot better with its safety suite called Honda Sensing that includes adaptive cruise control, collision mitigation braking system, lane keep assist system, road departure mitigation, forward collision warning, lane departure warning, and low-speed follow. While most all of these systems are self-explanatory, the latter is an Accord-exclusive. It lets the unit automatically follow the flow of slow vehicular movement and allows for zero throttle operation in when stuck in traffic.
At P2.288 million, this compact executive sedan comes with a gorgeous fastback body, sporty handling, a comfortable amount of cabin space, luxurious interior appointments and equipment, a fuel-efficient but powerful engine (combined fuel consumption of 8.5km/l), and best of all, advanced safety features from Honda Sensing.
It may be a little pricey but the 2018 Honda Accord EL Turbo CVT with Honda Sensing comes pretty loaded already and compared to its predecessor is a lot safer, smarter, and sportier.
Photos by Eric Tipan
You might also be interested in