Cebu Port Authority steps up safety measures for Holy Week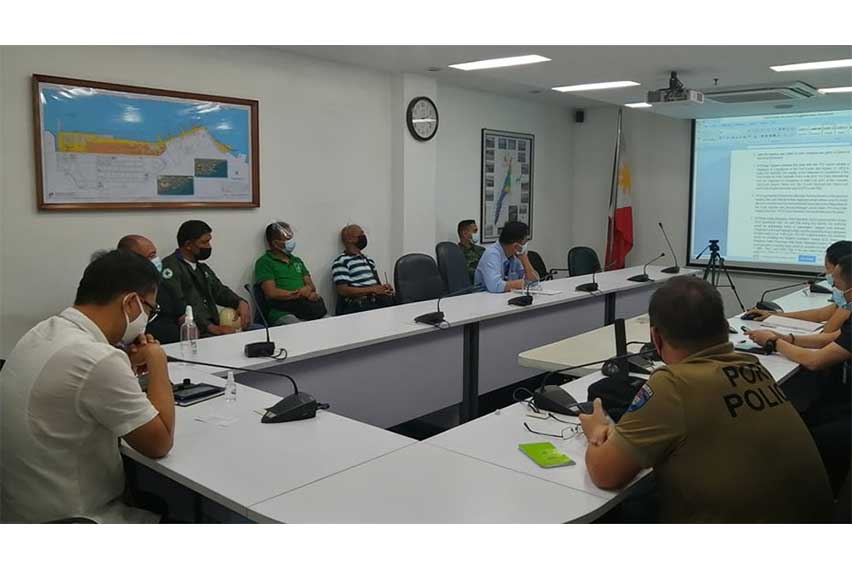 MANILA: The Cebu Port Authority (CPA) met with all port security heads, port management officers, and representatives of the enforcement and maritime partners from the Office for Transportation Security (OTS), Philippine National Police (PNP)- Regional Maritime Unit, Maritime Industry Authority (MARINA), Bureau of Customs (BOC), Philippine Drug Enforcement Agency (PDEA), Philippine Navy, and the Philippine Coast Guard (PCG) for the finalization of preparations for the expected increase of passengers during the Holy Week. 
c
CPA General Manager Leonilo Miole explained, "As the government continues to ease travel restrictions, we are working closely with our partner agencies and port stakeholders to double our efforts in ensuring the safety, security, order and convenience of the public and prevent overcrowding and heavy queuing inside our ports especially with the ongoing threat of COVID-19."
As a response to the directive that the Department of Transportation (DOTr) Secretary Arthur Tugade gave, GM Miole ordered that the "Oplan Biyaheng Ayos: Semana Santa 2021" be activated and that all ports in Cebu be under heightened alert to ramp up all safety and security guidelines. 
GM Miole reminded the public to stringently observe and follow health and safety measures within the premises of the port everytime and advised all outbound passengers to arrange in advance with the PCG or with their receiving local government units (LGUs) for the travel requirements they need to accomplish before arrival at the port area. 
He added, "There have been cases that passengers booked their tickets online without prior coordination with the receiving LGU, and sad to say, they were not given clearance to board a vessel by the PCG and were denied entry into the port for failure to present the required travel documents." 
For receiving LGUs having no enforced travel requirements, all passengers are advised to book their tickets earlier. 
From March 29 to April 6, CPA will be assigning Port Police Officers and Safe Distancing Marshals in ports with increased passenger traffic to implement port safety and health measures like social/physical distancing, temperature checking, and mandatory wearing of face masks and face shields. Markers are placed on seats and floors for appropriate guidance. 
For additional safety and infection prevention, sanitizing foot baths are placed at the exit and entrance points of passenger offices and terminals. Similarly, disinfecting hand rub dispensers as well as lavatories for hand washing are installed in noticeable areas of the passenger terminal.
Individuals who fail to comply with the policies of the Authority and other law enforcement officers within the premises of the port will be subjected to penalties and fines. 
Those who fail to follow safety and health protocols will be sanctioned with fines that range from P200 to P1,000. First-time violators will be fined P200, second-time offenders will be asked to pay P500, and third-time violators will be fined P1,000. 
In compliance with the Department of Health (DOH) and COVID-19 Inter-Agency Task Force protocols, there will be a 50% decrease in passenger capacity in ships as well as other passenger vessels.
In the same way, passenger terminals in both private and public ports will be permitted to accommodate a seating capacity of 50% only. To avoid crowding and undue queuing of passengers, CPA will work closely with shipping companies to make the necessary modifications in the estimated time of departure (ETD) of vessels. 
Direct passenger boarding to the vessel will be permitted whenever necessary to prevent delay of the vessel's departure, inconvenience, and crowding given that health, safety, and security measures will be strictly observed. 
Anyone who shows common symptoms of a contagious disease shall be immediately placed in a designated port isolation spot. They will also be referred to the Cebu City Government Emergency Operation Center (EOC) or nearest medical and health facilities. 
Cebu Port Pier 1 and Pier 3 gates are still closed to vehicles since currently, they have been made as screening stations of PCG staff for embarking or outbound passengers.
Moreover, all ports were reminded to make sure that all centers/counters/booths catering to passengers are efficiently managed during operating hours. Passenger help desks are also available to give passenger support and aid for a broad range of travel needs. 
After the National Bureau of Investigation (NBI) had an entrapment operation last March 18, 2021, which resulted in the arrest of two individuals who sold fake RT-PCR test results to passengers outside the port area, the public have been advised to identify individuals who are selling such falsified documents. 
Passengers can directly report, complain, or state other concerns to the CPA Police Operations Center at (032) 402-4160 or through the CPA Official Facebook Page, @cebuportauthorityofficial.
Photos from Cebu Port Authority
Also read: Strict enforcement of health protocols ordered in ports
You might also be interested in
Latest Cars Videos on Zigwheels