Mercedes-Benz V-Class: Upsized comfort and luxury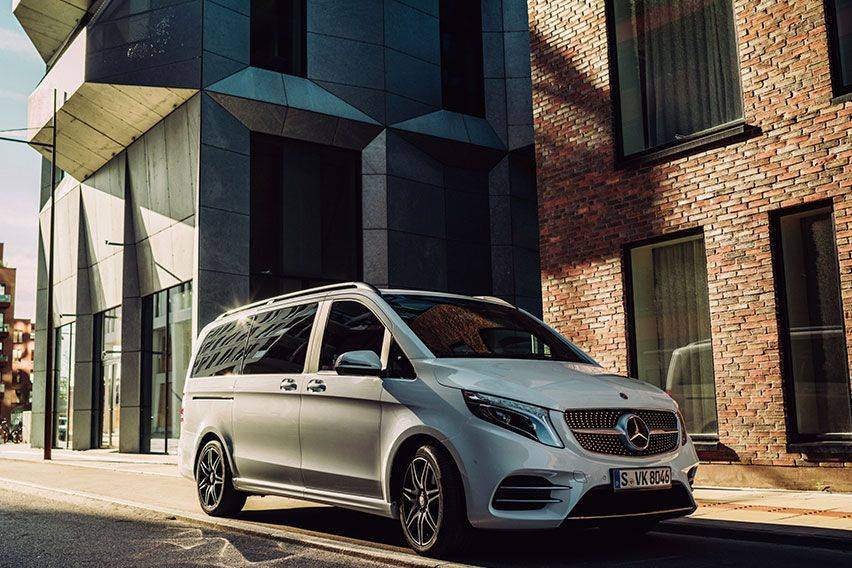 MANILA: When you think about it, "luxury" and "people mover" appear to be contradictory terms. But Stuttgart-headquartered premium carmaker Mercedes-Benz begs to disagree — and veritably says that one can have, well, his/her cake and eat it, too.
The intersect of luxury and practicality is the V-Class — a van that executes the dichotomy most nicely.
From its large three-pointed star on the grille with twin louvres in high-sheen, the V-Class immediately serves notice of its luxurious intentions.
Luxurious black leather and excellent workmanship mark the cabin of the V-Class. In a release, Mercedes-Benz says, "The ambient lighting in the cockpit welcomes the driver and front passenger with pleasant, indirect light."
Up to seven can be ferried in comfort "with various combinations of individual seats as well as three-passenger bench seats." Two captain seats comprise the second row; behind it is a three-seater bench. A seat rail system enables reconfiguration of the benches and seats to suit their use.
Powering the V-Class is a four-cylinder diesel engine putting out 165hp, and marked by high torque, excellent fuel economy, and low noise. It also boasts emission-reducing features such as an oxidizing catalytic converter and a particulate filter.
The V-Class is equipped with a suite of driver assistance and safety systems for a safer, more comfortable, and relaxed journey. Mercedes-Benz Intelligent Drive safety features such as Attention Assist help to prevent microsleeping at the wheel during long journeys and at night. "The system visually and audibly warns drivers if it identifies typical signs of fatigue or erratic driving behavior and suggests taking a break. Steering wheel handling is analyzed to generate an individual driving style profile," reports Mercedes-Benz.
The V-Class boasts an LED Intelligent Light System with brake lamps and indicators, as well as standard airbags, thorax-pelvis sidebags, and windowbags for the driver and front passenger and ensure protection in case of a collision.
Until the end of the month, discounted rates on the V-Class are as follows: V 220 Base: P4,190,000, V 220 Avantgarde Long (six-seater): P4,390,000, V 220 Avantgarde Long (seven-seater): P4,655,000, V 220 Avantgarde Extralong: P4,890,000. The V-Class is available at Mercedes-Benz dealerships on EDSA Greenhills, Bonifacio Global City, Alabang, and Cebu City. For more information log on to www.mercedes-benz.ph.
You might also be interested in