Mercedes-Benz Vito Sport is a perfect blend of style and practicality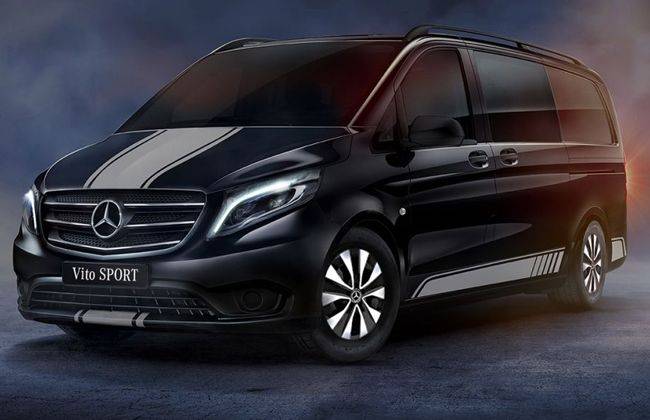 MANILA: The Mercedes-Benz Vito is one of the most practical vans out there in the segment. The German van is quite popular among builders and pretty much everyone who needs a camper full of practicality. In case you are out in the market something more luxurious, convenient, and full of features, then there is the Mercedes-Benz V-Class that will serve you well. However, the Vito is not the bland van anymore, as Mercedes-Benz has just introduced the Vito Sport, a much sporty, attractive, and alluring variant of the camper.
The all-new Mercedes-Benz Vito is now the top-of-the-line variant in the lineup and features the likes of the LED headlights and taillights, 17- or 19-inch alloy wheels, roof rails, and striking graphics on the hood and side sills. The changes on the outside don't end just there, though. The Vito Sport sports a unique lowered stance thanks to a ride height that is 10 mm than the standard models. And hey, there also side skirts providing the Vito Sport with a bit more flair.
The inside the of Mercedes-Benz Vito Sport flaunts various chrome accents and trims, all leather upholstery, cruise control, reverse parking camera with active parking assist, heated front seats, and a revisited infotainment system that comes equipped with satellite navigation and other nifty tricks.
Unlike the exterior and the interior, the mechanical bits on the Mercedes-Benz Vito remain untouched. The same 2.1-litre turbocharged diesel engine continues to power the Vito Sport. Even in the Sport variant, the diesel-fed motor is available in two different states of tunings. The less powerful version generates 163 PS of maximum power at 3,800 rpm and a peak torque of 380 Nm from 1,400 to 2,400 revs. On the other hand, the higher-end mill churns out a maximum power of 190 PS at 3,800 rpm and a peak torque of 440 Nm from 1,400 to 2,400 revs. Customers can go for either of the six-speed manual or a seven-speed automatic gearbox. The price of the Mercedes-Benz Vito Sport starts at GBP 37,475, which translates to around Php 2.434 million.
Also Read:- 2020 Mercedes-Benz A-Class Sedan: First impression
Explore Mercedes-Benz V-Class
Mercedes-Benz V-Class Promos, DP & Monthly Installment
You might also be interested in